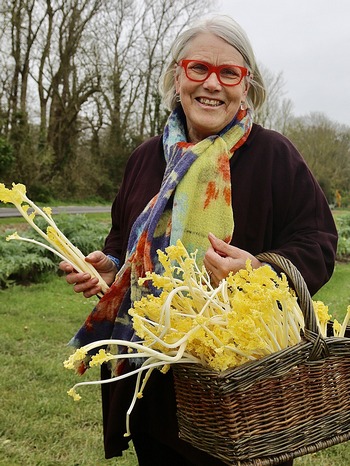 Talk about good timing. When it gets cold and snowy here in New England, we pull out the seed catalogs and start planning our summer garden. Right on cue, GROW COOK NOURISH (Kyle Books, $45) by Darina Allen arrived in the mail. It's the 16th book for the Irish chef and co-founder of the Ballymaloe Cookery School (Shanagarry, County Cork, Ireland, +353 21 464 6785, cookingisfun.ie). In a bit of understatement, Allen terms the thick volume a "kitchen garden companion." It's truly a guide to growing, preparing, and sometimes preserving vegetables, fruits, herbs, and edible flowers. She covers pretty much every fruit and vegetable we've ever heard of and many that we haven't. We were so impressed that we arranged to speak with her by phone.
When we reached her in Ireland, Allen agreed that "it's the time of year to curl up in front of the fire with seed catalogs and have a lovely planning session, a dreamy sort of fantasy for next year." Allen's cooking school sits on a 100-acre organic farm garden with an acre of greenhouses. That means she can dream big and grow things that her Zone 9 climate might not otherwise allow. But Allen is convinced that anyone can—and should—grow at least some of their food.
"The whole message behind this book is that it doesn't matter where you are," she says. "As long as you have light, a container, seeds, and water, you can grow something, even if you are in a high-rise in Manhattan or Shanghai."
Capitalizing on the tastes of travel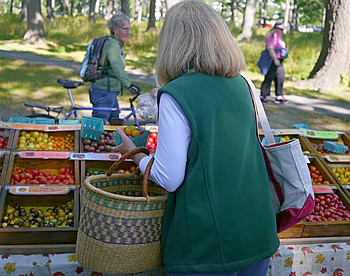 Along with detailed advice on growing, harvesting, and storing everything from cardoons to salsify, Allen has included about 500 recipes in the book. She travels frequently and we were impressed with her intuitive embrace of global flavors and cooking traditions. Like us, she loves to visit farmers' markets. "You really do get a true picture of what local people are eating and what is in season at that time," she says.
When she encounters a dish that she particularly likes on her travels she might jot down a few notes and even take a photo on her iPhone. "But," she says, "the most important thing is your taste memory. If I fancy a dish, I try to recreate it as soon as possible when I come home while the memory of the taste is still very vibrant. I test and taste, test, taste. You can often get it fairly close. Other times, you might do a variation."
Another thing we love about the book is that the recipes tend to be quite straightforward, even when the ingredients list is long. Allen kindly agreed to let us publish her recipe for Thai Chicken, Galangal & Cilantro Soup (below). The commentary is all hers. The photo of the soup is by Clare Winfield.
As for our garden, we are going to plant some annual marjoram. "It's my favorite herb of all time," Allen told us. "If I could only choose one, that would have to be it."

THAI CHICKEN, GALANGAL & CILANTRO SOUP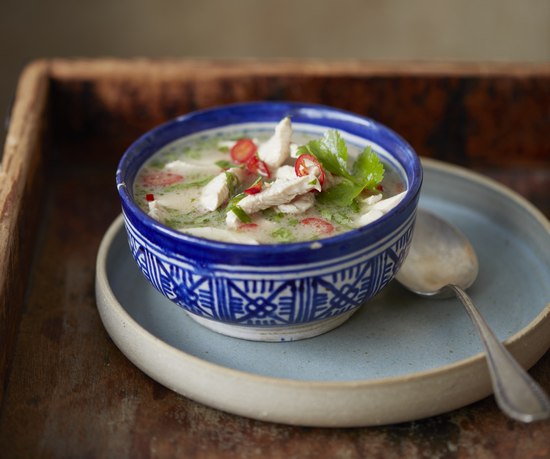 A particularly delicious example of how fast and easy a Thai soup can be. We serve it in blue and white Chinese porcelain bowls. The kaffir lime leaves and galangal are served, but not eaten. The chile may, of course, be nibbled. Shrimp can be substituted for chicken in this recipe with equally delicious results. We usually use one red Thai chile, but the number depends on your taste and how hot the chiles are. Fresh lime leaves are not available in every store so buy them any time you spot them and pop them into a bag in your freezer. Blanched and refreshed rice noodles are also delicious added to this soup—hey presto, you have a main course. Serve in wide pasta bowls with lots of fresh cilantro scattered over the top.
—Darina Allen
Serves 8

Ingredients
3 3/4 cups homemade chicken stock
4 kaffir lime leaves
2-inch piece of galangal, peeled and sliced (if using fresh ginger, use a third less)
1/4 cup fish sauce (nam pla)
6 tablespoons freshly squeezed lemon juice
8 ounces free-range, organic chicken breast, very finely sliced
1 cup coconut milk
1 to 3 Thai red chiles
approximately 5 tablespoons cilantro leaves
Directions
Put the chicken stock, lime leaves, galangal or ginger, fish sauce, and lemon juice into a saucepan. Bring to a boil, stirring all the time, then add the chicken and coconut milk. Continue to cook over high heat for 1 to 2 minutes until the chicken is just cooked. Crush the chiles with a knife or Chinese chopper and add to the soup with the cilantro and cook for just a few seconds. Ladle into hot bowls and serve immediately.