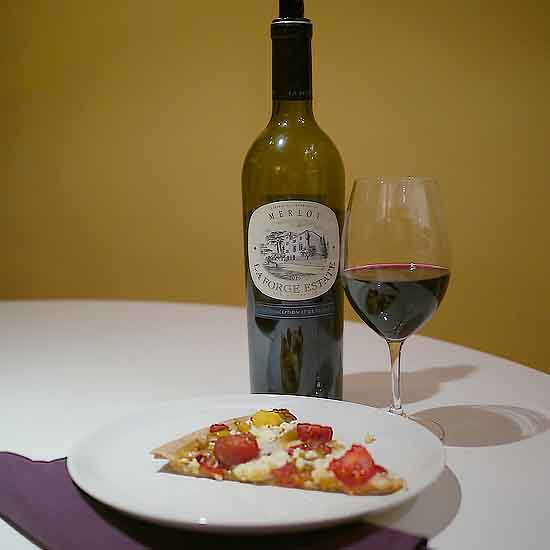 We always thought drinking good wines with pizza was our dirty little secret. But then we found that great pizza is a given in California's Sonoma wine country. We were especially taken by the pizza-wine pairings at Comstock Wines. Unlike us, the Sonoma folks couldn't enjoy pizza and wine while the New England Patriots.
As football season begins to wind down, we're exploring a wider world of wine with pizza. As we learned from pizza guru Rosario Del Nero of Bertucci's, pizza can support an infinite variety of toppings. Just show restraint. "When it comes to toppings, less is more," Del Nero cautioned. "You don't want to overwhelm your pizza."
A mixed half case from wine distributor Esprit du Vin (edvwines.com) arrived at the end of the year. We've designated them for pizza pairings, which is proving both challenging and a lot of fun.


The wine: La Forge Estate Merlot 2015

Merlot is the good-time-Charlie grape of Bordeaux compared to the tougher, much tannic Cabernet Sauvignon. Merlot ripens early and makes lush and plummy wines. It's widely grown around the world and often marketed as the soft alternative to Cabernet. The rap on Merlot is that it's often too soft and unstructured.
But it doesn't have to be that way. This Merlot was crafted in the southwest corner of France by Jean-Claude Mas. Since he took over Domaines Paul Mas nearly two decades ago, he's been a pioneer in restoring luster to the wines of Languedoc. Taking a decidedly New World approach to this daily table red, he's aimed for intense concentration. The grapes were destemmed, fermented cool for five days, and then macerated another nine days with daily pumpovers before pressing. The first pressings were blended back in with free-run juice. The malolactic fermentation was in barrique, where the wine was aged another six months before bottling.
The 2015 benefits from some air, as the oak still lingers on the wine. We opened it an hour before eating, but it didn't fully blossom until we poured the last glass—and then wished we had more. The intense plum and blackberry nose gives way to a palate of red fruit, dark spices, and toasted coffee. It's a great example of the grape's potential, and of Languedoc's suitability for Merlot. The wine retails between $8 and $15.


The pizza: Ratatouille with fresh tomatoes and feta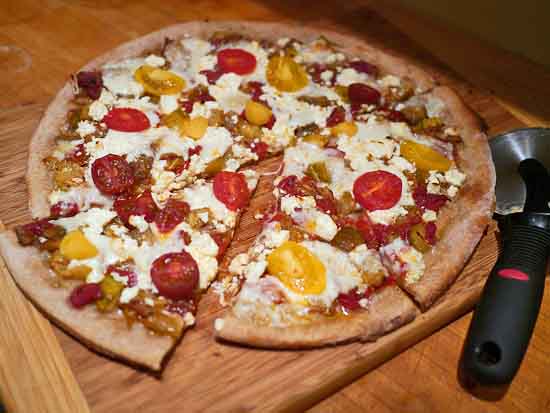 Languedoc isn't quite Provence, but it's only a few kilometers away. Our first thought was to match this wine to a classic Provençal dish. Fortunately, we had some ratatouille on hand from a dinner earlier in the week. To brighten it up, we thought we'd add some sweet hothouse mini-tomatoes. Tangy feta is a classic foil for ratatouille, but it doesn't melt very well. We thought we'd put some on the pizza, but added some fresh mozzarella as well.
Interestingly enough, the pizza brought out some of the herbal qualities in the wine, including some pleasant overtones of eucalyptus and the resinous scent of Mediterranean brush. For what it's worth, we used the recipe for "Quick Ratatouille" from EAT RIGHT by Nick Barnard, published by Kyle Books (kylebooks.com). You can find the recipe in this post.
RATATOUILLE PIZZA
Ingredients
1 teaspoon olive oil
dough for 16-inch pizza (see below)
3/4 cup leftover ratatouille, well-drained
6 oz. ping-pong ball-sized tomatoes, peeled and halved or quartered
3 oz. feta
3 oz. fresh mozzarella, cut in very thin slices
Directions
Set oven at 450°F.
Brush olive oil onto stretched-out pizza dough. Spread ratatouille thinly. Crumble half of feta over the vegetables. Distribute tomatoes. Crumble remaining feta over top. Distribute mozzarella slices evenly. When oven is heated, slide pizza in on top rack. Cook about 10 minutes.
FOOD PROCESSOR PIZZA DOUGH
This is our basic pizza dough for cooking in a conventional home oven using a conventional pizza pan. Measurements are by weight because flour can vary dramatically based on humidity and how firmly you pack the measuring cup. We prefer the extra flavor of half whole wheat and half white flour. But the recipe works fine if you use white flour alone.

Ingredients
210 grams flour
1/4 teaspoon instant dry yeast
1 teaspoon (7 grams) sugar
150 grams ice water
3/4 teaspoon sea salt
1 tablespoon olive oil
Directions
In food processor fitted with steel blade, add flour, yeast, and sugar. Process 30 seconds to mix. With processor turned on, dribble ice water through feed tube until absorbed. Process another 30 seconds.
Push dough down to evenly distribute in the processing bowl. Let rest for at least 30 minutes. This allows the yeast to get a head start on the salt. (It's the same trick that makes French bread rise properly.)
When the waiting period is over, add salt and olive oil and process until the dough pulls away from the sides of bowl.
Turn out and place in barely greased 1-quart bowl. Cover loosely and let rise, preferably six hours or more, in cool spot. (Or refrigerate overnight, removing 3 hours before cooking to let dough return to room temperature.) If dough expands to rim, jiggle bowl to make dough subside.
Set oven to 450°F, making sure that one rack is on the top rails.
Flatten ball on slippery surface very lightly dusted with flour. We use polyethylene flexible cutting boards. Stretch by hand into a 16-inch round. Place well-seasoned pizza pan dusted with cornmeal on top of pizza and invert. Trim off excess or roll into a thicker edge. (Or invert onto dusted peel if using a pizza stone or steel in the oven.) Place toppings on pizza. Cook on oven's top rack for 8 minutes if toppings are light, 10 minutes if laden with cheese or heavy vegetables. The Neapolitan-style crust should be crisp and browned on the bottom and slightly chewy on the top. Cooking time is much briefer if using a pizza stone or steel.