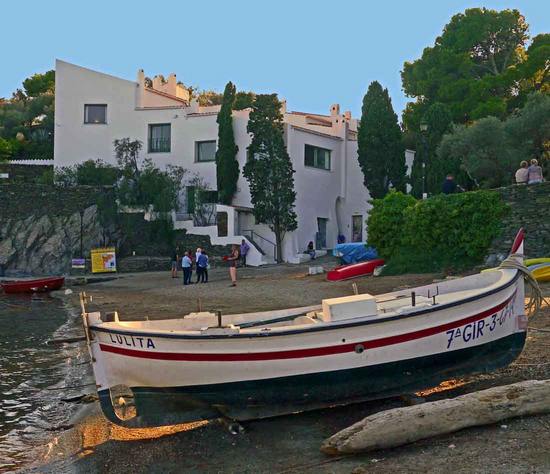 When we visited Salvador Dalí's home and studio in Port Lligat, Spain, late last year, we didn't know that the cookbook by the most surreal of Surrealist artists had been re-published in 2016. But we knew he loved to eat. Dalí and his wife and muse, Gala, spent a lot of time in their house-studio in the fishing cove of Port Lligat, about a mile away from Cadaqués near the Spanish border with France.
The property began as a fisherman's shanty when Dalí bought it in 1930. Over the next 40 years, the house accreted new rooms and wings and gardens and statuary and…. Well, Dalí was prone to excess. That's a photo of the building at the top of this post. It perches above a sheltered beach where fishermen keep their small boats. It's the most intimate and charming of the artists' three homes maintained by the Dalí Foundation (salvador-dali.org). The foundation opens the house to small numbers of visitors at a time. Book far in advance and do not miss your time slot.

Dinner in Cadaqués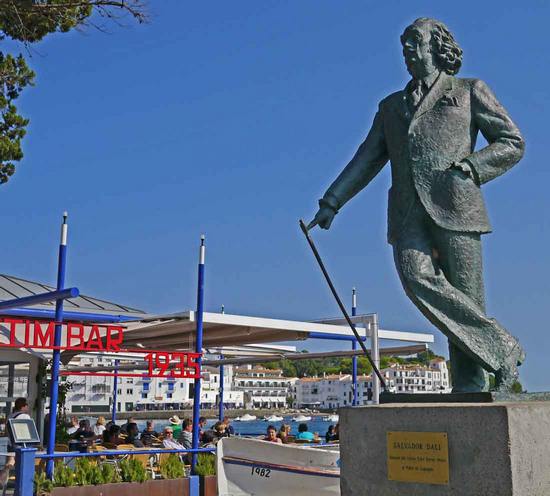 The couple entertained here extensively, but also made the brisk up-and-downhill walk (or short drive) into Cadaqués for meals. They are still remembered as being particularly fond of the zarzuela, or stew, of fisn and lobster served at Restaurant Sa Gambina (Calle Riba Nemesi Llorens, Cadaques; +34 972-25-81-27, restaurantsagambina.com). The little Cap de Creus village recalls Dalí fondly with a statue of the artist striking a pose on the beach (right).
Dalí did love his shellfish. One of the recipes in his cookbook Les Dîners de Gala is based on a dish served at Michelin-starred La Tour d'Argent (tourdargent.com) in Paris. In fact, the book features recipes created in collaboration with several great French chefs. Its re-publication has revived interest in the artist's penchant for playing with his food. PBS Digital Studios did a segment of The Art Assigment devoted to Dalí on December 28. They asked if we'd call your attention to the attempt to make "Bush of Crayfish in Viking Herbs." It's a drolly hilarious production. Here's the YouTube video: