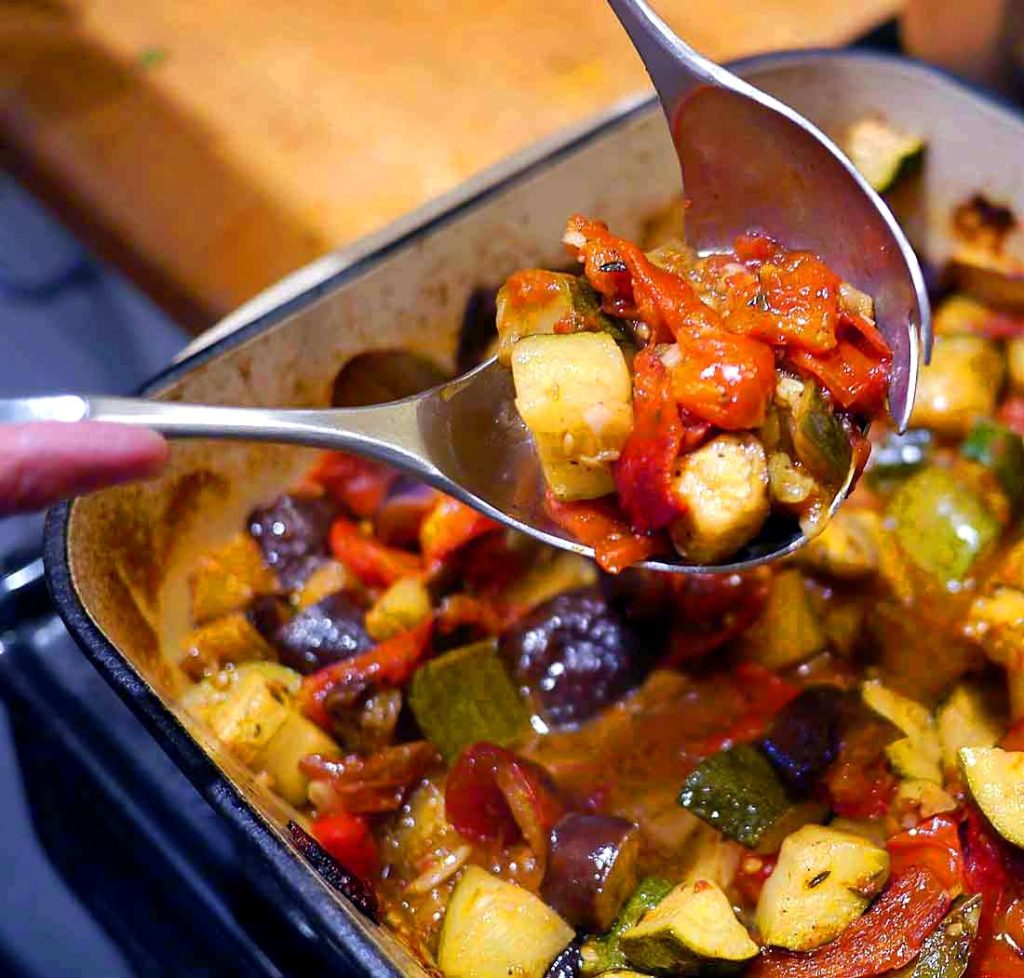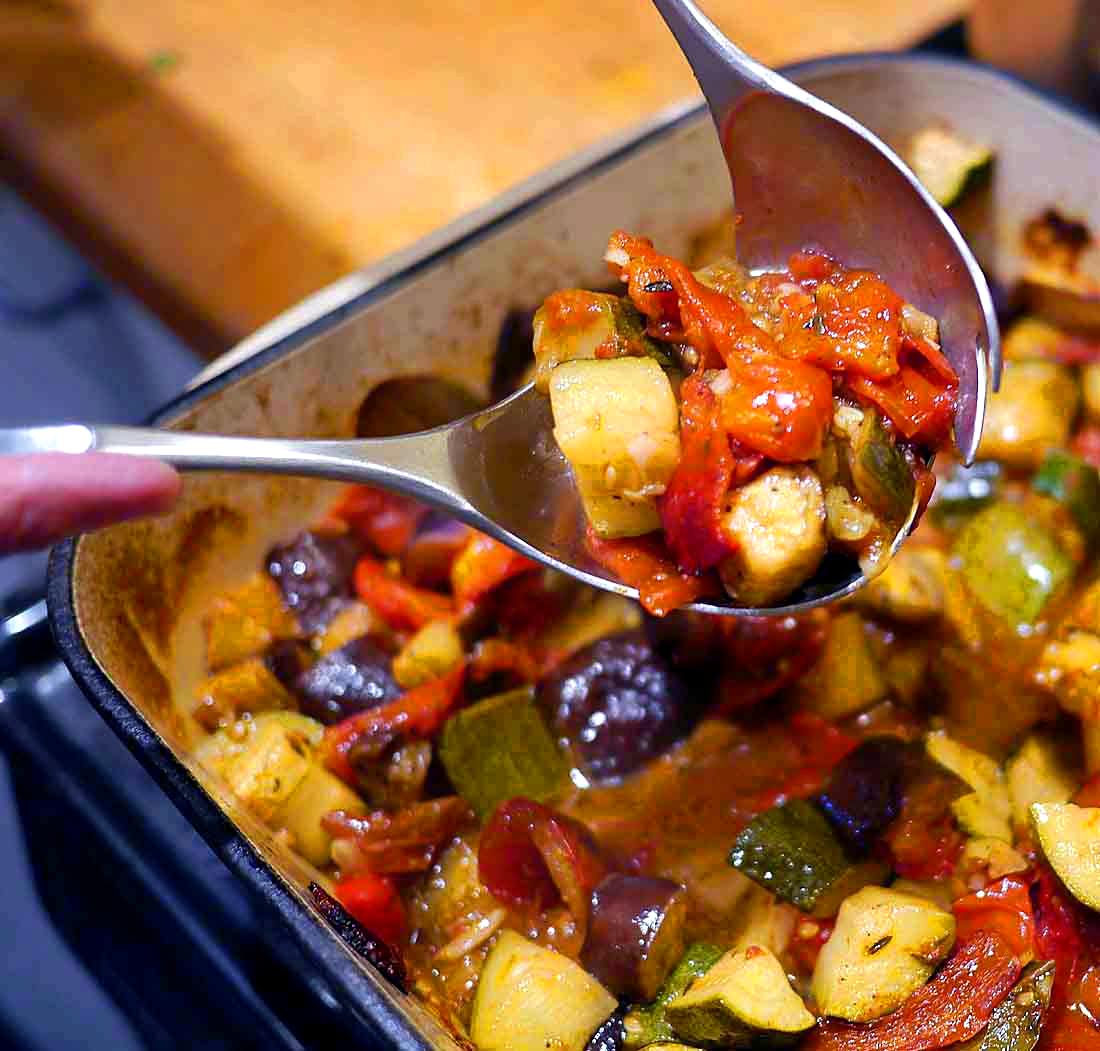 August brings a near-embarrassment of riches. After a wet summer with good heat, our garden is in overdrive. What we don't grow we can buy in abundance at the farmers markets held daily here in Cambridge. We have to remind ourselves that one does not live on insalata caprese alone. In August, there is also ratatouille.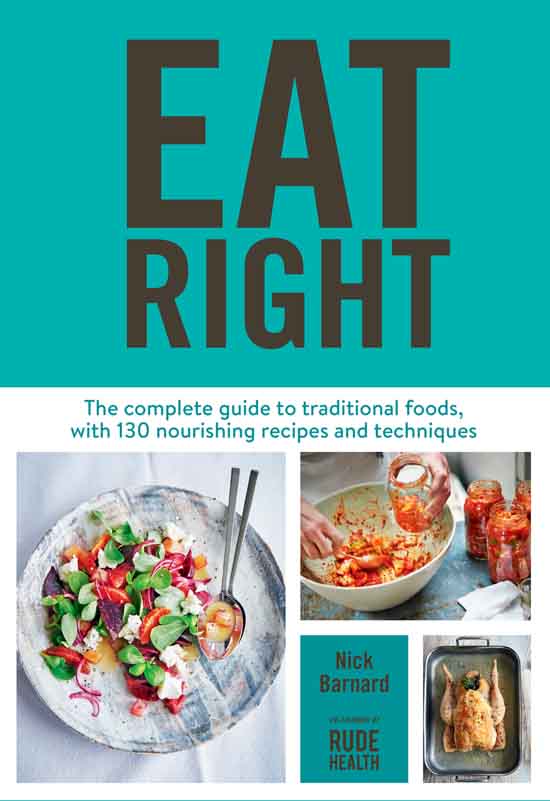 Such elemental foods deserve a special kind of reverence. British health and fitness guru Nick Barnard runs Rude Health (rudehealth.com). It is a food and drinks company that goes way beyond all the wholesome foodie fashions to get back to basics. His new book of food philosophy with 130 recipes, Eat Right, is published by Kyle Books (kylebooks.com). You can buy it here on Amazon. It's our favorite kind of "cookbook." It deals less in rote directions than in ways to treat ingredients.
So with our tables and counters overflowing with tomatoes, eggplant, zucchini, and peppers, we turned to Barnard's recipe for Quick Ratatouille. It's an oven technique that takes five minutes to prepare and about 45 minutes to cook. On the first cool day, we started chopping. The recipe is at the end of this post. The results are above. By the way, we substituted three slender Japanese eggplants for the one large eggplant the recipe specifies. Barnard also offers an alternative version with a tomato-onion sauce (directions included). We'll try that next time.

Chinon, the Loire summer red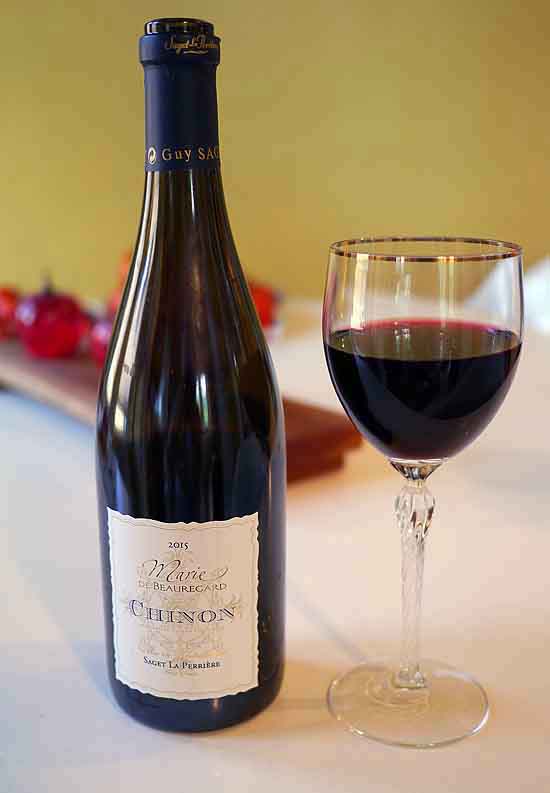 Ratatouille is a powerful dish—the summer equivalent of a hearty winter stew. While a number of soft reds complement it well, probably the ideal wine for a ratatouille dinner is Chinon. This Loire Valley red is Cabernet Franc on its home turf. The AOC regulations permit as much as 10 percent Cabernet Sauvignon, but the Saget la Perrière Marie de Beauregard Chinon 2015 that we uncorked is pure Cab Franc.
Purple reflections grace the otherwise garnet-red pour. Blackcurrant and blackberry dominate the nose with just a trace of menthol and vanilla from the nine months the wine spends in the barrel. In the mouth, the wine is full and rounded with good fruit slightly restrained by soft tannins. The classic sharp spice of the grape shows mostly in the smoky aftertaste, which reminded us of toasted coriander seed. It held up to the gorgeous ripeness of the ratatouille vegetables. As a sipping wine, it would benefit from another year in the cellar or opening a few hours before dinner. Retail varies $17-$20.
QUICK RATATOUILLE
Serves 4 either as a side or with some crusty bread and butter
Ingredients
1 large eggplant, purple or freckled, trimmed and chopped medium–coarse
5 large, firm, and ripe tomatoes (heirloom ones are a good choice), cored and chopped medium– coarse
3 medium zucchini, trimmed and chopped medium–coarse
2 red or orange bell peppers, trimmed, seeded, and chopped (more coarsely than the other vegetables)
4 garlic cloves, smashed and finely diced
2 bay leaves
Thyme sprigs
1/2 to 2/3 cup extra virgin olive oil
A small bunch of fresh flat-leaf parsley, leaves coarsely chopped, to serve
Sea salt and freshly ground black pepper
Directions
Preheat the oven to 400°F.
One-dish method
Put the prepared eggplant, tomatoes, zucchini, and red or orange bell peppers into a roasting pan or baking dish.
Throw in the garlic and herbs, pour over about 1/2 cup of olive oil, and sprinkle with lots of salt and some grindings of black pepper. Jumble it up to coat everything thoroughly with the oil, adding more oil if need be to keep it moist. Roast for 35 to 45 minutes, turning over the vegetables from time to time.
Remove the thyme sprigs and the bay leaves and serve sprinkled with the freshly chopped parsley.
With a tomato and onion sauce
If you like onions in your ratatouille, in addition to the above, peel and dice 2 medium onions medium-coarse. Smash, peel, and finely dice 3 of the 4 garlic cloves. Peel the tomatoes if you wish or just core and chop them coarsely without peeling.
Warm 3 tablespoons of olive oil in a pan over low–medium heat and add the onions. Allow them to sweat a little and soften but not color, then add the chopped garlic and continue to cook for a minute, no more. Add the tomatoes and simmer, uncovered, for about 10 minutes.
Assemble the rest of the vegetables in the baking dish as above, and tuck in the remaining clove of garlic. Pour over the tomato sauce and stir, adding as much olive oil as necessary to moisten everything generously.
Roast.