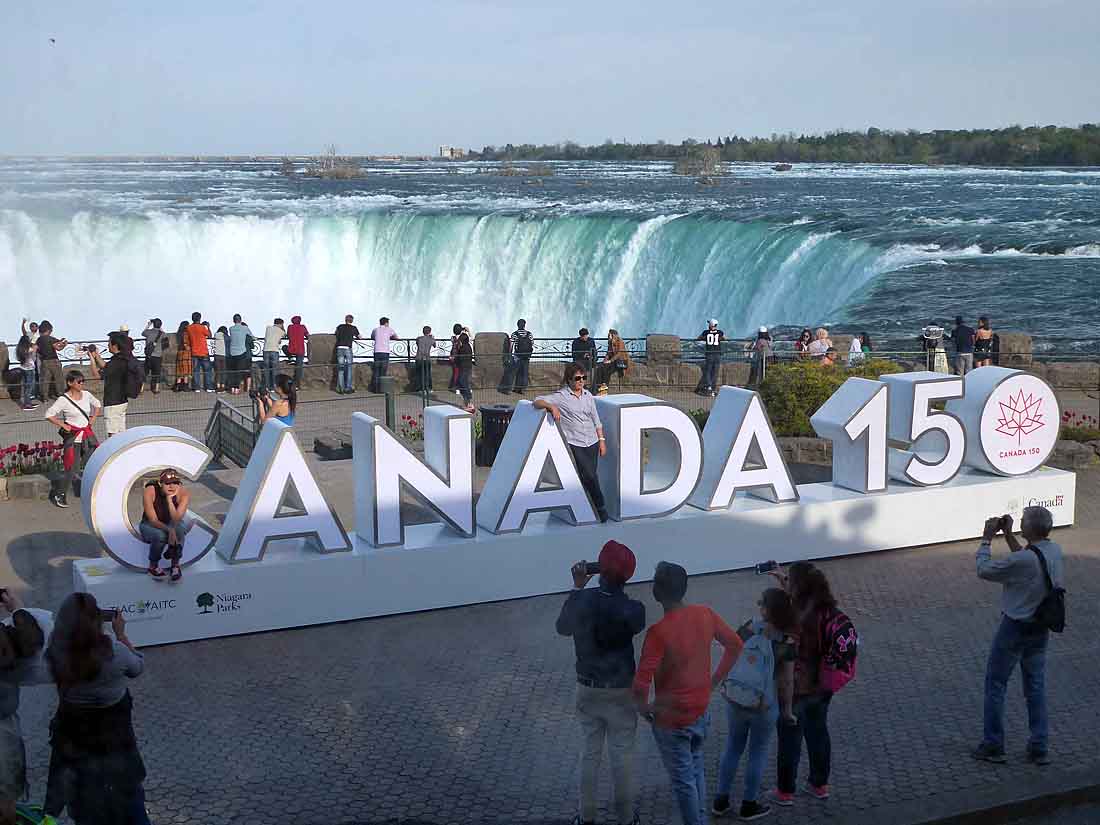 A big "CANADA 150" sculpture celebrating the country's 150th anniversary of Confederation had just been installed when we settled into a window table at Elements on the Falls Restaurant (niagaraparks.com/visit/culinary/elements-on-the-falls-restaurant/). People were having so much fun climbing on the sculpture and posing for photos that we were almost distracted from the glorious view of Horseshoe Falls.
The restaurant is one of five owned and managed by Niagara Parks. The agency was established in 1885 to preserve and protect the natural resources of Niagara Falls and the Niagara River. Niagara Parks also ensures a good time for all in this legendary natural setting. They oversee everything from cruises and zipline tours of the falls to gardens, golf courses, historic sites, and the Niagara River Recreation Trail. Their guests also eat well at the Niagara Parks restaurants.
We're often leery of restaurants with great views. Restaurateurs sometimes think that the scenery will lead diners to overlook less than stellar food or that people will pay a premium for the view alone. But we needn't have worried at Elements on the Falls. Our meal was every bit as good as the view.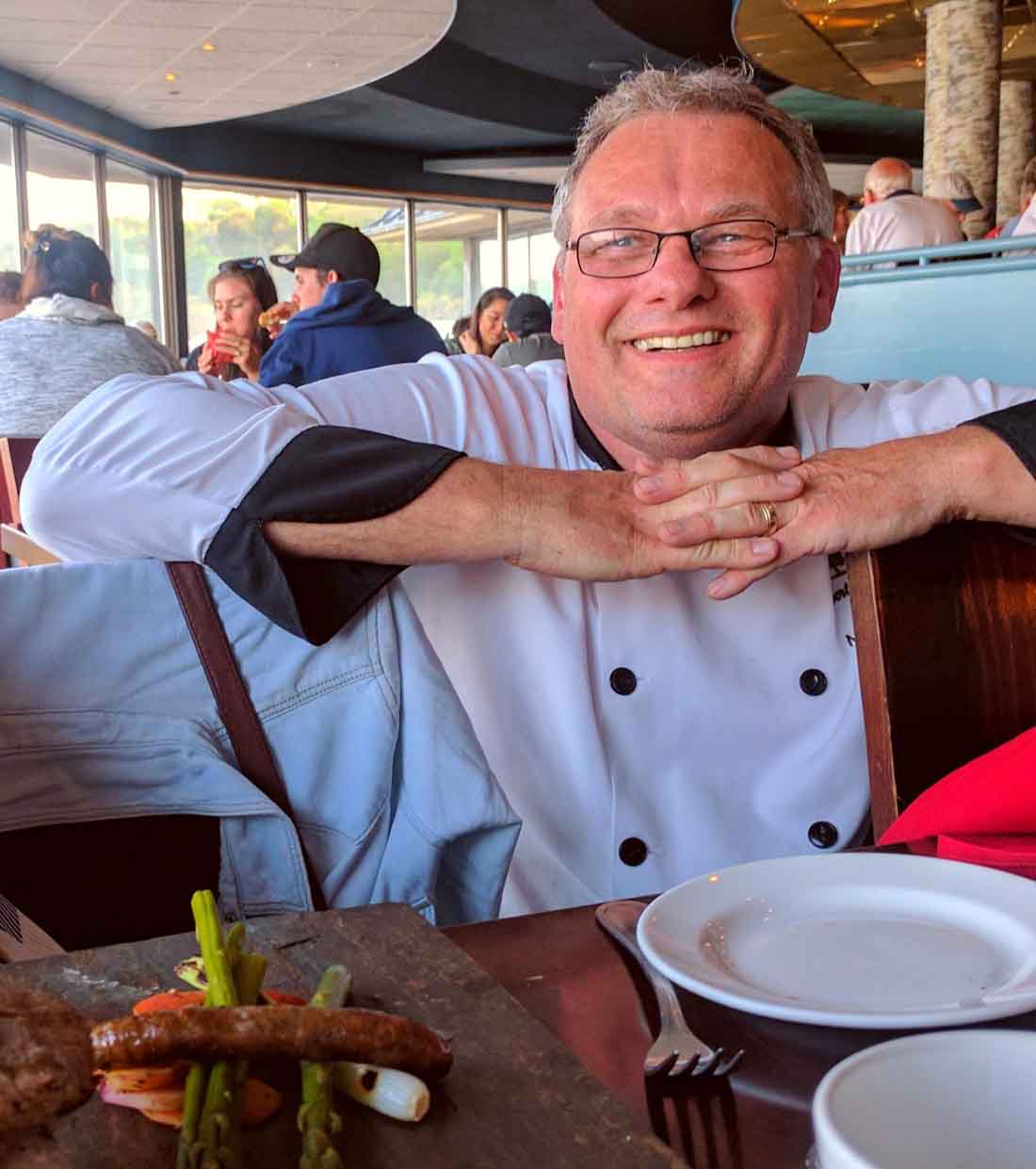 Elements participates in the Feast ON program (ontarioculinary.com), which promotes fresh food from Ontario province. Chef Elbert Wiersema (above) knows how to make the most of that local produce, fish, and meat. The Dutch-born chef cooked in Paris, London, and Bermuda before landing in Ontario about 15 years ago. He has cultivated a deep appreciation for the foods and wines of his adopted home.
An Ontario feast

Our first dish featured a small fillet of lake perch, fried very crisp and served with a side dish of local wild rice, farmers cheese, and fruit salsa. The mild fish matched the soft flavors of the rice and cheese, while the small cubed fruits gave a piquant counterpart to the crisp skin.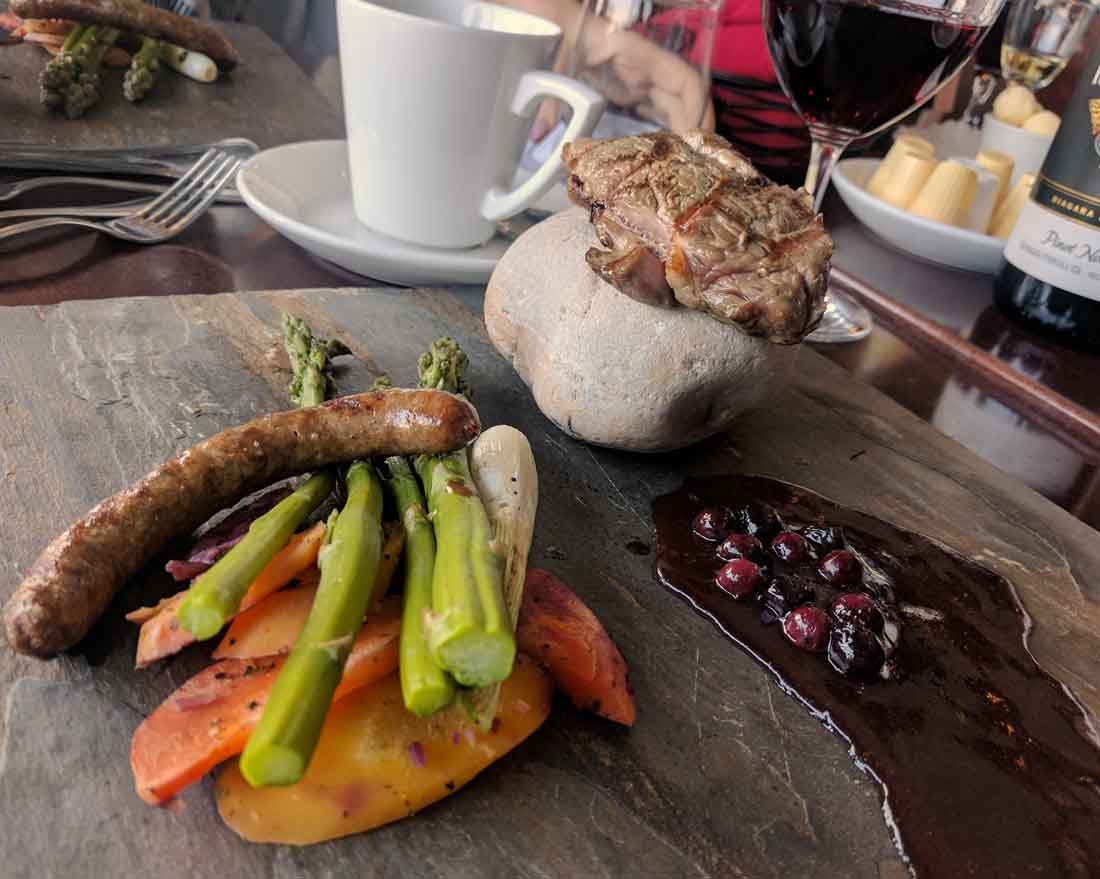 Chef Wiersema's unique version of lamb mixed grill (above) had its own built-in drama. We were each served on a piece of slate where a roasted merguez sausage sat atop roasted heirloom potatoes, green onion, and asparagus. A saskatoon berry sauce made with reduced Baco Noir wine provided a sweet-tart counterpart.
As the plate was served, we were cautioned that the stone sitting on one end was very hot. Indeed it was. Chef Wiersema had selected flat-sided stones from the banks of the Niagara River, then heated them blazingly hot in the oven. The hot stone on each plate was an individual grill where we could cook our lamb sirloin steaks to taste.
The meal concluded with a salute to Canadian cuisine that evoked the very symbol of the country in this celebratory year. A crispy maple tart sat in a swash of reduced ice-cider and was garnished with tart and citrusy sea buckthorn berries. Chef kindly shared his tart recipe. We're looking forward to trying it during New England maple season.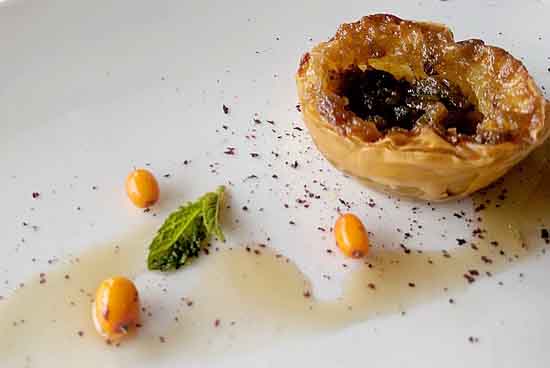 MAPLE BUTTER TARTS Ingredients
6 sheets frozen phyllo pastry, thawed
3 Tablespoons (45 ml) melted butter
For filling
1 egg
1/2 cup (125 ml) packed brown sugar
1/2 cup (125 ml) Maple syrup
2 Tablespoons (30 ml) melted butter
1 teaspoon (5 ml) vanilla
1 teaspoon (5 ml) fresh lemon juice
1/3 cup (85 ml) coarsely chopped pecans
Directions
Preheat oven to 375°F.
Place the phyllo pastry between two sheets of waxed paper and cover with a damp tea towel. Place one sheet on a work surface, keeping the remaining sheets covered.
Brush the phyllo with some of the melted butter; top with a second sheet. Continue stacking the sheets of phyllo, brushing each with melted butter, until you have a stack of 6. Brush the top sheet well with butter. Cut into 12 even squares.
Press the squares evenly into 12 muffin cups.
In a bowl, beat the egg well with a whisk, then whisk in the sugar, maple syrup, butter, vanilla and lemon juice. Stir in the nuts.
Spoon the filling evenly into the prepared phyllo cups, being careful not to let the filling come up above the pastry. (They will appear about half full.)
Bake in the bottom third of the oven until the pastry is golden, about 15 minutes. Place the pan on a rack to cool completely.
Courtesy Chef Elbert Wiersema, Elements on the Falls, Niagara Parks