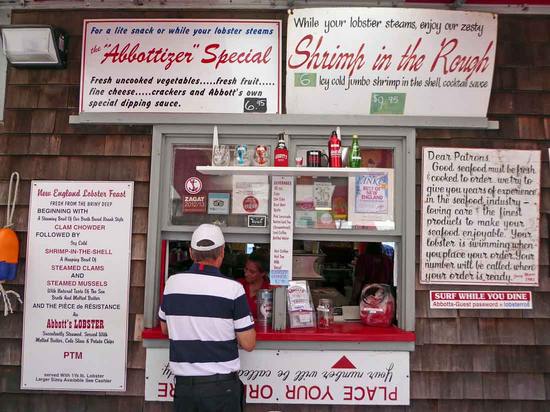 In our next lives we want to come back as Mondavis. Every American branch of the clan seems to have a purple thumb ever since Cesare and his sons Robert and Peter took over the Charles Krug winery in 1943. As one of two winemakers at the Michael Mondavi Family Estate (michaelmondavifamilyestate.com), Rob Mondavi Jr. has developed quite a reputation for his quality Napa Cabernets. So we wondered: What about the whites?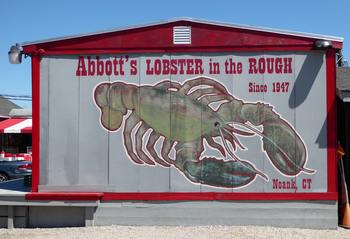 In New England, where we live, summer means seafood. While we might sip a red with bluefish, we really need white wines for the kings of ocean: oysters and lobster. So we tossed a bottle each of 2015 Emblem Chardonnay Carneros and 2015 Animo Napa Valley Heritage Sauvignon Blanc into a cooler, placed a bag of ice on top, and paid a visit to Abbott's Lobster in the Rough (abbottslobster.com).
We had a method to that madness. This Noank, Connecticut, seafood shack on the west side of the Mystic River is famous for the buttery hot lobster roll, a specialty of the Connecticut shore. Moreover, Abbott's does not fry anything. All the seafood is raw, steamed, or grilled. No breading, no grease—just pure fish and shellfish. (For a view on wine with a lobster salad roll, see our post on rosé.)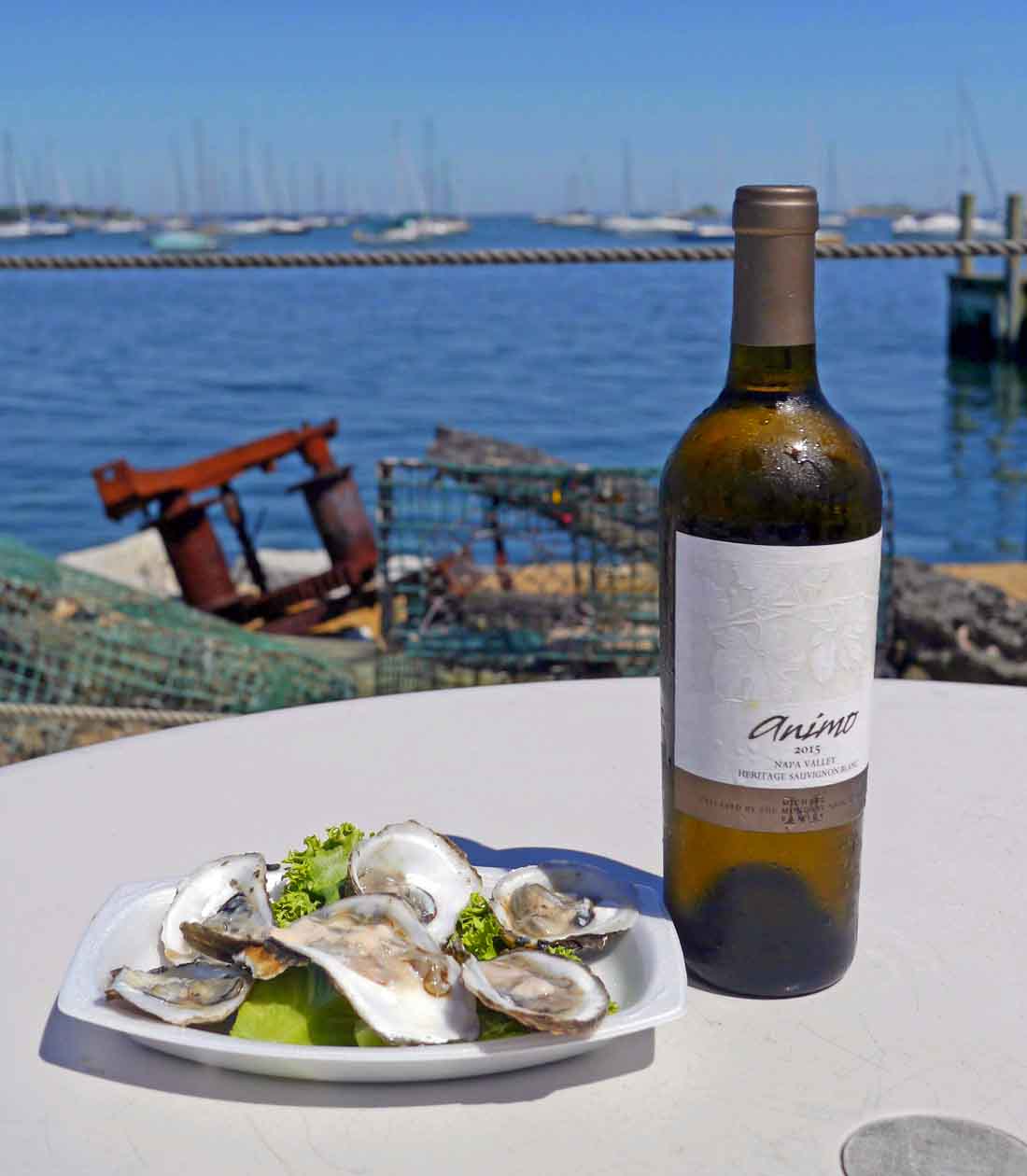 2015 Heritage Sauvignon Blanc with oysters

Mondavi's Heritage Sauvignon Blanc represents an unusual French lineage. Back in the 1880s, the head of California's State Viticultural Commission brought Sauvignon Blanc cuttings from Château de Yquem in Bordeaux back to the Golden State. The Mondavis got cuttings from the descendants of those vines and planted a new vineyard in 2006. In deference to the historic plant genetics, they even used the same 19th century root stock and trellising.
Talk about boutique wine! The vineyard is so small that the Mondavis were able to make exactly six barrels in 2015. The juice was fermented in French oak barrels and cellared in the fermentation vessels for nine months before bottling.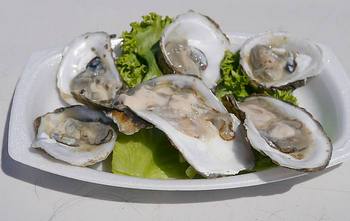 There's no discounting the California terroir. The Animo vineyards are high on the slopes of Atlas Peak, where they stick up above the usual Napa cloud cover. This Sauvignon Blanc has a stony backbone reminiscent of good Sancerre with a more pronounced white peach and lime zest fruitiness. From the 11 different oysters available on the half shell at Abbott's, we selected Connecticut Blue Points for their mild neutrality. They emphasized the mineral qualities of the wine, which was also fine for sipping without food in the salt air. It is a wine with multiple subtle layers. As it warms, some of the more floral flavors come forward, especially chamomile, bramble blossoms, and dandelions. Hints of mango and other petrol notes are held in check by the bright acidity. Retail ranges $57-$65.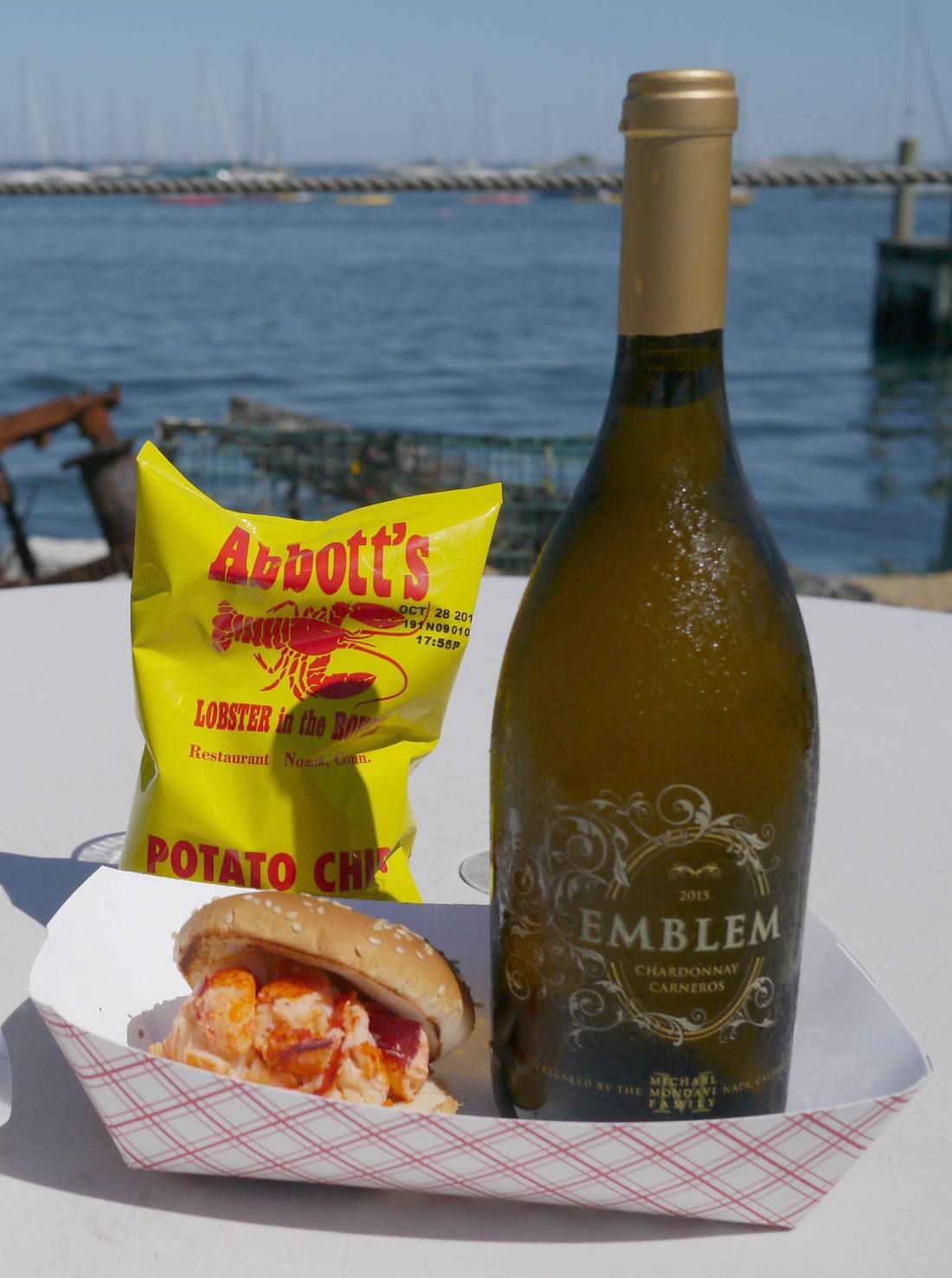 2015 Emblem Chardonnay with lobster

Michael Mondavi Family Estate grows the grapes for its Emblem Chardonnay in the southern part of the Los Carneros appellation, where fog from San Francisco Bay moderates the vineyard climate. There wasn't much rain in 2015, but all that fog kept the grapes hydrated. Cold fall nights preserved a significant acidity, while a long hang time allowed for the typical Napa monster sugar development. (The dry wine runs close to 15% alcohol.)
The fruit in this wine is luscious and full-bodied. Alas, we caught the wine at an awkward phase in its development. (Think a teenager's growth spurt.) The technical notes say the wine was aged 10 months in new French oak. Right now, it tastes more like a year in new American oak. The vanillin and other oak aromatics overwhelm the otherwise powerful fruit. We suspect it will improve a lot by next summer.
Even now, the 2015 Emblem Chardonnay works really well with buttered lobster. You've heard wine geeks babble about buttery Chardonnay, right? This one needed butter added. The salt of the lobster and the slight oiliness of the butter on lobster and bun alike showed the 2015 at its best. Next time you encounter an oaky Chardonnay, order a hot buttered lobster roll. You'll be glad you did. Retail price varies $30-$35.