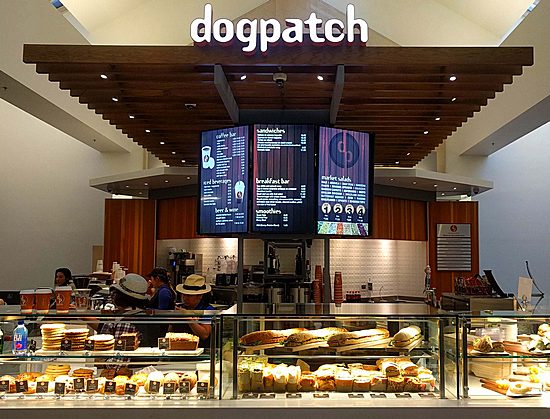 Dogpatch bakehouse and caffè (dogpatchsfo.com) at San Francisco International Airport (SFO) takes its name from the city's now trendy former shipbuilding district adjacent to Potrero Hill. But it takes its ethos from the region's devotion to fresh local food.
The takeaway eateries at Terminal 1 (Boarding Area C) and Terminal 3 (Boarding Area E) display a list of farms and other local producers and suppliers that provide everything from fresh greens to olive oil, vinegar, crusty breads, and Italian cold cuts. It's a last chance for a taste of California before travelers board their planes—perhaps headed to locales less fixated with food.
The menu ranges from breakfast burritos and bagels and lox with fruit salad to marinated portobello wraps and select-your-own-ingredients salads. In October, the Dogpatch introduced the quintessential Californian light meal: avocado toast. Most origin stories hold that the treat was first seen on a menu in Sydney, Australia in the mid-1990s. But California—which grows more avocados than any other state and has a devotion to health and fitness trends—is, in our minds, its spiritual home.

Basics of avocado toast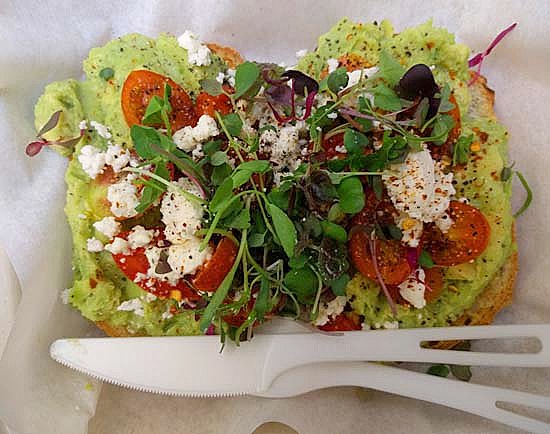 The basic concept is simple. Mash an avocado and spread it on toast as if it were butter. But the devil is in the details and Dogpatch handles them well. To begin with, kitchen staff place both sliced and mashed avocado on a piece of coarse-textured, crusty bread. That bread adds a layer of flavor and rough texture that contrasts sharply with the cool and oozy avocado. Then they add just enough toppings—cherry tomatoes, sorrel, feta, and microgreens—to keep the open-face sandwich flavorful and interesting. It's pretty to look at and photograph. It's even better to eat.