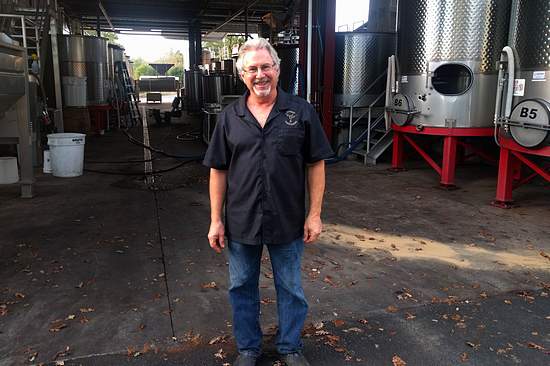 You could say that Rick Moshin (above) is a calculating fellow. Before the proprietor and winemaker at Moshin Vineyards (10295 Westside Road, Healdsburg, 707-433-5499, moshinvineyards.com) got into the business, he was a math instructor at San Jose State. The skills have served him well. He keeps the big picture of winemaking in his head like a blackboard full of calculations while still managing to pay attention to every detail. His wines are like elegant solutions to complex problems. They have a kind of Pythagorean grace.
"Biodynamic is the wave of the future," he said when we visited him in November. He's not doctrinaire about it. The most important principles, he believes, are those that treat the soil like a living organism that constantly recycles whatever materials will biodegrade. He makes his own compost to encourage microbial growth and plants cover crops that can be turned into the soil.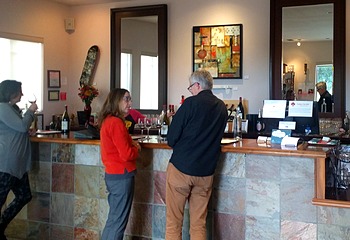 In 2005, he built a winery on a hillside. All the operations flow downwhill from the crush pad at the top to fermentation vessels to tanks and barrels for aging to the tasting room (right) at the base. His estate vineyards are almost entirely devoted to Russian River Pinot Noir with just a half-acre of Pinot Blanc from Alsatian clones. Most parcels are planted in Old World clones. Moshin speaks about the vines with reverence and tenderness. And he handles the juice the same way. The gravity feed system pampers the wine, moving it through the various stages without the bruising effects of mechanical pumping.

Tastes like the music of the spheres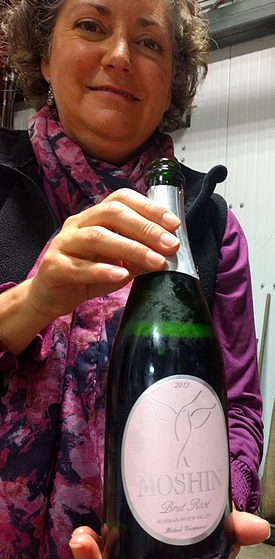 Pinot Noir is clearly Moshin's passion. He makes several versions, based on the special character of each of his estate vineyards and the vineyards with which he contracts. With only time for a brief tasting, we started by sampling the 2013 Brut Rosé Sparkling Pinot Noir. It had the lusciousness of a good Crémant de Borgogne from northern Burgundy. Three years on the lees guarantees a bready nose and a creamy mouthfeel. The pinpoint carbonation combines with the acidity to make the wine a great complement to food—or a good choice for toasting.
Moshin depends entirely on natural yeasts and adapts his winemaking to the growing conditions of each vintage. The 2012 Estate Pinot Noir comes across soft and light, with hints of clove, cherry, and orange peel. The 2014 Estate Pinot Noir Lot 4 Selection, by comparison, bursts with aroma of red fruit and rose petals. We also tasted the 2015 Estate Pinot Noir, which promises to be a truly great vintage. A dry year produced small grapes in sparse clusters, reducing overall yield to about half of normal. But less is clearly more—more intensity, more color, more depth. Just barely in release, Moshin 2015 Estate Pinot Noir is a wine to set aside to mature.