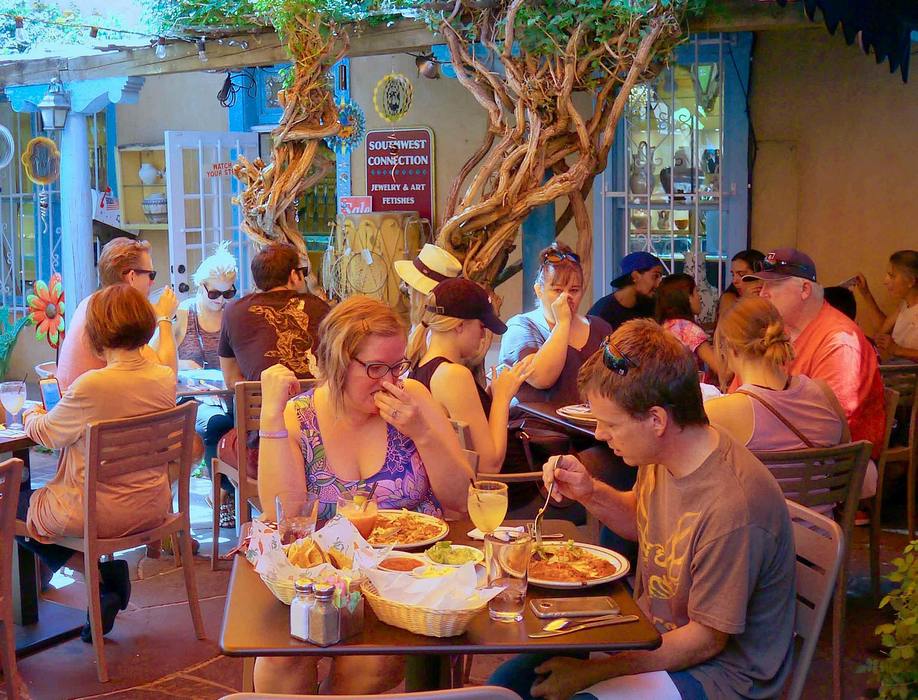 We've learned to trust the James Beard Foundation for more than pointers to chefs on the cutting edge or up-and-comers bound to be the culinary superstars of tomorrow. The "James Beard America's Classics" honors tradition by highlighting a few top practitioners of regional cuisine. So when we were in Santa Fe for Indian Market last month, we made a beeline for that city's two Beard Classics. We began at The Shed (113 E Palace Ave., 505-982-9030, sfshed.com).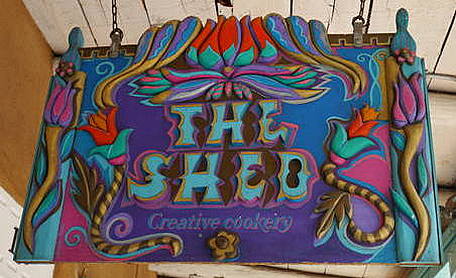 If you're strolling up East Palace Avenue under the arcade to stay out of the sun, The Shed is hard to miss. A colorful sign under the arcade points you inside to Prince Patio, a 1692 hacienda where the restaurant occupies the patio and several of the surrounding rooms. (The others, naturally, are occupied by dealers in fine silver jewelry.)
The restaurant opened in 1953 on nearby Burro Alley, taking its name from the shed where wood-gatherers used to tie up their burros while they slaked their thirst in a nearby cantina. Founders Polly and Thornton Carswell moved to the current location in 1960, and it's remained a family-run business ever since. Their son Courtney and his wife Linnea now run The Shed with their kids Josh and Sarah. The Beard Foundation enrolled The Shed as a Beard Classic in 2003, on the occasion of the restaurant's 50th anniversary. During Indian Market, the wait for a table at lunch ranged from one to two hours—all the better to look around.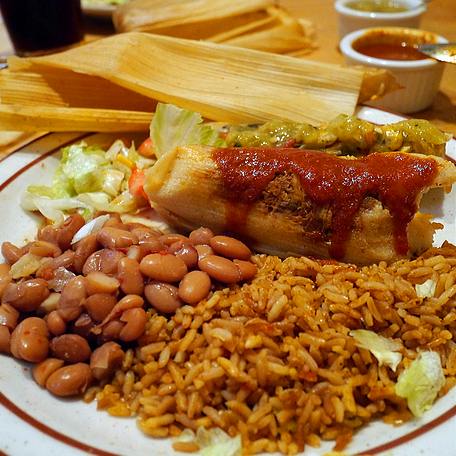 The sign may signal "creative cuisine," but the menu is pretty straightforward northern New Mexican fare. The menu claims that the family grows its own red chiles and grinds them at the restaurant to make the red chile sauce. We've been told that they have always sourced their green chile from the same farm in the Hatch valley, about halfway between Albuquerque, N.M., and El Paso, Texas. What we like about The Shed is that the chile sauces, even though they're often served in small side bowls, are the heart and soul of the menu.
The question of deciding among all the classics of the cuisine was much simplified by the special of the day. The Shed was serving a tamale plate. One tamal was stuffed with green chile and corn, the other with pork and red chile. Yes, please! We elected to have both red and green sauces to dollop on the rich, corn-intense tamales. Classic indeed.