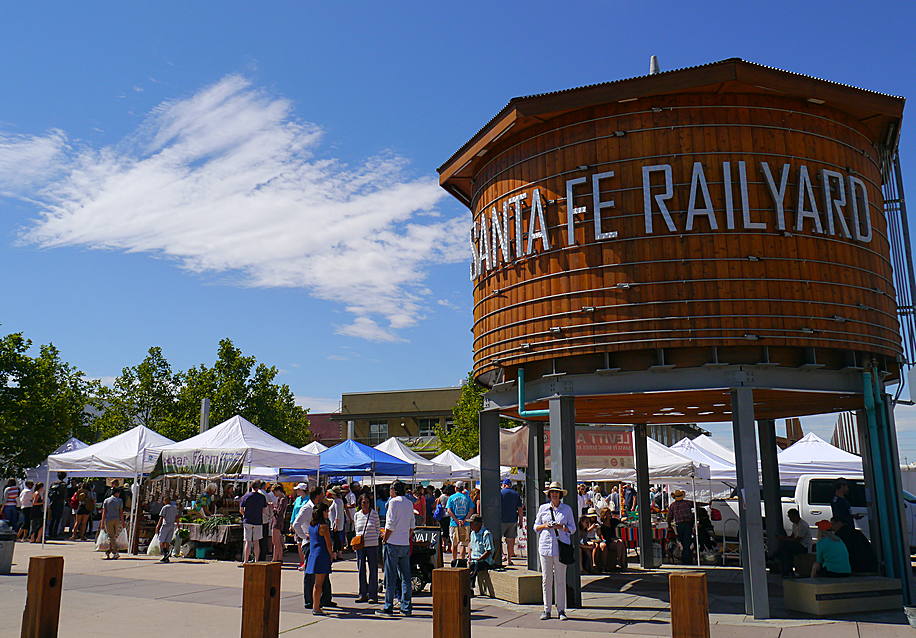 Sometimes we just get lucky. We drove straight for the Santa Fe Railyard on the opening day of Indian Market earlier this month. We smugly figured we could park there and walk into the plaza where the gigantic gathering of Native American artists had already sucked up the downtown spaces. When we opened the car doors, the air was heavy with the come-hither scent of fire-roasted green chile peppers. We knew we were on to something good. In fact,we had stumbled into a glorious celebration of northern New Mexico bounty, or more specifically the Santa Fe Farmers' Market (1607 Paseo de Peralta, Santa Fe, 505-983-4098, santafefarmersmarket.com). Now 50 years old, this institution takes over the Railyard plaza every Saturday year-round, as well as Tuesday mornings from May until Thanksgiving. We'll have plenty of time for the two-day Indian Market we figured as we headed straight to the chile farmers.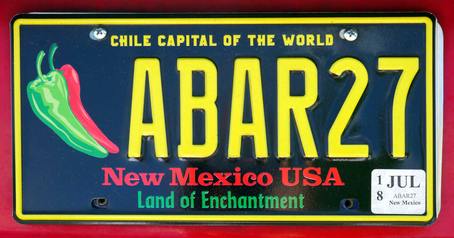 As a special license plate makes clear, New Mexico USA is the "chile capital of the world." And that's c-h-i-l-e—no spurious extra "l" or "i" on the caboose of the word. It came into English from the Spanish, who borrowed it from the Aztecs, who probably got it from the descendants of the Olmecs. People have been growing chile in the Americas for 5,000 years or more—right alongside corn, squash, and beans.

A little water makes the land bloom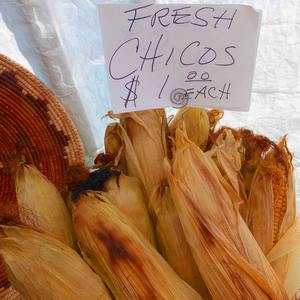 The bounty and variety of the market is nothing short of astonishing. The 150-plus producers come from 15 counties in northern New Mexico—all in the arid high desert, high plains, or Sangre de Cristo mountains. Thanks to modern deep wells and ancient acequia irrigation ditches, they make the desert bloom. As Jesus Guzman noted in a sign on his booth, "grown in Nambé the traditional way with sun, water, and hard work." Those are his "chicos" at left. They are made by cooking green corn over hot coals until the kernels are steamed. Then they are dried in the sun. Kernels are usually stewed with a little onion and meat, like posole. But the smoky corn has a completely different flavor and texture from the lye-soaked, hulled corn (hominy) used for posole.

Chiles—and many, many other vegetables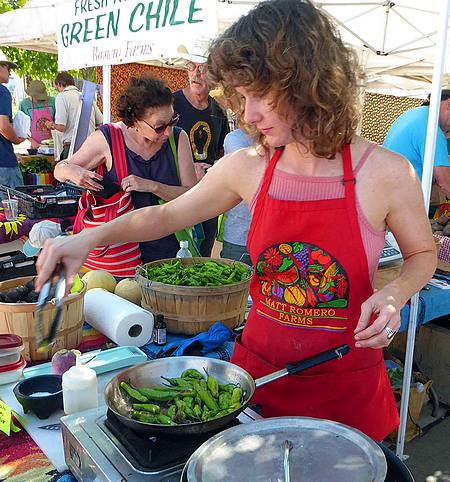 One of the bigger growers—Matt Romero Farms—was selling arugula, celery, bok choy, two kinds of beets, two varieties of onions, white and purple daikons, four colors of carrots, seven types of potatoes, six kinds of sweet peppers, six kinds of non-New Mexican hot peppers, five varieties of eggplant, and five kinds of local green chile. And those were just the raw vegetables. Shoppers could also buy bags of freshly roasted green chiles, ready to take home and peel.
Early in the morning, Romero workers were tumbling the freshly picked Alcalde Improved (hot) and Big Jim (mild) chiles in rotary cages over a gas fire. This is a seasonal rite at the end of August and into early September. Hand-lettered signs on the roadside steer drivers to "Roasted Hatch Chile!" Hatch is a town in central New Mexico famous for its canned and frozen chiles. Truth be told, almost everyone is roasting Big Jim, Alcalde, Numex 6-4, or some other nameless green chile from the fields of northern New Mexico rather than peppers trucked in from Hatch. They are all good.

Indigenous treats dominate the market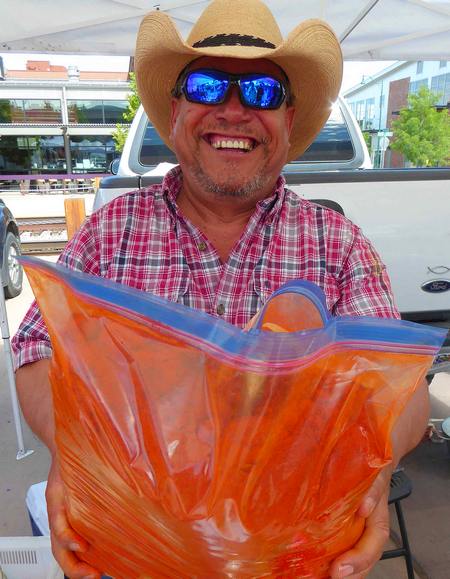 Aficionados swear that they can detect even subtle differences between different strains of chile peppers. Mind you, native New Mexicans don't entirely look askance at jalapeños or poblanos, but they do tend to be loyal to the long pods of their native peppers.
The one chile that enjoys near universal acclaim is Chimayó red chile. It's a somewhat skinny pepper that shrinks tight around its seed head and tapers to a long point. It's the most popular chile for decorative ristras—ideal to hang next to a braid of several heads of garlic. It's also revered as ground red chile. The Chimayó red crop is still weeks away, and could take longer still to dry in the sun. But the Cresencio Ochoa (at right) was doing a brisk business selling some from last year's crop. A sniff might make you sneeze, but the fruity richness of the chile will also make your mouth water. It's a way to hold onto the chile rush through the winter. We bought a big bag to experiment. Look for recipes to come.