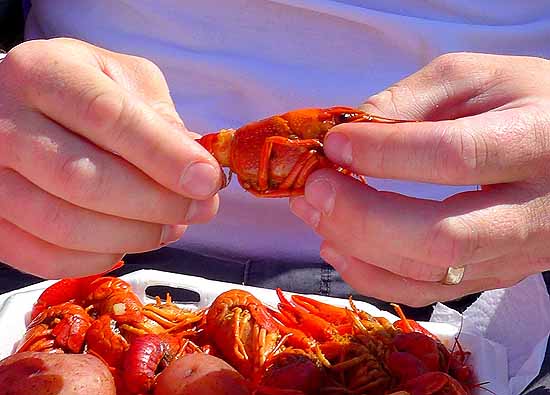 Crawfish might look like little lobsters, but getting to the meat takes a whole different approach. For starters, a meal of lobster is one lobster. A meal of crawfish contains several dozen. Because they are smaller, the meat in the claws – let alone the legs – is of little consequence. The tail's the thing. But crawfish, unlike lobster, don't have a carapace anywhere near big enough to poke your finger through.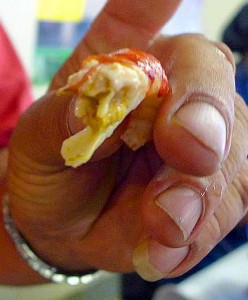 When I attended Crawfish College and the Breaux Bridge Crawfish Festival, the first thing I had to learn about crawfish was how to get at those tails so I didn't go hungry. Fortunately, there's a time-honored technique that also yields a nice clean tail without the animal's alimentary tract.
Start by grasping the crawfish with both hands – one on the tail, the other on the main body (as above). Now twist to separate the two sections. This brings you to the existential choice: To suck the heads or to throw them away and move on to the tails. Even some Cajuns think sucking the heads is disgusting. Others enjoy inhaling the briny essence of crawfish. Still others suggest that it depends on how much beer you've been drinking.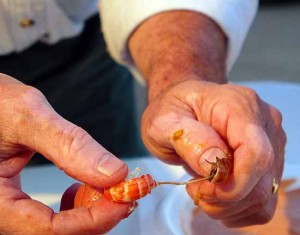 The separated tail will be dabbed with a murky yellow-green mess traditionally called "crawfish fat." (See the image above on the left.) In fact, it is the liver and has an intense crawfish flavor. It is universally enjoyed. All fans of crawfish agree that when peeling the tails, you need to pinch at the base. As you draw the tail out of the shell, the pressure will capture the digestive tract and pull it out separately from the meat so it can be discarded. (See image on right)
Although the directions sound complicated, they become second nature when you sit down to a special crawfish eating table (below), with a deep well in the middle for boiled crawfish and a funnel to toss down the shells to the garbage can strategically situated below. The whole business goes much faster when accompanied by the spicy Saison d'écrévisses ale from the local Bayou Teche brewery.