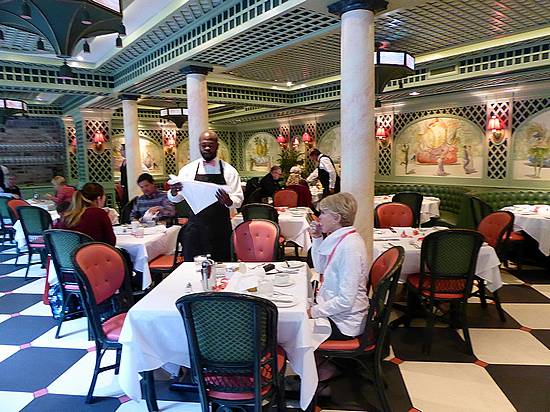 If you favor a light breakfast, you will have to adjust your thinking in New Orleans. Every meal, it seems, is an excuse for excess. French Quarter stalwart Brennan's (417 Royal Street, 504-525-9711, www.brennansneworleans.com) epitomizes the local penchant of beginning the day with a celebratory breakfast. The meal might start with a glass of sparkling wine mixed with pear and cinnamon purée and proceed through a couple of courses—and then dessert. After all, Brennan's is credited with introducing Bananas Foster.
In 1946, family patriarch Owen Brennan opened the restaurant that launched a dining dynasty. Brennan's has been housed in an instantly recognizable bright pink building since the 1950s. It had fallen on hard times before Ralph Brennan and partner Terry White purchased it in 2013. "I played here as a child and worked here in high school and college," Brennan recalled when he stopped at my table in the Chanteclair Room to chat. "I was afraid it was going to leave the family."
The restaurant closed for an 18-month renovation. The new owners refurbished the bar and relocated the kitchen to create a dining room with windows on Royal Street. They painted the walls of the Chanteclair Room with murals depicting 1895 Mardi Gras scenes of the Proteus parade.
A gastronomic leader once again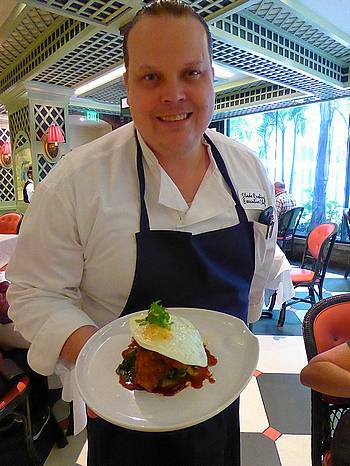 Of even more interest to diners, Brennan's hired Slade Rushing (right) as executive chef. (Ralph Brennan's son Patrick is sous chef.)
"I've always wanted to take over an institution in the French Quarter," said Mississippi-born Rushing. "Here in the South, food is a way of life, a reason to celebrate." Rushing has tweaked a few classic dishes and introduced some new ones that are probably destined to become classics themselves.
For the traditional New Orleans dish of Eggs Sardou, Rushing replaced English muffins with breaded and fried artichoke bottoms as the base for poached eggs. His sauce features tomato, chervil, and champagne vinegar.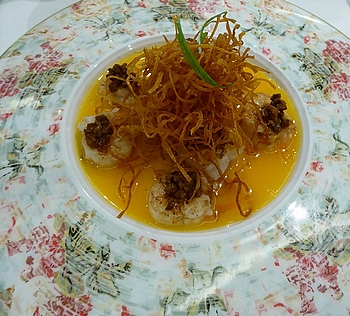 Rushing's additions to the menu include Egg Yolk Carpaccio, his restaurant-elegant version of a Spanish bar food classic (left). It features grilled shrimp dabbed with an andouille vinaigrette and swimming in a brilliant yellow puddle of egg yolk. (The warm plate half cooks the yolk.) On top is a vertical tangle of crisp shoestring sweet potato fries. He also put a Southern spin on North Atlantic lobster by serving shelled barbecued lobster tail and claw with spiced butter, lemon confit, and thyme.
He is most excited about Rabbit Rushing, a dish that speaks of his Southern roots. "That's my background on a plate," Rushing says of the fried Mississippi rabbit served with creamed collards, eggs over easy, and pickled pork jus. "My dad would wake me up at 3 a.m. I'd get my shotgun and we'd shoot a rabbit in the collard patch. The meat was so fresh it was jumping in the pan."
The dish has proven immensely popular. "It's elevated soul food," says Rushing of the dish he is holding in the photo above. "Taste memories are the most important thing that chefs can bring to the kitchen."