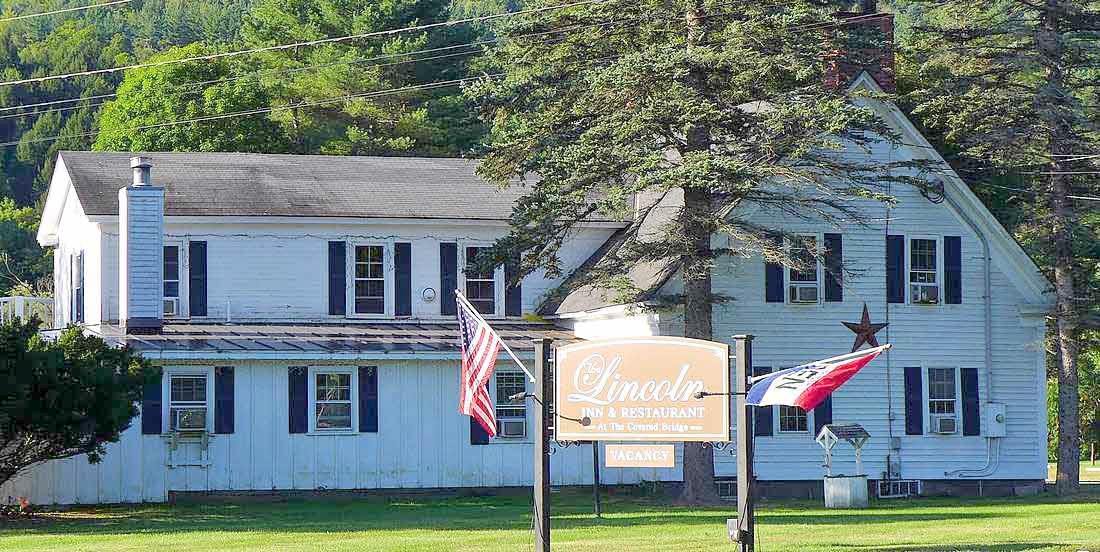 The Lincoln Inn in Woodstock is among the most European of the little inns in Vermont, and not just because chef Jevgenija Saromova hails from Latvia. She and innkeeper partner Mara Mehlman describe the property as a "restaurant with rooms." That's a model common in the European countryside, and often signals great dining. Think, for example, of Maison Troisgros, one of the pioneers of modern French cuisine.
Woodstock isn't Roanne, of course, and Jevgenija Saromova (or Chef Saromova, as she prefers) isn't Jean or Pierre Troisgros. Not yet, anyway. But she has impressive classical culinary credentials and a personal style unique in northern New England. She worked in top restaurants in Italy, France, and England before joining Mehlman in Vermont. The two women have applied the model of the French "auberge" to an 1875 farmhouse with six charming, carefully decorated rooms and green lawns that roll down to the Ottauquechee River.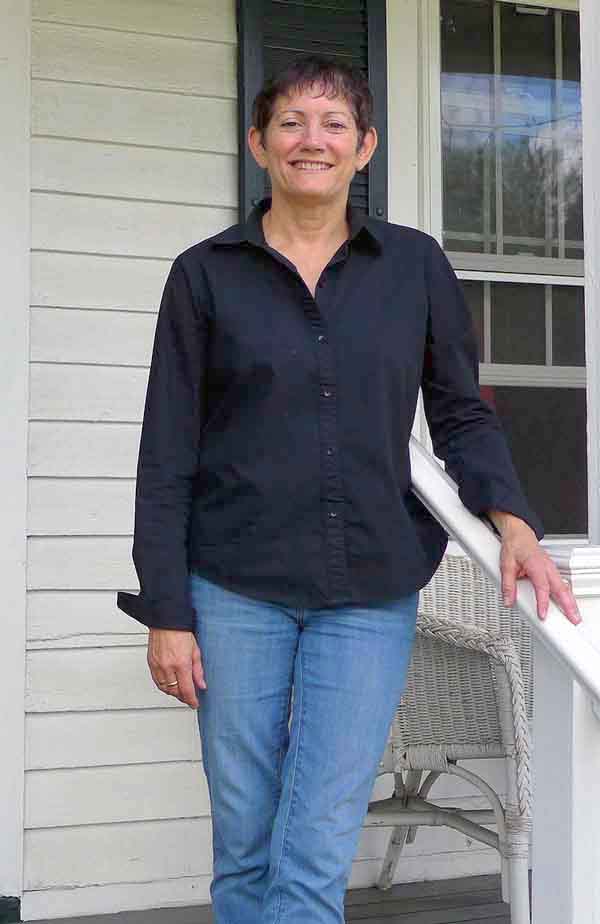 A native Californian, Mara first dreamed of living in Vermont when she took a Vermont foliage bicycle tour. Years later, she purchased the property, thoroughly renovated the building, and re-opened the inn rooms in July 2014. It became a gastronomic destination when Chef Saromova arrived from England a few months later. The women clearly love Vermont—skiing in the winter, kayaking in the summer—but they have no intention of replicating traditional New England fare.
"We're not about maple syrup and cheddar cheese," says Mara. "This is fine dining."
Chef Saromova explains. "I don't like boring food plates," she says. "I like to combine textures and flavors."
Refined Dining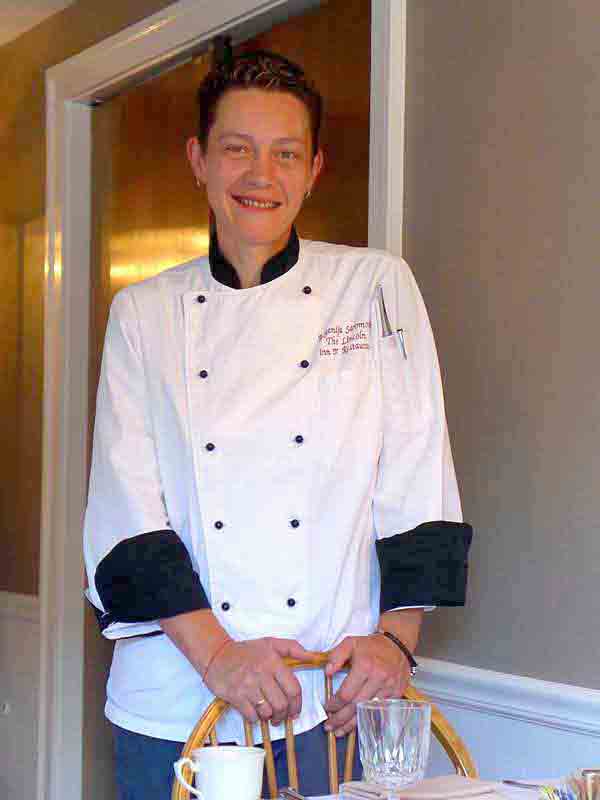 Chef Saromova spent nearly two decades as a member or leader of a kitchen brigade, but she works alone in the Lincoln Inn kitchen. Every dish is created to her taste and executed precisely as she envisions it. In effect, every diner gets the personal attention of the master chef. During most of the year, the restaurant serves a four-course prix fixe dinner Thursday through Sunday, with a more casual tavern night on Wednesdays. During foliage season, nights for dinner increase and tavern night goes on hiatus. The four-course meals—$55 per person—are gourmet pleasures. The menu changes daily. True to Chef Saromova's word, it's anything but boring. The Inn at Woodstock and other area lodgings send their foodie guests here for the full-blown fine-dining experience—complete with an excellent and surprising wine list.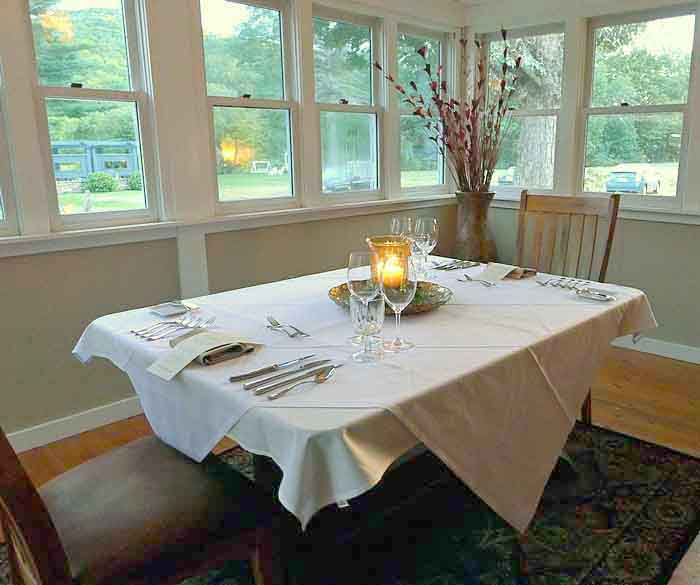 In addition to the main dining room tables, one party per evening can book the Chef's Table for a seven- or twelve-course tasting menu. Some of the plates are variations of those on the four-course menu, while others include specialized or especially precious ingredients. The Chef's Table is served in the Paul Newman dining room (left). Newman and his family used to vacation here and a previous owner enclosed a side porch as their private dining room. One diner at the table faces a photograph of Newman in his prime, and some ladies have been known to fantasize that they were having dinner with the actor. We enjoyed a seven-course meal that ranks as one of the most memorable we've eaten stateside in a long time. Each course demonstrated another aspect of the chef's ability to exploit taste and texture combinations for yet another striking composition.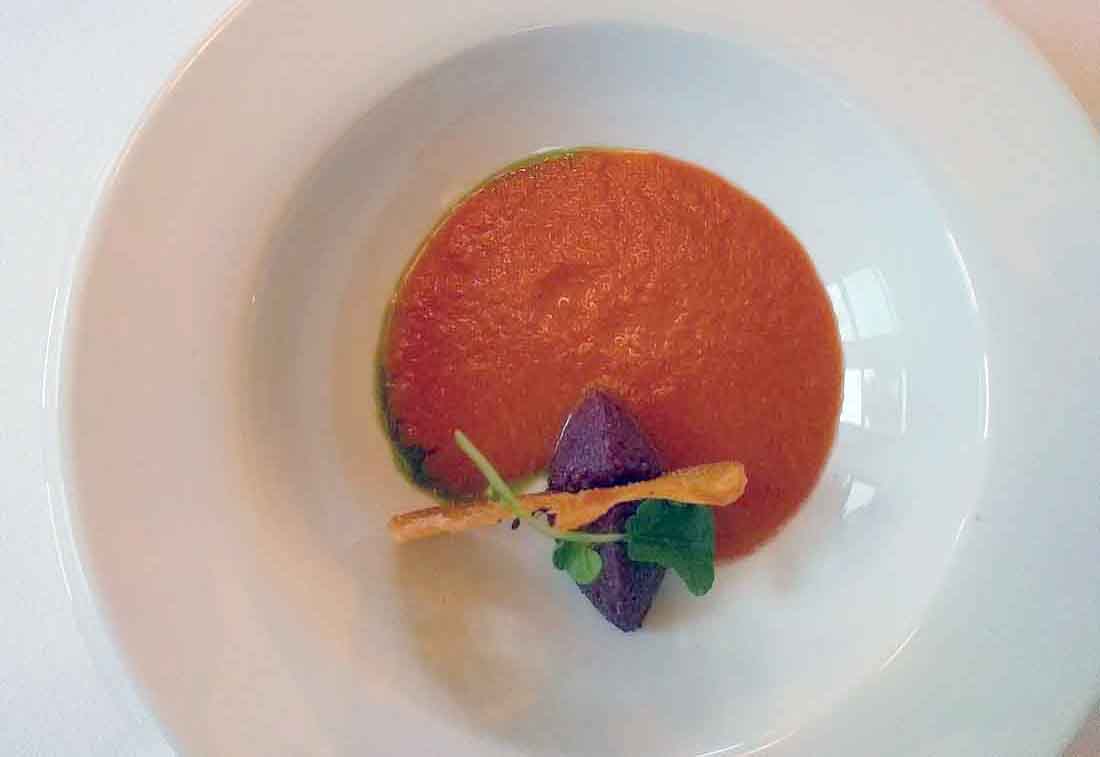 Chilled Gazpacho and Olive Tapenade Crostini

Chef Saromova grows her own kitchen garden in the river bottom land behind the inn. Despite this year's drought, she had good crops of tomatoes. Her take on chilled gazpacho is especially sweet from both the tomatoes and the roasted red peppers. It also has just a hint of red onion. The saltiness of methodically hand-pitted ripe olives (Kalamata and Niçoise by the taste) in the tapenade brings out the fresh vegetable flavors, while the paper-thin crostini give visual interest to the composition of the dish and a satisfying crunch. The dish was reveille for the taste buds: Fall in and stand at attention.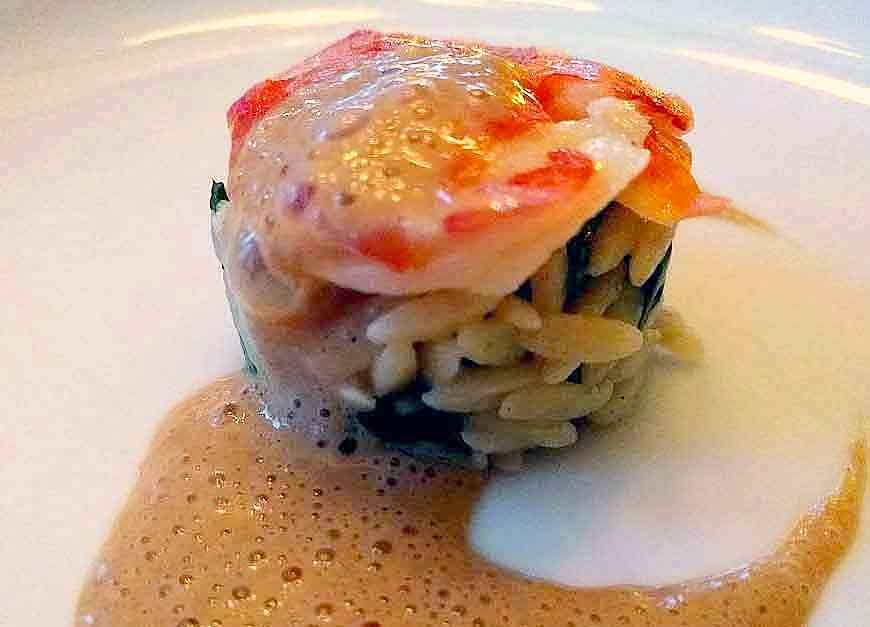 Lobster and Mascarpone-Enriched Orzo

Butter-poached lobster tail is a classic of French haute cuisine. The technique demands a low temperature to keep the butter from browning. Lobster cooked this way is more tender than boiled or steamed. Orzo and chopped mild greens mixed with a judicious bit of mascarpone form a presentation base for the lobster meat. The sweetness of the cheese calls the lobster's sweetness to the fore.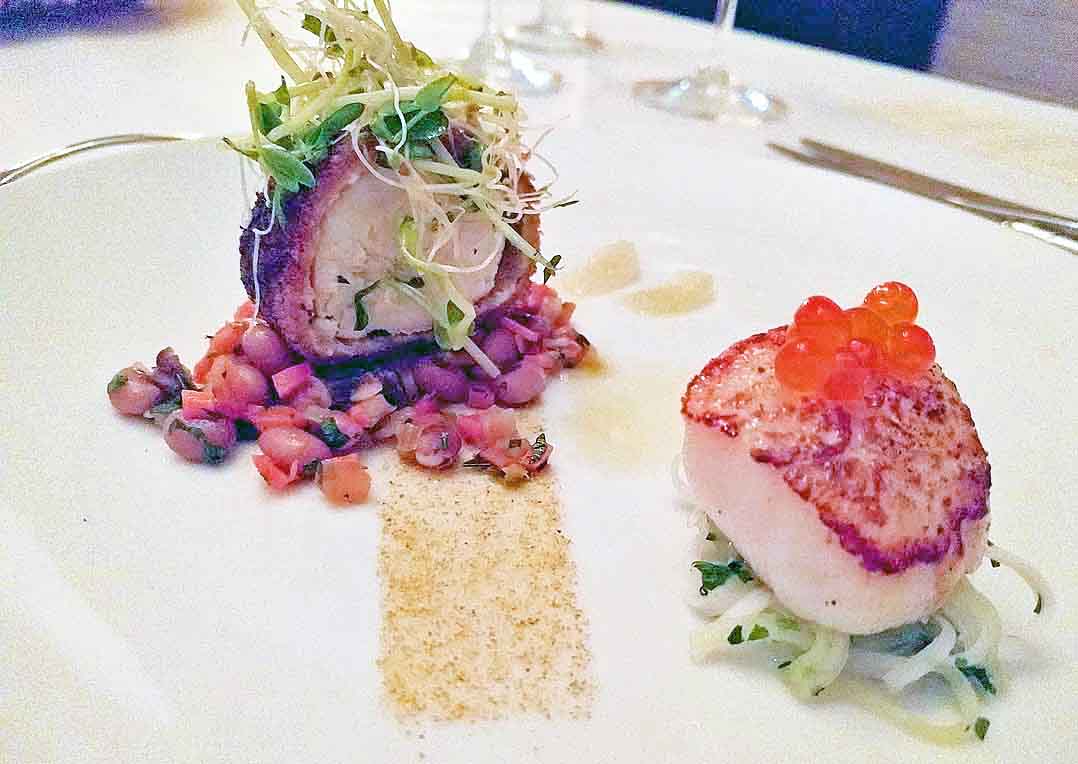 Sea Bass and Seared Scallops

Neither sea bass nor scallops strike any diner as unusual, but Chef Saromova's approach to serving them together as a fish course speaks volumes about her classical training and her command of technique. The sea bass—striped bass, in this case, rather than more conventional farmed sea bass—is roasted in a persillade. Traditionally, persillade is a chopped parsley and garlic preparation that most chefs use throughout a meal. This version was light on the garlic and included enough mustard and breadcrumbs that it sealed in juices of this sometimes dry fish. The scallop was perfectly seared—just barely cooked through. For contrast, the sea bass came with stewed black-eyed peas. The legumes emphasize the meatiness of the fish. The scallop sat on a pasta-like salad of thin strips of cucumber and white radish lightly dressed with champagne vinegar—sharp flavors that highlight the scallop's delicacy.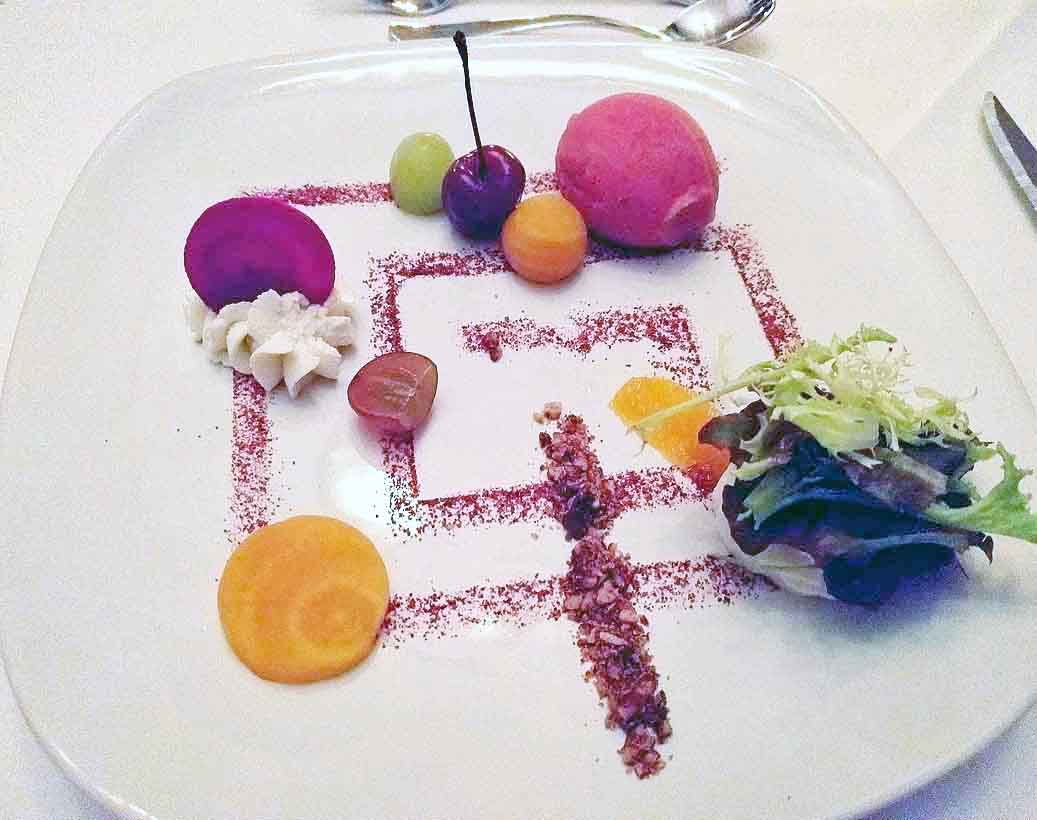 Beet, Goat Cheese, Granita Salad

The photo above doesn't really do justice to this inventive salad where so many things were happening on the plate. The slices of red and yellow beet (left side) were sweet and delicious. They paired nicely with fresh lettuce leaves and a slice of soft goat cheese. The pomegranate-orange granita, however, elevated everything with a tart punch. The pickled cherry was, well, the cherry on top. The "dust" on the plate was dehydrated beet that had been pulverized in a blender. It was a pretty touch. The salad completely refreshed our palates before the meat courses began.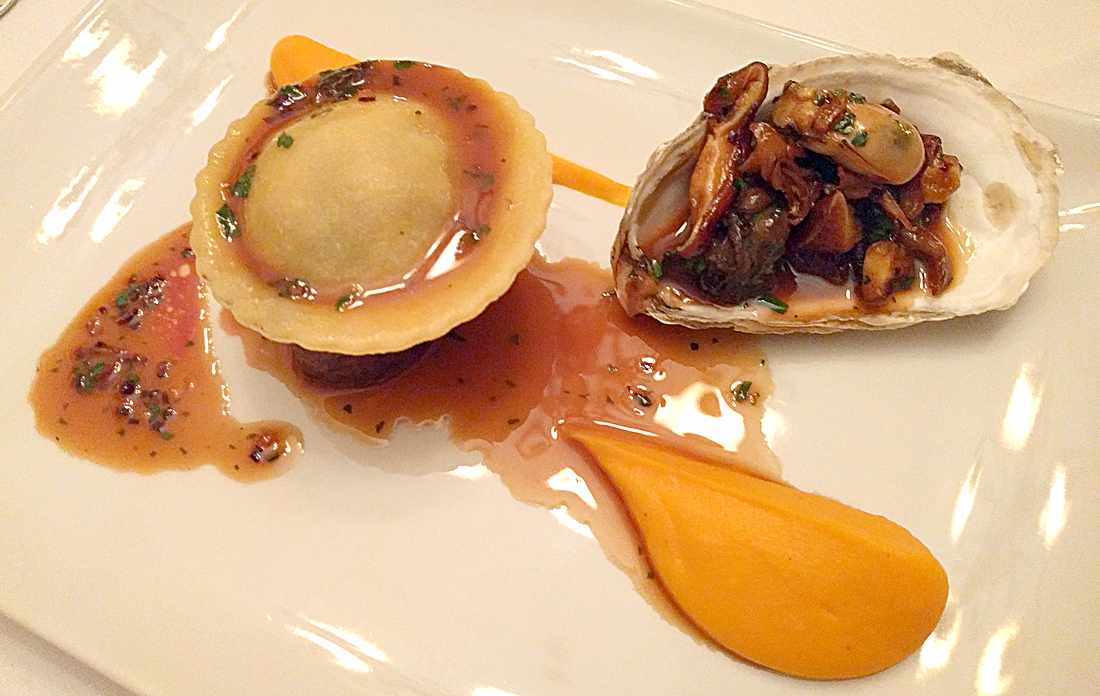 Filet Mignon, Ravioli, and Escargot/Oyster Fricasee

This dish is an embarrassment of riches. Fortunately, each of the premium ingredients was restricted to a small portion. The raviolo atop the small piece of perfectly cooked, perfectly salted filet mignon was filled with an explosive mix of truffle and foie gras—pretty much an orgy of umami. Surprisingly, the oyster shell filled with a fricassee of escargot and oyster was equally dark, savory, and garlicky. Even more surprising, the snails were juicy and tender. (Face it—snails are usually rubbery.) The sweet potato purée provided a contrast of smooth and sweet to chewy and meaty. It was a brilliant dish.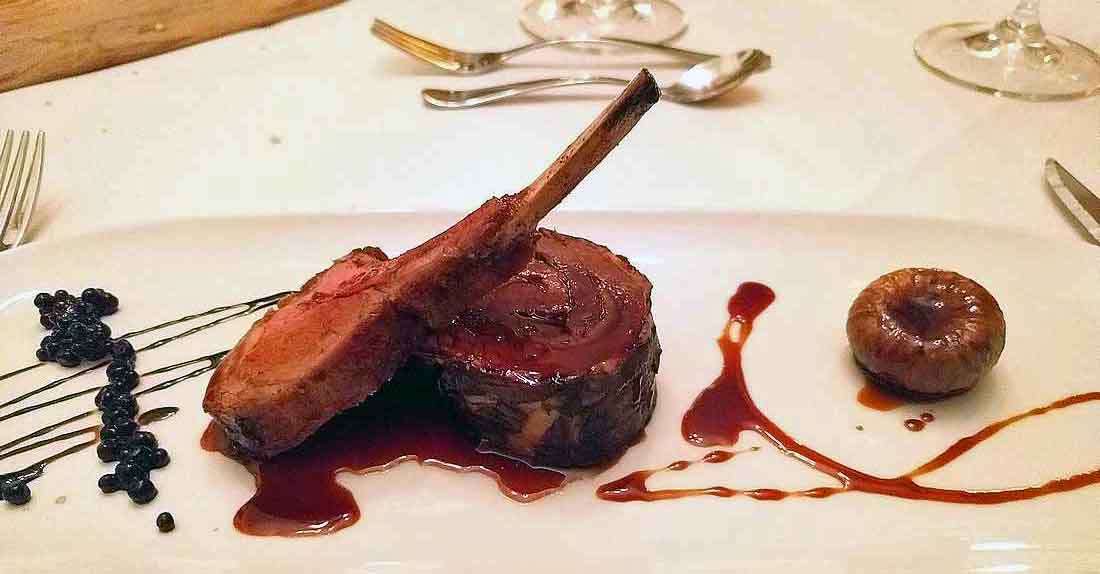 Lamb Chop and Smoked Lamb Breast

Lamb two ways is another Escoffier classic, but Chef Saromova's variant is pure Vermont country. The lamb chop here is cut from a roasted rack. It was perfect. The second lamb dish was the breast—or brisket. She boned, rolled, and tied it up with string. After brining it for 20 hours, she cold-smoked with cherry chips for two hours, and braised it six hours until it was falling apart. As if the meats weren't unctuous enough, Chef Saromova served them with figs poached in port wine. The little "berries" are actually balsamic glaze mixed with agar-agar and olive oil, then frozen so that they form little beads of explosive flavor. It's just proof that such touches predate so-called molecular cuisine.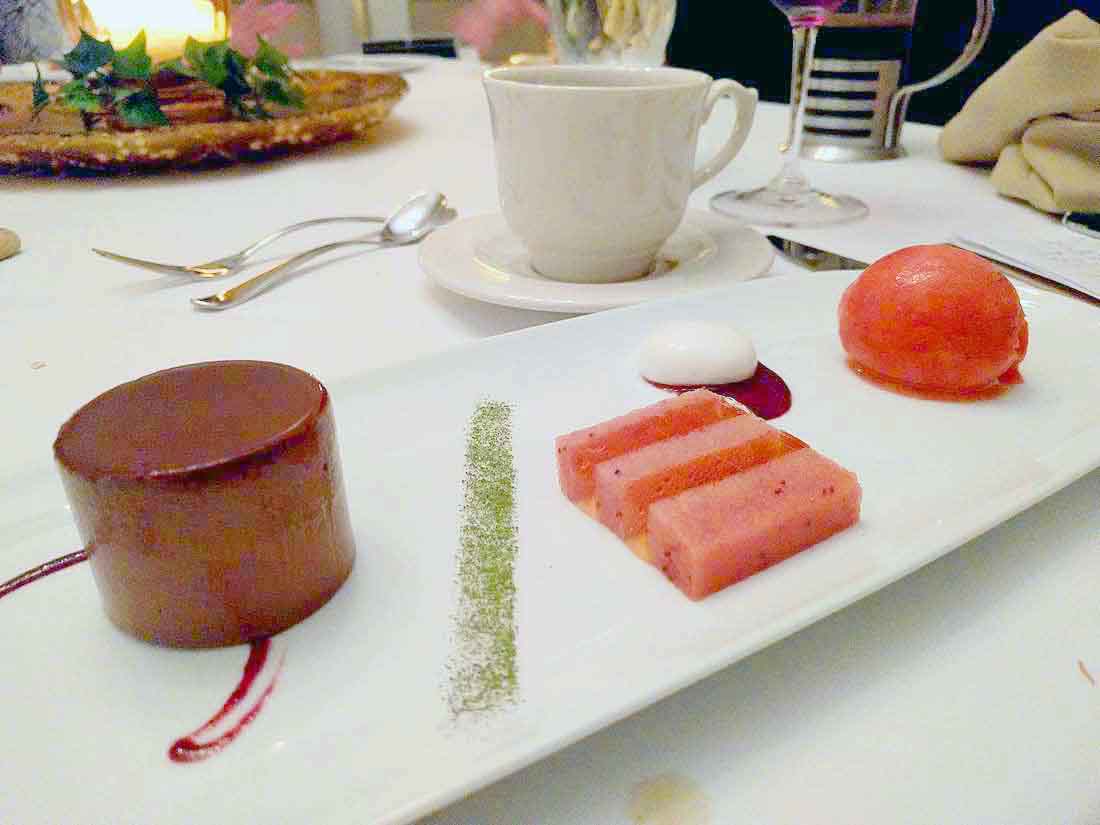 Chocolate and Fruit

Chef Saromova clearly favors creamy desserts. The chocolate delice—essentially a chocolate terrine with cookie crumb base and chocolate icing—is the ostensible star of this plate. The "bars" are a champagne and strawberry terrine. The flavor favors the wine over the fruit. By contrast, the strawberry sorbet tastes more intensely of strawberry than most fresh strawberries do. Capping it all off, the sweetened vanilla yogurt has a skin that makes it explode in the mouth.
Coffee, anyone?
Lincoln Inn & Restaurant at the Covered Bridge, 2709 W. Woodstock Rd., Woodstock, VT 05091; 802-457-7052; www.lincolninn.com.