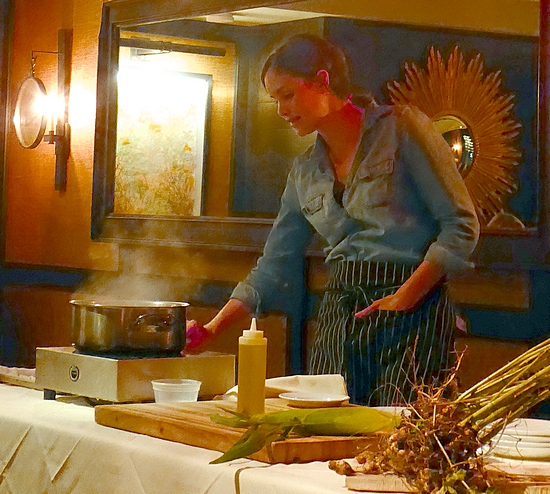 The vegetables that announce each season "give us little moments to celebrate," says Cara Mangini, the author of The Vegetable Butcher, published earlier this year by Workman Publishing.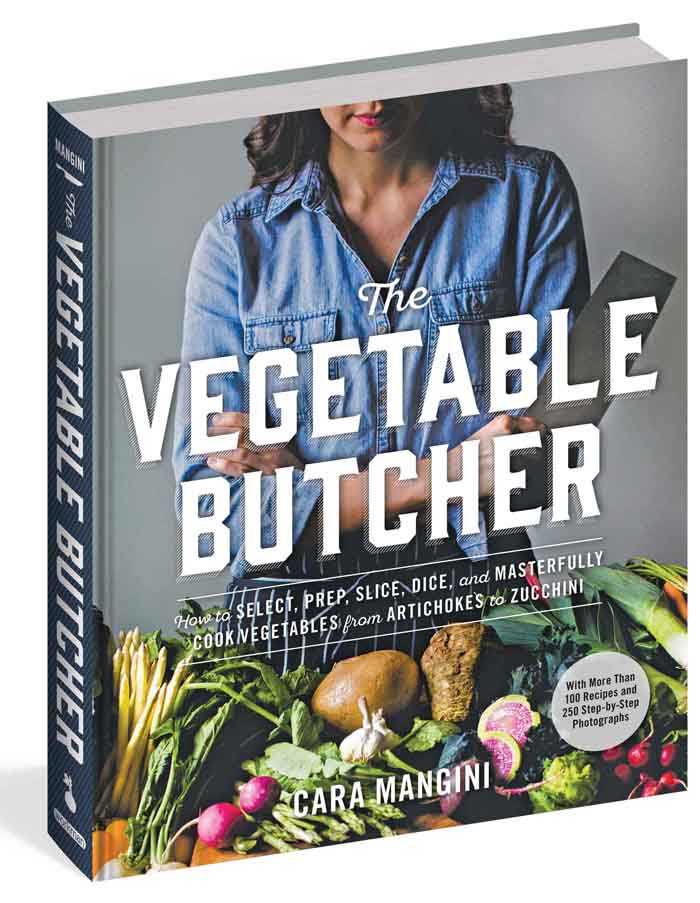 Mangini is proprietor of the "produce-inspired" restaurant Little Eater and its companion Little Eater Produce and Provisions in Columbus, Ohio. They are located in the historic North Market (59 Spruce St.; restaurant 614-670-4375, grocery 614-947-7483; littleeater.com) Mangini describes herself as on a mission to honor and support the work of farmers by "putting vegetables at the center of the plate."
She certainly made a good case during a recent meal at Harvest Restaurant in Cambridge, Massachusetts (44 Brattle St.; 617-868-2255; harvestcambridge.com), where she collaborated with Harvest executive chef Tyler Kinnett. The meal featured recipes from her book and demonstrations of the thoughtful preparation—and cutting—that goes into making something more complex than steamed vegetables and tossed salad.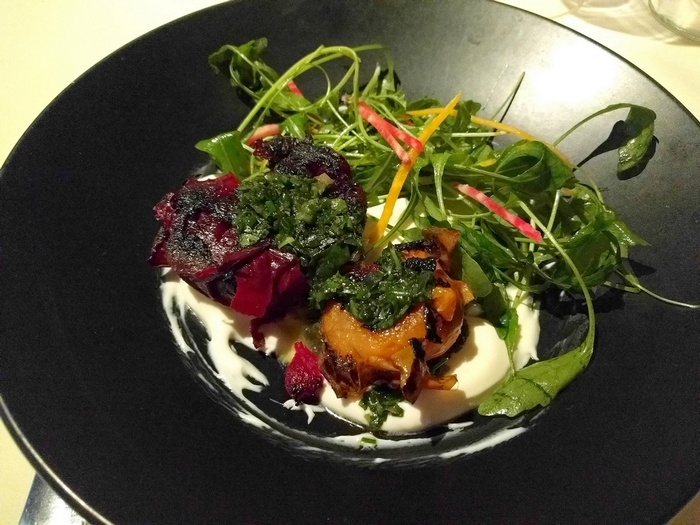 We had already been enjoying some of the last of the tomatoes and corn of the summer growing season. Mangini and Kinnett gave those summer staples a fresh flavor with a course of heirloom tomato panzanella with walnut-basil pesto and stracciatella. A course of corn fritters topped with mixed bean ragout followed. Even as we were lamenting the end of summer, Mangini and Kinnett anticipated the earthy fall flavors to come with a beautiful plate of smashed and seared beets with chimichurri, goat cheese crema, and arugula (above).
Each dish was a revelation of how delicious and satisfying vegetables can be with just a little extra thought and care. The Vegetable Butcher is organized alphabetically by vegetable, making it a quick reference when you get home from the market or farm stand. Mangini was kind enough to share her recipe for Turkish Carrot Yogurt Dip. It was served as a starter at the Harvest dinner and everyone at our table loved it.
TURKISH CARROT YOGURT DIP
1/4 cup extra-virgin olive oil, plus extra for finishing
3 medium to large carrots (10 to 12 ounces total), peeled, shredded on the large holes of a box grater
1/3 cup pine nuts (or 1/3 cup finely chopped walnuts)
3/4 teaspoon fine sea salt, plus extra as needed
2 cups low-fat or full-fat plain Greek yogurt
1 to 2 garlic cloves, finely grated on a Microplane, pressed, or crushed into a paste
Directions
Heat the oil in a large skillet over medium-high heat. Add a pinch of the carrots to the oil to test it: The oil is ready if the carrots sizzle. Add the remaining carrots and cook, stirring frequently, until they begin to soften, about 6 minutes.
Add the pine nuts and salt. Reduce the heat to medium and continue cooking, stirring occasionally, until the carrots are completely soft and browning and the pine nuts are golden, another 5 to 6 minutes. Stir in the garlic and cook until it is incorporated and fragrant, another 30 seconds to 1 minute. Let cool briefly to warm.
Place the yogurt in a medium-size bowl. Stir in the warm carrot mixture, and season with salt to taste.
Transfer the dip to a serving bowl, and drizzle the top with olive oil. The dip will keep, in an airtight container in the refrigerator, for up to 5 days.
Serve with triangles of pita bread or with pita chips seasoned with sea salt.