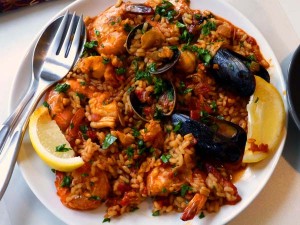 Valencia is beginning to rev up for Las Fallas, the festival of fires, fireworks, and managed explosions that culminates on the evening of March 19. The pageantry, sheer noise, and almost giddy sense of celebration is almost unfathomable, and we were not sure how we could possibly write about it. But we gave it a try for the Boston Globe. See it on the Globe's web site or check it out on our page of sample articles.
This being Spain, there is of course plenty of time set aside for eating. Paella, the quintessentially Valencian dish, fits the celebratory mood as people gather around a big festive pan. Last year we posted our version of paella valenciana . But we know that a lot of people prefer the shellfish version, paella con mariscos. Here's our New England adaptation, using small hard-shell clams for the Spanish almejas, and some pieces of cooked lobster tail in place of the monkfish. It remains true to the spirit of a paella you'd find at the beachside chiringuitos, or "snack bars."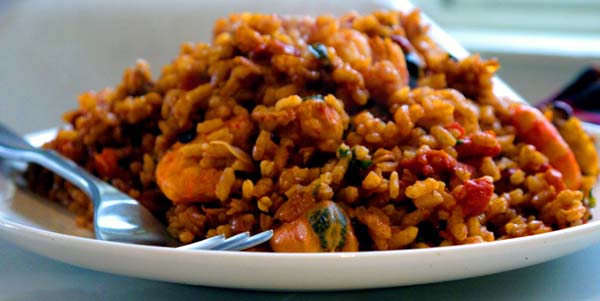 PAELLA CON MARISCOS

Serves 4
Ingredients
About 5 cups fish stock or mixed fish and chicken stock
1 large pinch saffron
1/4 cup olive oil
1 medium onion, minced
cloves from 1 head garlic, peeled and sliced paper thin
24 large raw shrimp, shells on
1 can diced tomatoes, or two large fresh tomatoes grated and skin discarded
1 tablespoon sweet Spanish paprika
1 3/4 cup Bomba rice (or substitute any Valencian rice)
1/2 cup white wine
1/2 cup minced flat-leaf parsley
12 live littleneck clams, or 16 winkles (if available)
12 blue mussels, beards removed
1 cooked lobster tail, cut into 1-inch cubes
lemon wedges for serving
Directions
1. Heat stock in saucepan with pouring lip. Crumble saffron into stock and keep hot but not boiling.
2. In large paella pan (16-18 inches) heat olive oil. Add onion and cook 2 minutes over medium heat. Add garlic and continue cooking until onion is soft. Add shrimp and cook 2 minutes on each side. Remove shrimp to warm plate.
3. Set oven at 425F.
4. Add tomatoes and paprika to pan, using tomatoes to de-glaze. Pour in rice in cross pattern. Add wine and use spatula to swirl rice into wine. Continue cooking until liquid is almost absorbed. Stir in hot stock and swirl well to mix rice and stock. Bring to a shivering boil and cook for 5 minutes. Stir in parsley and swirl to distribute well.
5. Stud the rice with pre-cooked shrimp, clams, mussels, and lobster pieces. Cook for another 3 minutes on stovetop, then move to preheated oven. Bake 7 minutes until liquid is almost completely absorbed.
6. Remove from oven and cover with foil for 7 minutes. Serve with edges of lemon.