We give Iberia Airlines credit for hiring superchef Sergi Arola to create the menus for its business class customers. Arola has been one of our favorite Spanish chefs since we met him shortly after he opened his first restaurant in the Hotel Michelangelo in Madrid. His great flair with food was matched only by his deep sense of hospitality.
For those of us in coach seats, the airline tortures us every month with an Arola recipe in the inflight magazine, Ronda Iberia. This chicken stew is a great example of a dish that can be reheated and served at 35,000 feet and will still taste good. Arola's unexpected touch is the addition of a vanilla bean. We've adapted it for home use and added an optional roux for diners who like the liquid of a stew to enrobe the solids. And when we eat it, we stretch our legs out at the dining table and allow unlimited refills on the wine—just like business class.
CHICKEN STEWED WITH PRUNES, DRIED APRICOTS AND VANILLA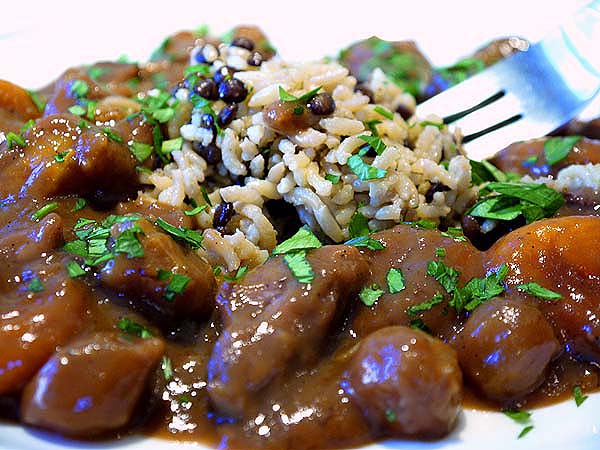 Sergi Arola's note on this recipe reminds cooks that stews—and especially this one, because it has dried fruits—improve by being left a few hours before reheating and serving. We like to serve it with a mixture of rice and Puy lentils.
Serves 4
Ingredients
1 1/4 lb. boneless, skinless chicken thighs
1/2 teaspoon salt
1/2 teaspoon black pepper
1/3 cup all-purpose flour
2/3 cup olive oil
1/2 lb. pearl onions
1 scallion
1 medium carrot
1 clove garlic
2/3 cup red wine
2 teaspoons soy sauce
Vanilla bean
12 dried apricots
8 large prunes
4 cups chicken stock
Optional roux
4 teaspoons all-purpose flour blended with 2 teaspoons olive oil
Directions
Cut thighs into 3/4-inch squares and season with salt and pepper and dredge in flour. Heat olive oil in 10-inch diameter deep skillet and quickly fry chicken. Drain in paper towels and reserve.
If using fresh pearl onions, boil in salted water for 4 minutes, peel and put to one side. If using frozen onions, measure and have on reserve.
Peel the scallion, carrot, and garlic, and cut into a fine julienne. Pour out all but 2 tablespoons of olive oil from skillet. (Reserve excess oil for future cooking.) Add vegetables to skillet and cook over a low flame until the vegetables are soft but not browned.
Heat wine in a saucepan until it reduces to one-quarter of its volume. Set aside.
Once the vegetables are soft, add the heated red wine and soy sauce. Bring to boil, add the chicken stock and simmer for 10 minutes. Pass the sauce through a fine strainer and return to skillet.
Add the vanilla (opened lengthwise), the dried apricots, the prunes, the pearl onions, and finally the squares of chicken thigh. Leave to simmer for 20 minutes.
Add salt to taste, remove the vanilla bean and scrape out the seeds with a sharp pointed knife. Return seeds to stew and discard pod.
If you prefer a thick rather than a thin sauce, thicken by whisking in optional roux and heating until sauce coats the chicken and fruit.