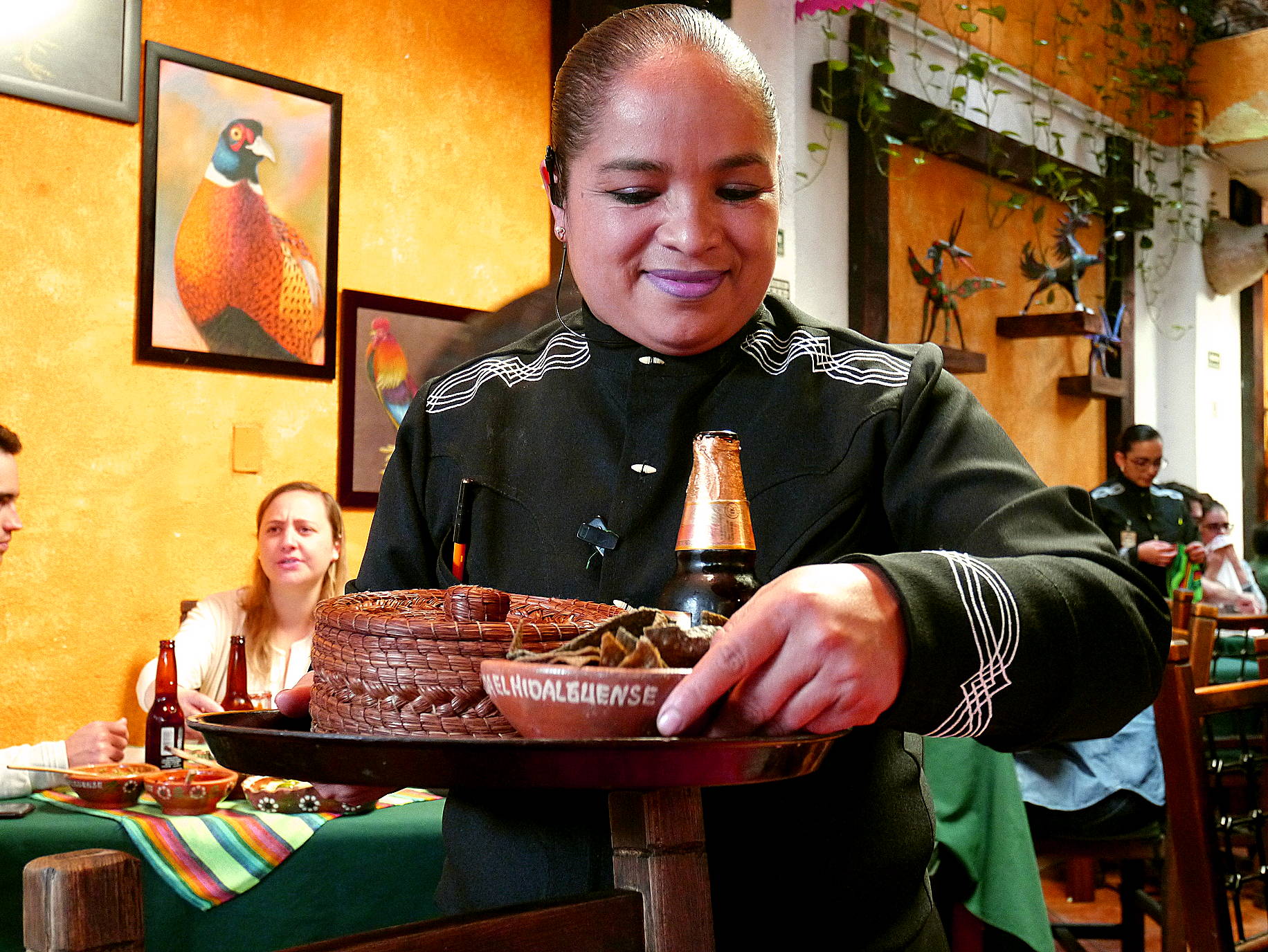 On Sundays in Mexico City, it seems as if all roads lead to Chapultepec Park. We like nothing better than joining local families for a stroll through this green oasis in the middle of the city. Many of the city's best museums are also located in the park and as a bonus, most are free on Sunday. On our recent visit, we spent the morning tracing Mexico's history through the murals at Chapultepec Castle and then marveling at the work by some of the country's greatest artists in a special exhibition at the Modern Art Museum.
Alas, it was too cool to spread out a blanket and enjoy a picnic in the park. Instead, we indulged in another local tradition—a late lunch of barbacoa at El Hidalguense (Campeche 155, tel: +52 55-5564-0538). The restaurant is located in the Roma Sur neighborhood. But the mutton comes from Hidalgo, about 90 minutes northeast of Mexico City. It is cooked there by wrapping the cuts in maguey leaves and burying them in a pit of hot coals for at least 12 hours.
El Hidalguense trucks the meat into the city. The restaurant is open only Friday through Sunday and closes by early evening. Moreover, it only takes cash. The place was bustling when we arrived, but the hostess promised only a short wait and five minutes later we were inside and ordering.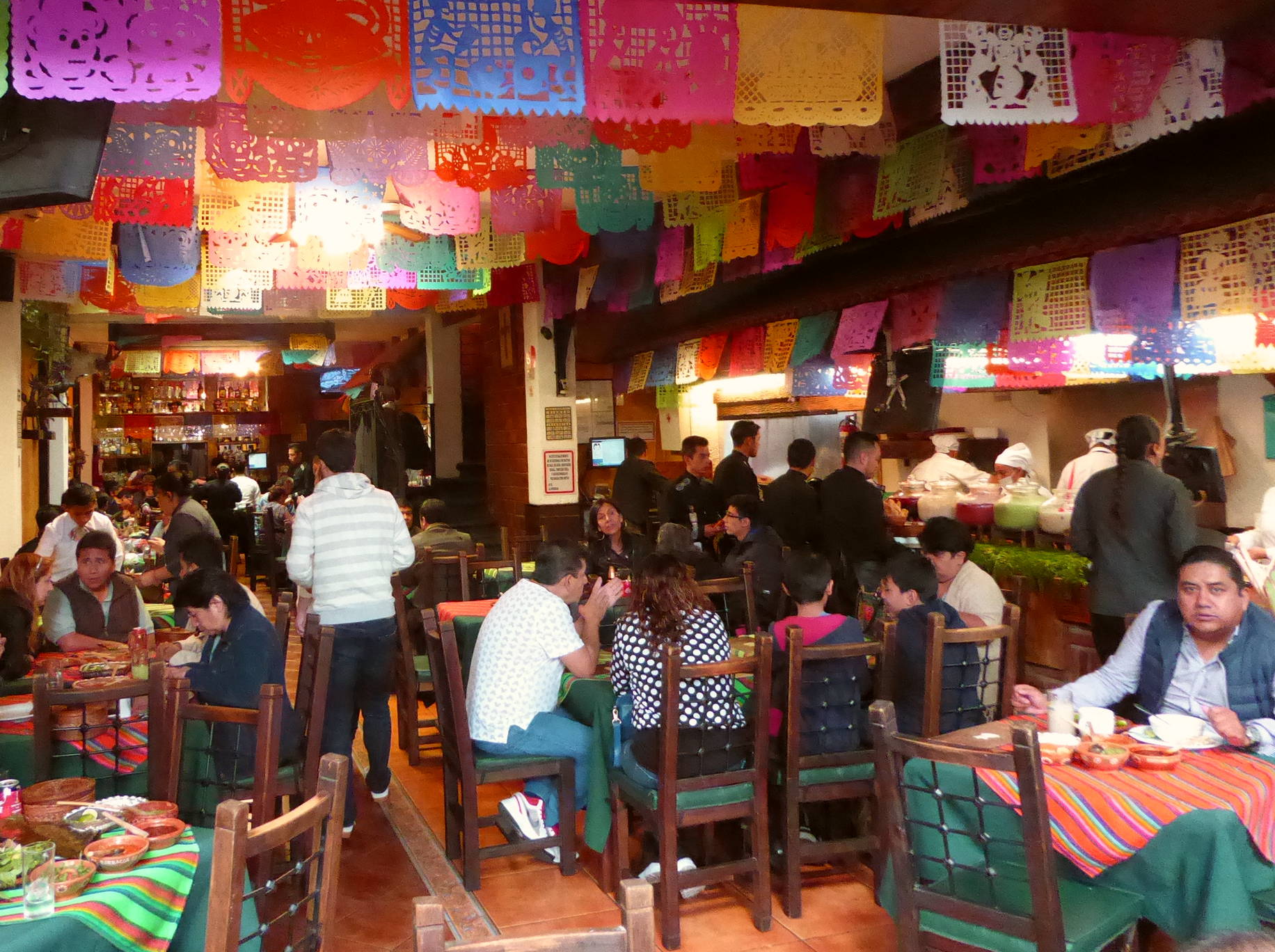 Follow the ciudadanos and order the barbacoa
The menu is full of delicious-sounding dishes—from blue corn cakes with melted cheese and cracklings to mushrooms cooked with ancho chiles and roasted corn kernels.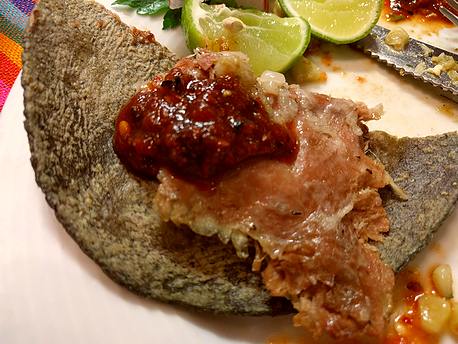 But everyone comes for the barbacoa, which is sold for 550 Mexican pesos per kilogram (or fraction of a kilogram). That's about US$12.25 per pound. Since we were on a taco kick, that's what we ordered. Soon we received two servings of meat wrapped in the maguey leaves used to cook them, along with blue corn tortillas, and three salsas. The salsas included a green salsa sharp with raw onion and serrano peppers, a dark red sauce made with ancho peppers, and an orange sauce made fiery with habañero peppers. It was DIY from there.
Diners have a choice of ordering their meat lean or with fat. "Take the fat," our server advised. "You will like it." She was right.