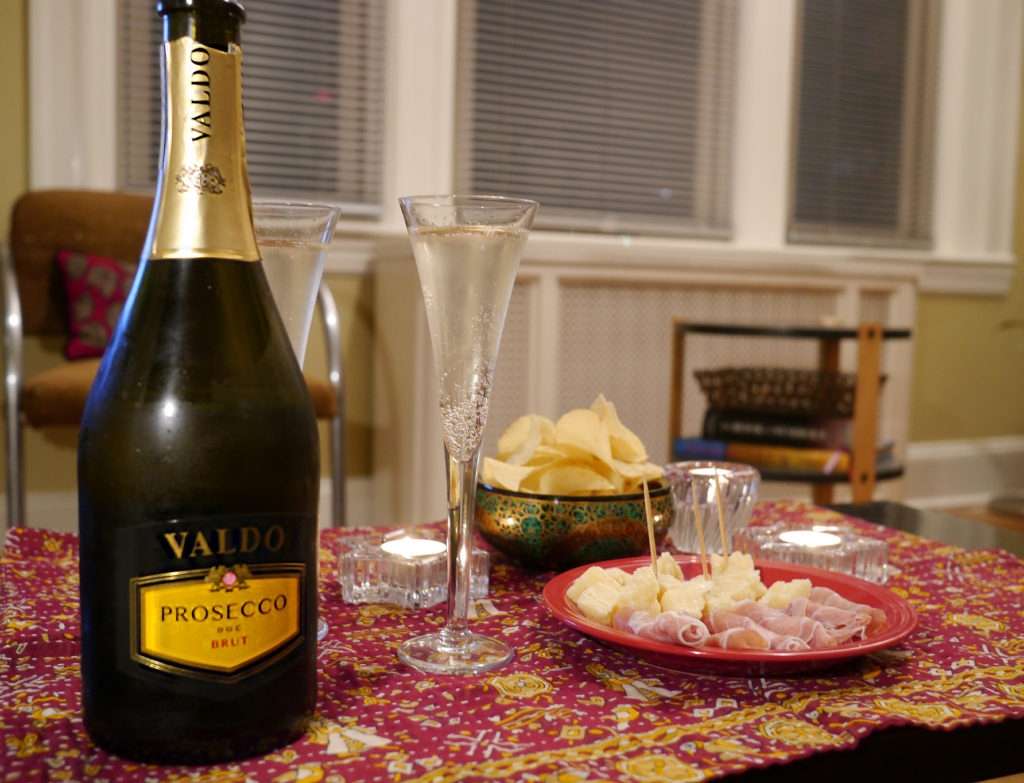 Nothing quite catches the magic of candlelight like a glass of sparkling wine. Now that we're approaching the longest nights of the year, we're turning to a variety of sparkling wines after sundown. Of course, the fact that fizzy sips are associated with the holidays doesn't hurt—though we're not sure why anyone needs an excuse to drink sparklers.

Prosecco is a natural for snack time. Made with Glera grapes in the Veneto near Treviso, it's probably the most accessible and affordable sparkling wine out there. The brut level of dryness happens to be perfect with some other northern Italian standbys—chunks of aged Parmigiano-Reggiano cheese and rolls of thinly sliced prosciutto. Inspired by the caffès onVenice's Piazza San Marco, we've added some plain salted potato chips to the mix.
A good brut Prosecco maintains a high acidity and has a nice perlage,as the tiny, fine bubbles are known. They penetrate the dense, buttery textures of the cheese and ham and cleanse the palate for the next bite. And lord knows, Prosecco and salt play well together. The starchiness of the potato chips even brings out hints of the yeast in a good Prosecco.
And by "good," we mean one like the Valdo Brut shown here. Based in Valdobbiadene, the company was founded in 1926 and bought by the Bolla family in the 1940s. Valdo grows its grapes espaliered on horizontal wires for maximum sun exposure, soft presses them, and ferments them cool in stainless steel. The wines gets three months of Charmat tank aging, then another month in the bottle before release. The advantage of Charmat over traditional carbonation is that the producer can bottle wine to meet demand, guaranteeing a fruity freshness that's so becoming in Prosecco. (That's a backhand way of saying you shouldn't delay in drinking a Prosecco.) Imported by Taub Family Selections, Valdo retails for $12-$14.