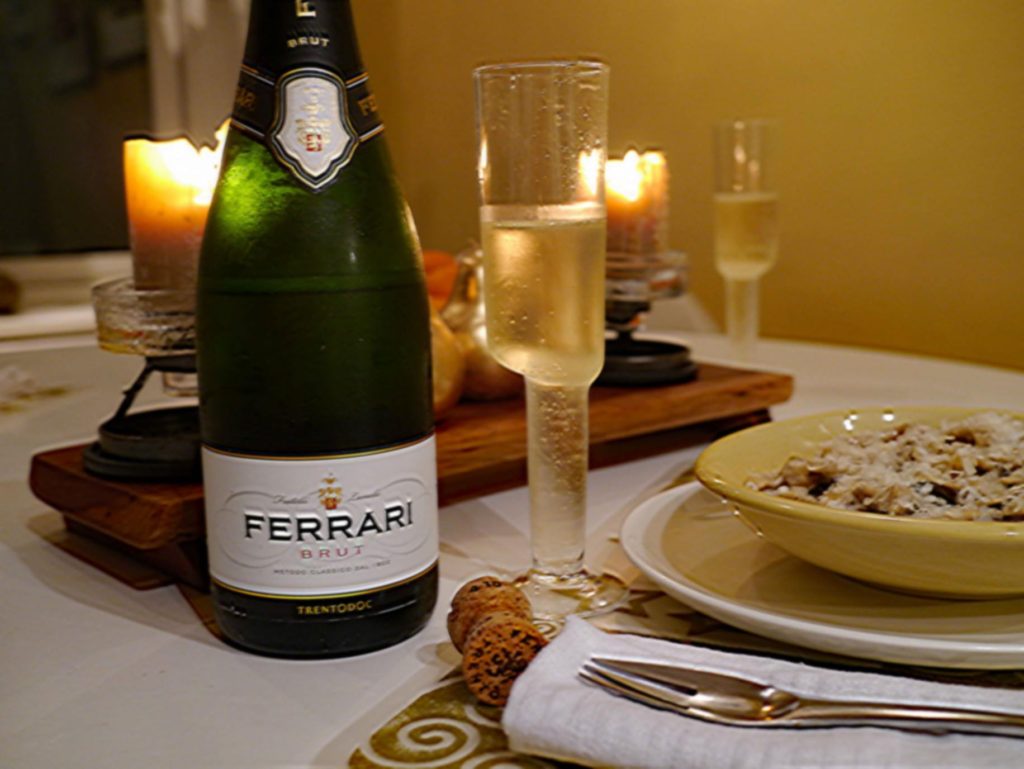 The very name "Ferrari" conjures up such adjectives as "sleek" or "sexy." We're not talking about sports cars here. In Trentino, Ferrari is the name of a top producer of sparkling wines. The simple brut is the foundation wine of the Ferrari house, generally retailing under $25, but it tastes far richer and more elegant than its price tag. "Sleek" and "sexy" definitely apply.
The tradition of sparkling wine on New Year's Eve is a laudable one. We like to combine it with the Chinese tradition of "long-life" noodles for the New Year. (That gives us the excuse to repeat the meal for the Chinese Lunar New Year, coming up February 5.)
This year, we made a rather rich mushroom tagliatelle with heavy cream, sage, and nutmeg. It was inspired by a porcini mushroom tagliatelle recipe from Patricia Wells but used fresh instead of dried mushrooms.
The wine performed beautifully, cutting through the unctuousness and the dark herb and spice like a champ. The tingly acidity and persistent fine bubbles were a perfect counterpoint to the sauce. Made entirely of Chardonnay, the wine has overtones of golden apples, a hint of yeast, and a slight scent of meadow flowers. Those flavors brightened the dark earthiness of the dish.
Here's the basic recipe for the pasta bowl.
MUSHROOM TAGLIATELLE
Ingredients
1 teaspoon olive oil
4 slices bacon cut in 1-inch squares
1 medium onion, chopped
1 lb. portobello mushrooms, sliced in long thin strips
1 teaspoon crumbled sage
1 cup heavy cream
1/2 nutmeg, grated
6-8 ounces fresh tagliatelle pasta
1 cup grated Parmigiano-Reggiano cheese
Directions
Begin heating a big pot of salted water for boiling pasta.
Smear olive oil in a large, heavy frying pan, Place on burner and add bacon pieces. Slowly cook bacon until crisp. Remove to paper towel to drain.
Add onions to fat remaining in pan and cook until softened. Add mushroom strips and raise heat. Cook until mushrooms are soft and excess water has evaporated. Mix in sage. Add heavy cream and bring to a simmer. Cook until reduced and sauce coats back of spoon. Stir in nutmeg.
Cook pasta 2–3 minutes until al dente. Drain well and toss with sauce in pan. Serve in bowls with cheese on the side.
Happy New Year!