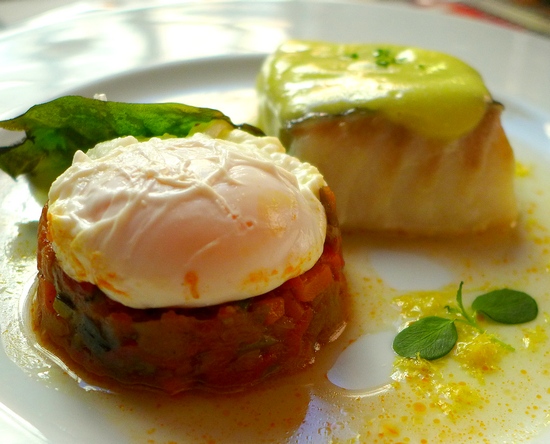 We've been lucky enough to visit Sevilla's Taberna del Alabardero every few years over the last few decades, but it's possible that our most recent meal was the best yet—even though it was off the modest bistrot menu instead of from the haute cuisine fine-dining menu. Now with sites in Madrid and in Washington, D.C., Taberna del Alabardero began as a social-work program launched by a priest to teach marketable skills to boys from the streets. It's evolved into one of the top hospitality schools in Spain. The original location in Sevilla near the bullring is the laboratory where all that hospitality training is put into practice. The townhouse mansion has fine dining rooms upstairs with a menu that would have made Escoffier smile. (The third level has elegant bedrooms for the small hotel.)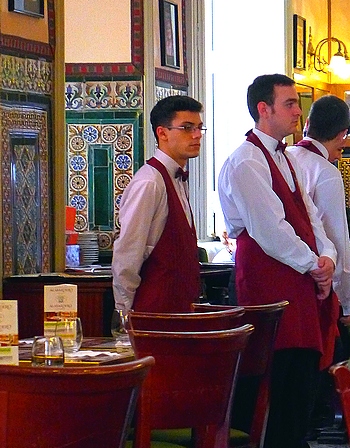 Frankly, we're just as happy to eat off the bistro menu in the tile-encrusted dining room downstairs that adjoins the central atrium café. The dishes are simpler and everything is prepared—and served—by the faculty and students of the hospitality school. (Note the students standing by, waiting to serve.) Dishes tend to be Spanish rib-stickers: the hearty potato and sausage stew known as Riojanas, or cod a pil pil served with pisto manchego (Spanish ratatouille) topped with a poached egg (above). Here the pisto and poached egg constituted a side dish, paying second fiddle to the cod. But we think it will make a great light lunch this summer when we're swimming in tomatoes, squash, and eggplant.
The three-course bistrot menu at Taberna del Alabardero is a steal, costing 12.50 euros on weekdays, 17.50 euros weekends. Here's the contact information: Calle Zaragoza, 20. The phone is (+34) 95-450-27-21, and the web site is www.tabernadelalabardero.es. The restaurant is closed in August.