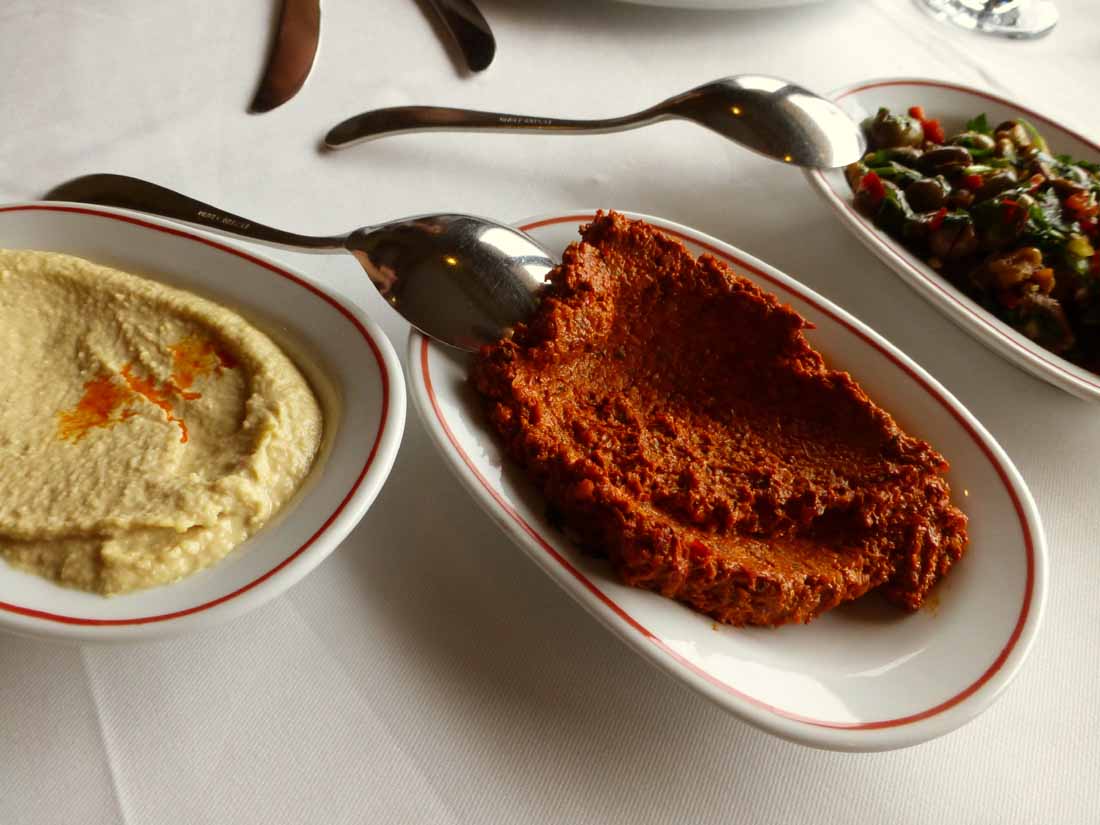 One pleasure of dining in Istanbul was getting reacquainted with muhamarra, the walnut and pomegranate spread found all around the Middle and Near East. We buy it at home from Samira's Homemade in Belmont, where Lebanon-born Samira Hamdoun fashions all sort of tasty spreads. But we found it on every mezze tray in Istanbul, and decided we had to learn to make it for ourselves. Fortunately, our friend Elif Aydar of the Marti hotel group gave us her own recipe.
It was a bit of a challenge to adapt, since we can't pop into the grocery store for red pepper paste or sour pomegranate condiment. Moreover, colloquial kitchen measurements differ between Turkey and the U.S. and the breads have different textures. But with a little experimentation, we figured it out. One unusual aspect of Elif's recipe is that she uses a little bit of soft cheese. Using chevre provides a nice tang and smooths out the consistency.
While we'd normally reach for the food processor to make a spread, we elected to use hand tools for this one to keep a certain amount of texture. It's worth the trouble to grind with a mortar and pestle, chop with a knife, and grate to produce soft bread crumbs.
MUHAMARRA
Ingredients
3/4 cup walnut halves
2 roasted red peppers, skin and membranes removed
2 cloves garlic, crushed
1 English muffin, coarsely grated
2 tablespoons chevre
1 teaspoon ground cumin
1 tablespoon crushed Aleppo pepper
3 tablespoons pomegranate molasses
1/3 cup olive oil
Directions
1. Using mortar and pestle, crush walnut pieces to texture of coarse meal.
2. On chopping board, finely mince red peppers. Add to walnuts and blend well.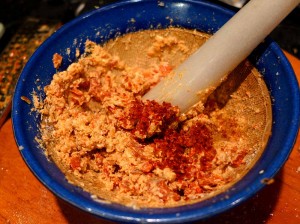 3. Add garlic, grated muffin, chevre, cumin, and Aleppo pepper. Mix well. Stir in pomegranate molasses, then olive oil.
Serve at room temperature with triangles of pita bread or as a dressing for meat or fish. We like it as a spread for sandwiches made with sliced roast chicken. Store leftovers in the refrigerator.