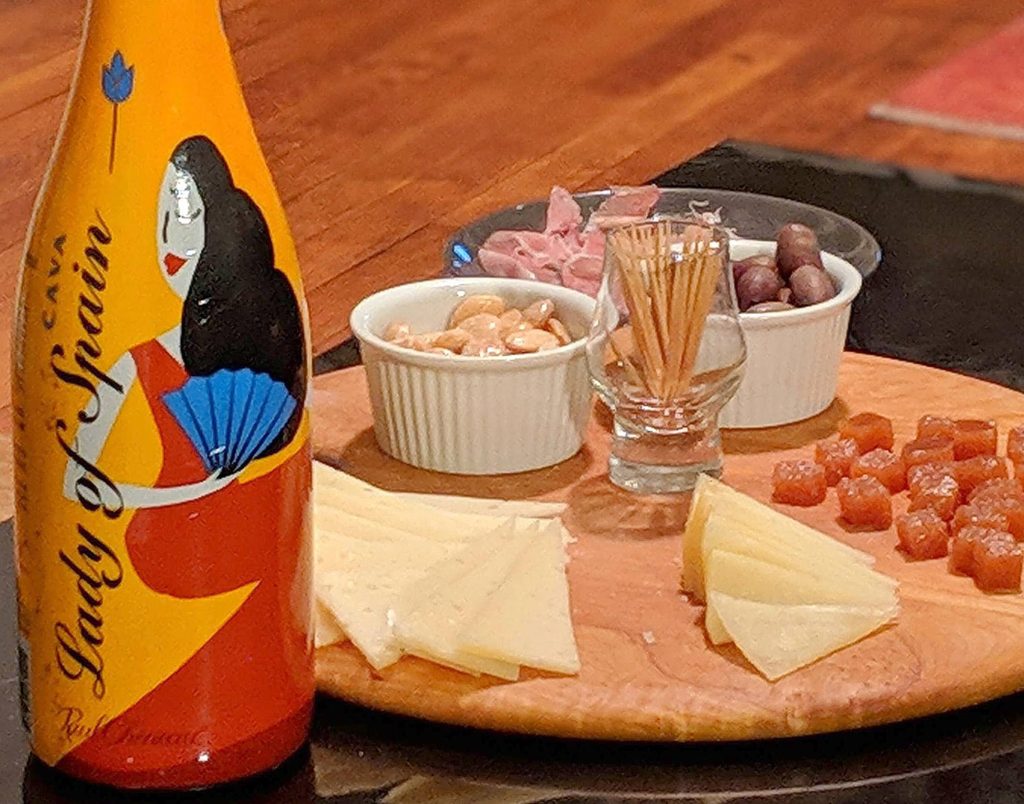 We've been buried in updating Frommer's Spain, which explains our online absence since the New Year. So in the continuing series on sparkling wines, most of which are not named Champagne, it seems only appropriate to write a bit about the truly excellent Lady of Spain Brut from the Paul Cheneau line.
The parent company is Giró Ribot, one of the preeminent old families in the Penedès region, a largely white wine region between Barcelona and Tarragona. It's bounded on the north by the jagged massif of Montserrat, on the south by the coastal hills of the Mediterranean. Giró Ribot is located in Sant Fe del Penedès. It's an agricultural village about five miles southwest of Sant Sadurní d'Anoia, the center of Penedès sparkling wine.
At around $12, Lady of Spain doesn't exactly break the bank. It's the entry level of Paul Cheneau cavas, and for our money, it's the best for casual drinking. We tend to be cautious about wines with elaborate packaging, but the wine inside this flamboyant bottle shows far more subtlety than the wrapper. Spending 12–15 months on the lees before disgorging gives it some delicious overtones of lightly browned puff pastry on top of the base notes of fresh pear and apple. The dense and long-lasting bubbles are exceptional for a cava.
Like many sparkling wines, cava pairs exceptionally well with salty foods. We decided to have a wine bar dinner with this one. The platter has some slices of serrano ham, a bowl of ripe olives, some Marcona almonds. and two Spanish cheeses. Manchego (right) is a ewe's milk cheese. This was a curado, aged for six months. The other is younger, milder Campo del Montalban, a similar cheese that until 1985 was classified as a Manchego. Campo del Montalban contains about 60 percent cow's milk, the rest coming from sheep and goats. Rounding out the plate are little cubes of membrillo, the quince jam so popular in Spain and Portugual (and many of their former colonies).
The perfect mouth combination for Lady of Spain cava is a Marcona almond and a cube of membrillo. When you follow up by sipping the cava, the membrillo brings forward the round grape flavors of the Macabeo in the blend while the almond accentuates the orchard fruit of the Xarel·lo and Parellada grapes. The cava also has 10 percent Chardonnay in the blend, which gives it more "heft" and body than bargain cavas from the same region.