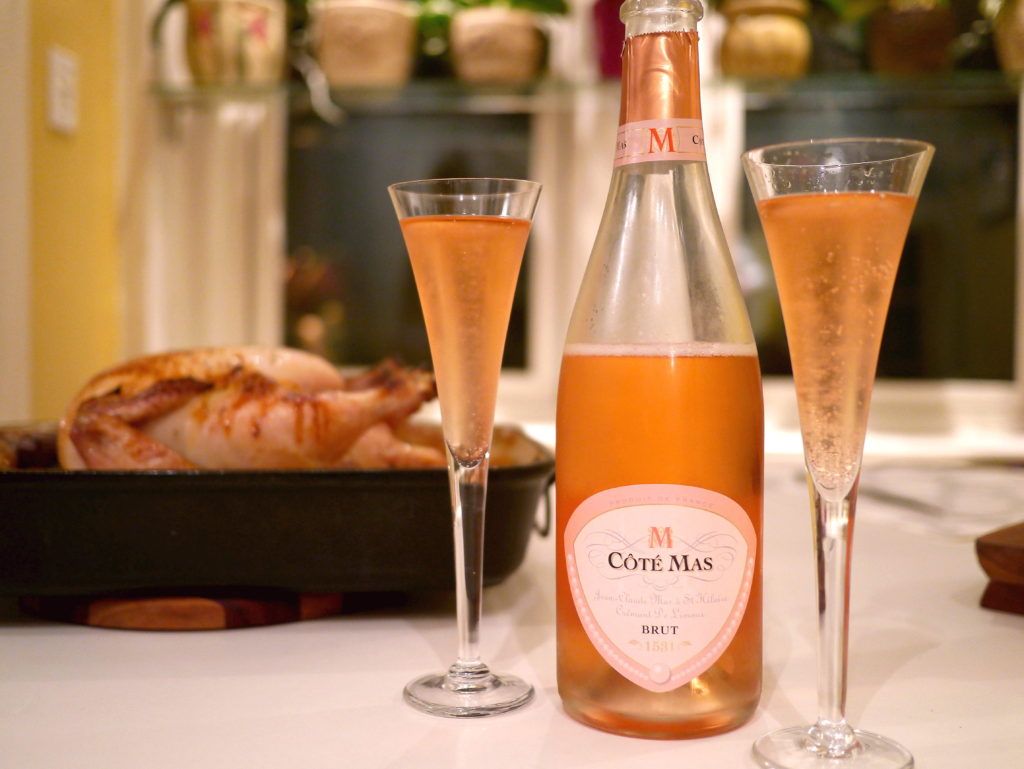 The Benedictine monks at the St. Hilaire abbey in Languedoc definitely stole a march on Champagne. In 1531, an abbey scribe wrote about inducing a secondary fermentation in wine flasks stoppered with cork from forests in nearby Catalunya. That was more than a century before Dom Perignon went to work in the cellars of Champagne. Languedoc growers have been making sparkling wine for almost 500 years now. In accordance with the French regulations introduced in 1990, it's called Crémant de Limoux. And it's a bargain.
Selling at $17–$20, the Crémant de Limoux Rosé Brut St. Hilaire from Côté Mas is great for simple sipping and even better paired with food. Winemaker Paul Mas pushes the limits of allowed grapes for the AOC. The wine contains 70 percent Chardonnay, 20 percent Chenin Blanc, and 10 percent Pinot Noir. Limoux is a pretty cool part of Languedoc with clay soils. The Chardonnay is full-bodied yet austere, and Mas takes full advantage by using the maximum percentage in the blend. He also adds the minimum required Chenin Blanc and the maximum Pinot Noir allowed.
A great wine for Valentine's Day, this Côté Mas crémant rosé is a pale salmon pink. The bubbles are extremely tiny and just keep streaming from the bottom of the glass. The Chenin aromas dominate the nose—honeysuckle, pale stone fruits. In the mouth, expect a citric tartness that's part blood orange, part grapefruit. Keep drinking and the strawberry notes from the Pinot Noir come forward.
We decided to pair the wine with a classic roast chicken in a southern French style. The ancestor to this recipe was called "Chicken Provençale," but it's lost any regional accent as it's evolved in our kitchen over the last few decades.
FRENCH ROAST CHICKEN
INGREDIENTS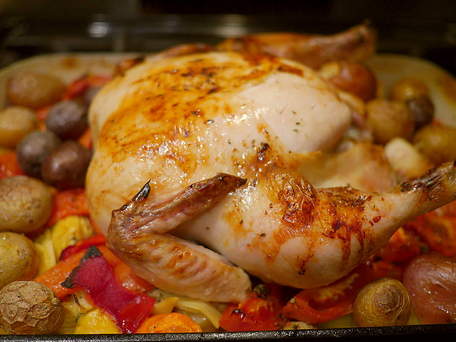 8 large shallots, peeled
2 cans of artichokes in water, drained
6 ripe plum tomatoes, quartered
1 large or 2 small fennel bulbs, trimmed, in eighths
1 head of garlic, cloves separated but not peeled
3 large carrots, peeled and quartered
large red pepper cut in 1-inch strips
1 tablespoon rosemary, crumbled
1 tablespoon dried thyme, crumbled
1/4 cup olive oil
1/4 cup lemon juice
1 cup chicken broth
12 creamer potatoes
1 4-lb chicken
1 cup chicken broth
DIRECTIONS
Set oven to 350°F.
Place vegetables except potatoes in large roasting pan. Sprinkle with herbs, oil and lemon juice. Add 3/4 cup broth. Cover pan with foil and roast 20 minutes.
Add chicken and potatoes to pan. Tent with foil and roast 1 hour. Baste all with pan juices. Remove foil and raise temperature to 450°F. Roast until chicken is brown and crisp and juices run clear. Breast should measure 155°F on an instant-read thermometer (20-25 minutes).
Remove chicken to platter and surround with vegetables. Cover to keep warm. Remove skin from 6 garlic cloves. Add to blender with juices and a cup of roasted vegetables. Blend until smooth to make sauce. Serve chicken and vegetables with sauce on the side.