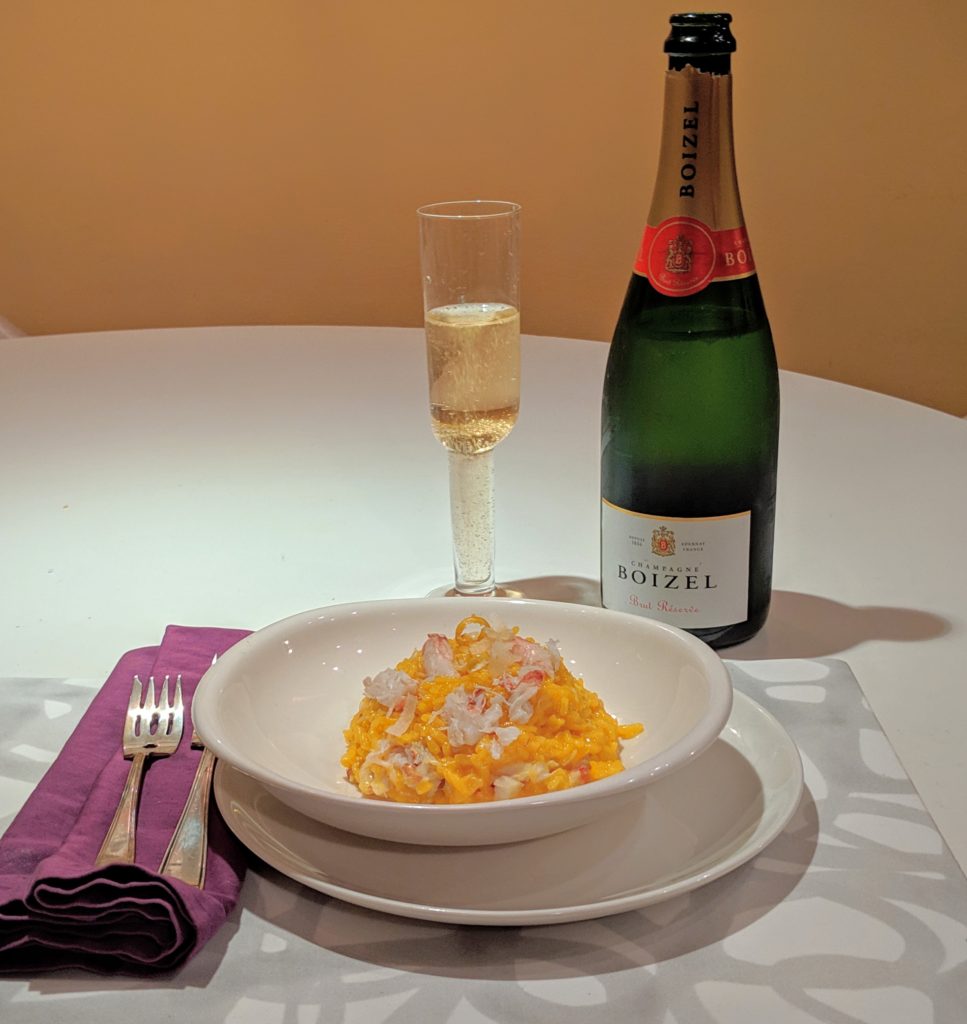 Champagne is the acknowledged queen of sparkling wines, but every regal house has its signature. Boizel champagnes from Épernay show an elegance and finesse that stems from using hand-harvested grapes from the top crus and blending the still wines of each year with wines reserved from the previous two harvests. This produces a year-to-year consistency that makes the non-vintage bottles best representative of the house style. Three years of bottle aging on the lees adds additional complexity.
So when we acquired a Brut Réserve that had been disgorged at the end of 2016, we weren't quite sure what to pair with it. This particular champagne gains its floral bouquet from 30 percent Chardonnay, its lean structure from 55 percent Pinot Noir, and a delicious fruitiness from 15 percent Pinot Meunier. It would drink very nicely as an aperitif wine with salty food and some sweetness (see previous posts on Prosecco and Cava), but we wanted to enjoy it with dinner.
So we started thinking about the flavors in sparkling wine cocktails—peach in a Bellini, gin and lemon juice in a French 75. Yeastiness always pairs very well with saffron and tart effervescence cries out for salty sweetness. The first dish that came to mind was risotto Milanese. How do you dress it up for Valentine's Day? The facile answer was lobster. But when we visited the fishmonger, we were struck by how good the Jonah crabmeat looked. The result was the crab-lemon-saffron risotto shown above. It turned out that pouring a few tablespoons of lemon juice on top just before serving brought the flavors together.
The floral nose of the wine was followed by rounded fruit flavors with a hint of citrus and bread. The risotto emphasized the fruit, with the sweetness of the crab bringing out honeyed notes in the wine. The Parmigiano-Reggiano was echoed by almond notes in the wine. The persistence of fine bubbles was very impressive, lasting through the meal and providing a last little zip as dessert. Cheers!