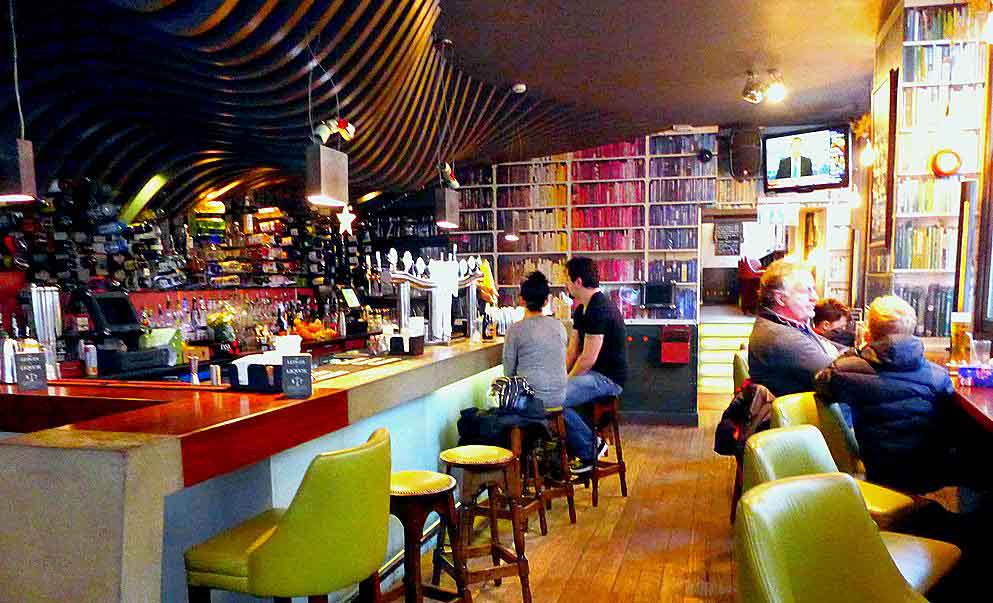 Pubs have always had some kind of grub to sop up the suds, but pubs all over Ireland began to take the quality of their kitchens seriously about 10 years ago. The turn toward better food was a matter of survival. Pubs lost a slew of customers after March 29, 2004, when Ireland became the first country in the world to ban smoking in the workplace — including restaurants, bars, and pubs. Once a few pubs introduced quality food with strong Irish roots, it became clear that the gastropub concept was the way to win new customers.
Two years ago, the Restaurant Association of Ireland began giving out awards for best gastropubs, and in the two competitions since then, one of the top contenders in Dublin has been The Exchequer, located on the corner of Exchequer Street and Dame Court (3-5 Exchequer Street, +353 1 670 6787, www.theexchequer.ie). It's a cozy warren of several rooms, including two bars that stay open late, a small dining room, and a lot of high-stool seating along shelves under the windows. (That's the bar at the Exchequer Street entrance above.) If you're particularly fortunate, you might even score one of the old-fashioned sofas or armchairs in the bars. The waitstaff couldn't be warmer (we got a big hug on leaving after lunch), and the menus run the gamut from steamed cockles and mussels with spicy sausage to a simple sandwich with the soup of the day.
One cold and misty day the bowl on offer was "sweet potato chili soup." It's a great example of the gastropub approach to reinterpreting traditional dishes with a few smart tweaks. In this case, the soup was a fresh take on potage parmentier, the classic leek and potato soup. The cook used sweet potatoes instead of regular spuds and added just enough ground chile pepper to lift the taste. With a little experimentation, we figured out how to make a satisfying version at home. We eat it with a slice of Irish brown bread (see previous post).
SWEET POTATO CHILE SOUP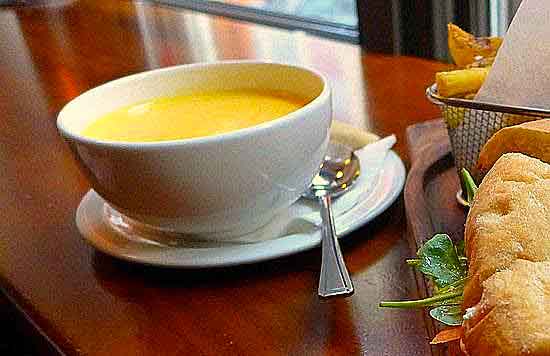 Makes 4 servings
Ingredients

3 tablespoons butter
6 leeks (white part only), well cleaned and chopped
2 large Garnet sweet potatoes, peeled and diced
5 cups chicken stock
1/2 teaspoon ground Espelette chile pepper (ancho or New Mexican will do)
salt to taste
Directions

1. Over low heat, melt butter in soup pot and add leeks. Cook, stirring, until soft but not brown.
2. Add sweet potatoes and chicken stock. Bring to boil, then reduce to a simmer. Cook about 30 minutes until sweet potatoes are soft.
3. Remove from heat and purée until smooth. Stir in ground chile and heat through for another five minutes. Add salt to taste.