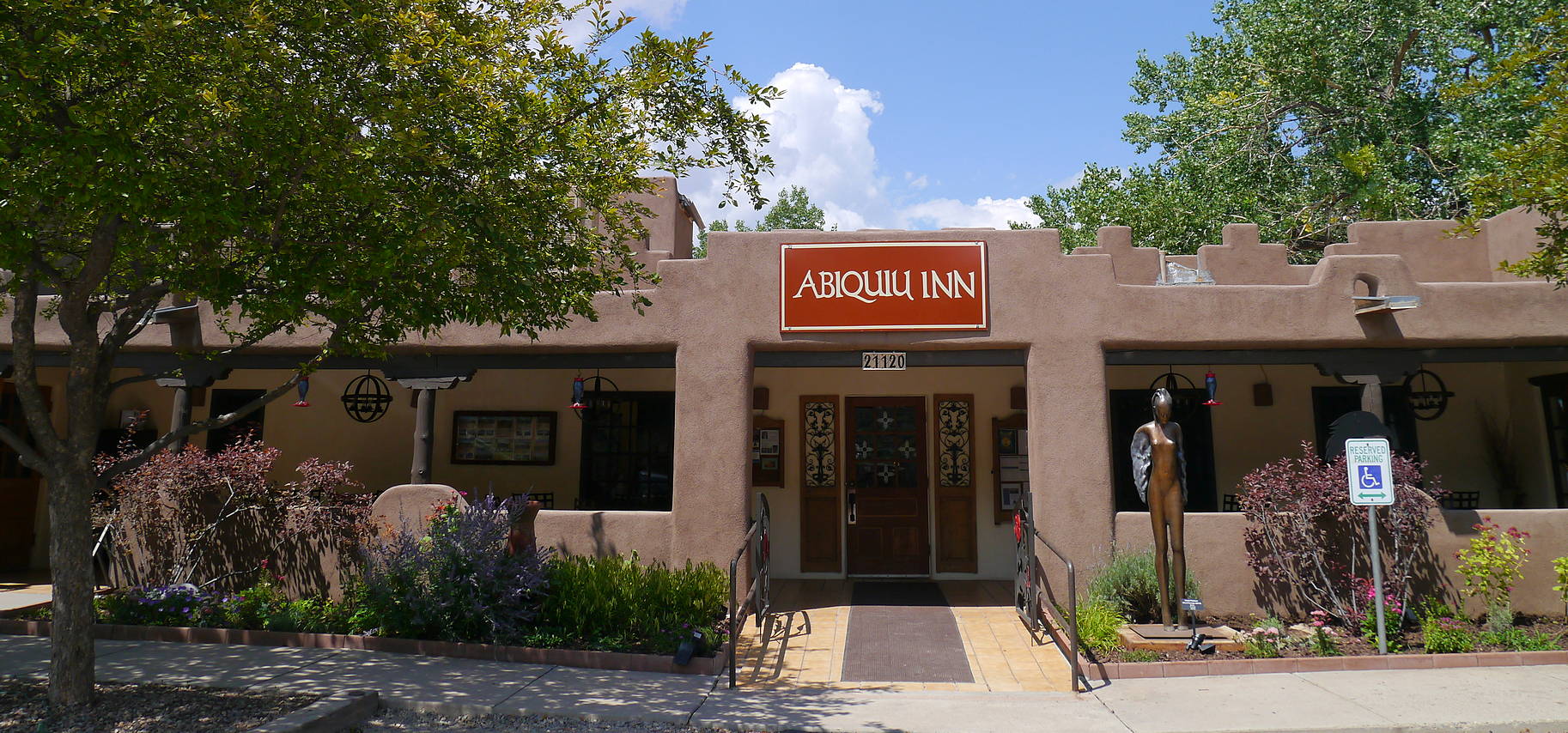 There aren't a whole lot of reasons to visit Abiquiu, New Mexico, 56 miles northwest of Santa Fe. Most of us come for Georgia O'Keeffe, who lived in this high-country village from 1949 until shortly before her death in 1986. O'Keeffe fans stream here to see her home and studio, visit her isolated studio at Ghost Ranch, and drink in the luminous, surreal landscapes. If they come to do all three, they likely stay overnight at the Abiquiu Inn (21120 U.S. 84, Abiquiu, N.M.; 505-685-4378; abiquiuinn.com). We did—and we were delighted.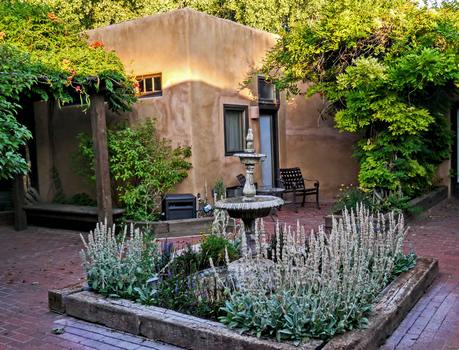 The rooms are essentially casitas. Several casitas back up on a shared courtyard, but we almost always had it to ourselves—unless you count the hummingbirds sipping nectar from the trumpet vine blossoms or having a drink from the central fountain. At night, the stars put on their own show in the dark sky.
The Abiquiu Inn sits next to the new Georgia O'Keeffe Welcome Center. We half expected the inn to be simply a convenient domicile for a visit to a tourist Mecca. But it proved a destination in itself. We were especially impressed by the simple but beautifully executed fare served at the Café Abiquiu, the inn's restaurant.


An artful essay into morning

Presentation may not be everything, but it never hurts to start the day with a beautiful plate of food. A great deal of thought went into making the breakfast dishes somehow special to the area. How many ways can you make fancy eggs? Several, as it turns out. The dish at left above was titled "Sunrise over Chama Valley," as if it were a painting. It might as well have been. It starts with a base of two corn cakes topped with avocado. That serves as a base for two stunningly cooked sunny side up eggs and an artful dose of pico de gallo. And, yes, it tasted as good as it looks.
The dish at right above is titled "Copper Canyon Eggs Benedict," and it's as good a variant on the fancy egg standby as we've ever tasted. Again, it started with two corn cakes, a staple in many dishes at the inn. In this case, they're topped with perfectly poached eggs. The cook then pours on a generous serving of mornay sauce spiked with red chile—marginally lighter than the traditional hollandaise. The finishing touches are a scattering of chopped bacon and crumbled Cotija cheese. With dishes like these, who could fail to have a good day?
We also ate dinner at Café Abiquiu one night when it was warm enough to dine on the terrace. It was a magical experience. It was also a gastronomic homecoming. We had almost forgotten how great a simple green chile stew can be. The recipe below isn't from Café Abiquiu, but it's reasonably close. It's a version we used to make 20 years ago and have put back in our cool-weather rotation since returning from New Mexico. In a pinch, it can be made with frozen or canned green chiles.
GREEN CHILE STEW
We like our green chile stew made with beef, but lean pork is equally common. In either case, be sure to brown the meat well. A lot of browned bits will stick to the pan, but the juice from the onions will deglaze it just fine.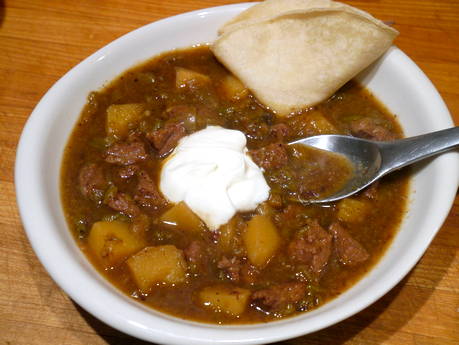 INGREDIENTS
1 lb. well-trimmed beef round, cut in 1/2" cubes
2 tablespoons flour
1 tablespoon corn oil
1 1/2 cups beef or chicken broth
2 garlic cloves, minced
1 large onion, chopped
1 teaspoon salt
1 1/2 cups potatoes, peeled and cut in 1/2" cubes
1 1/2 cups roasted and peeled New Mexico green chiles, cut into 1/2" dice
1/2 cup chopped fresh tomatoes
DIRECTIONS
Dredge the meat in flour. Heat oil in heavy skillet and brown meat over medium heat. Place meat into a stew pot and add broth.
Sauté garlic and onion in the oil remaining in the skillet, adding a pinch of salt to speed up the process of giving up their juices. Add to stew pot.
Add potatoes, chiles, tomatoes, and remaining salt to stew pot. Simmer mixture over low heat about one hour or until meat is extremely tender. Serve with warm tortillas.