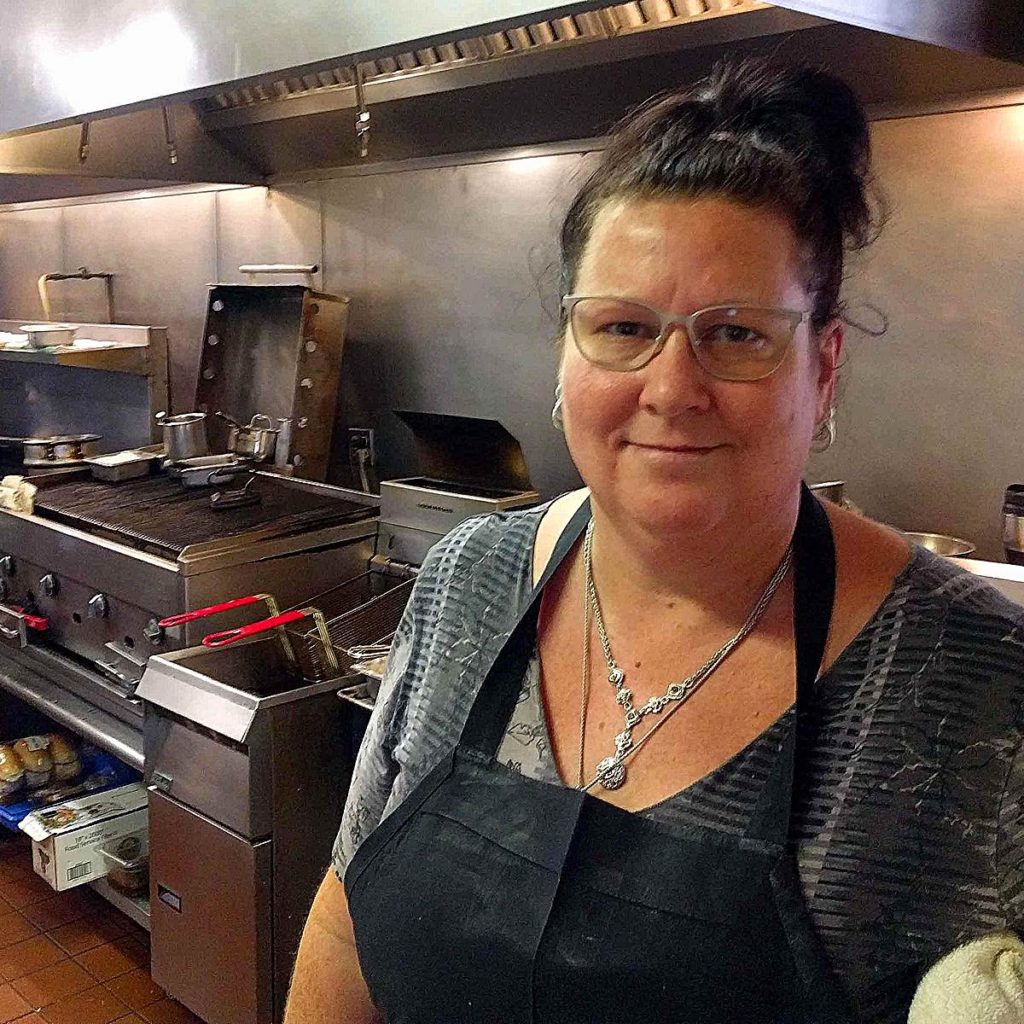 One of the pleasures of touring rural France, Italy, or Spain is discovering amazing country restaurants far from population centers. The U.S. has some places like that, too. But few of them can match the Cottage Restaurant & Cafe (427 Farmington Ave, Plainville, Conn.; 860-793-8888, cottagerestaurantandcafe.com) for staying power and consistently terrific food. Located at a nondescript crossroads in Plainville, Connecticut, a little southwest of Hartford, the Cottage should be celebrated as a Nutmeg State treasure. Full disclosure: We met Patty Queen at a 1996 book party celebrating the publication of Julie Stillman's Great Women Chefs (https://goo.gl/Rxutaq). Queen was among the youngest chefs featured. Ever since, we've been driving more than 100 miles to eat at the Cottage three or four times a year. We're never disappointed.
Queen has connections to our neighborhood in Cambridge, Massachusetts. After graduating from culinary school in 1986, she worked in the kitchen at Harvest (harvestcambridge.com), then as a line cook for Jasper White in Boston. She made the obligatory chef's pilgrimage to Paris, Burgundy, Bordeaux, and London and even cooked a while in Florence. Her bona fides are impeccable. But we think she found the soul of her cuisine when she followed Susan Spicer (another ex-Boston chef) at the late, lamented Bistro at Maison de Ville in New Orleans.
Bon temps rouler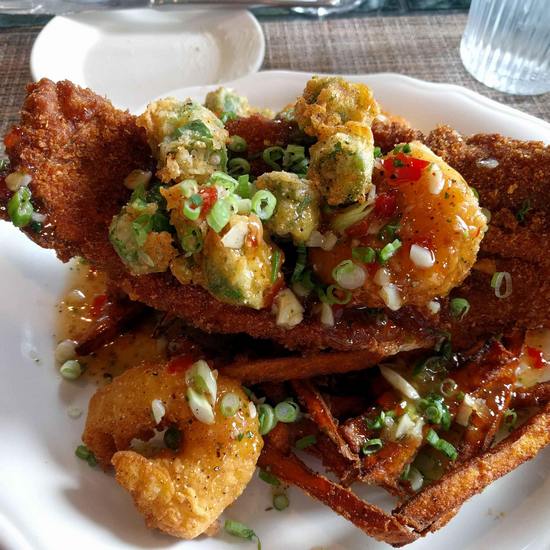 Even the name of the town tells you that Plainville is a long, long way from New Orleans, but a taste of Patty Queen's gumbo sure shrinks the miles. With Mardi Gras coming up this week, Queen has been reviving some less obvious homages to the rich culinary traditions of south Louisiana. Certainly it's food to celebrate.
That dish above was a recent special. It's a big fillet of fried red snapper topped with some of the tastiest okra we've had in a long time. Queen coated the okra pieces in a buttermilk batter and fried them until they just tender and still full of flavor. Think of it as okra tempura—light and nutty. The fish (which was also topped with some large fried prawns and a few fried oysters) was served on a bed of sweet and crispy sweet potato shoestrings and topped with a very Cajun sweet-hot chili sauce. The plating with thin slices of scallion was picture perfect.



Generous spirit, generous servings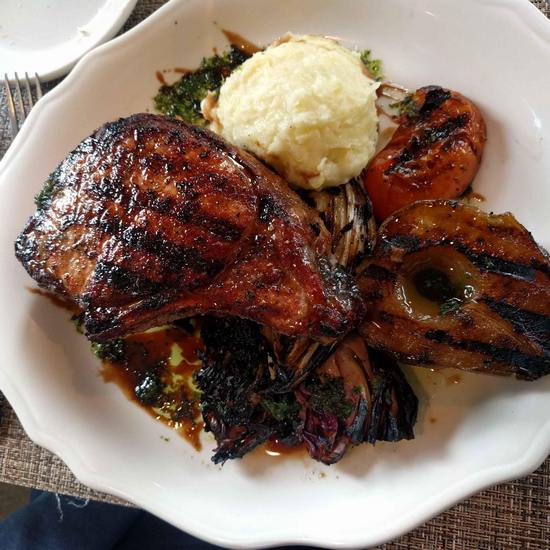 There's something of a throwback spirit at the Cottage. Even at lunchtime, most plates are large enough to serve two people. It feels like the Queen family wants to make sure no one leaves hungry. (Patty's mother Dorothy runs the front of the house and her brother Dave is the sommelier and bartender.) The grilled pork chop shown above was close to two inches thick. Demonstrating her great knack for balance, even on a plate of excess, Queen served it with grilled bosc pears for sweetness, and grilled endive for a bite of bitterness. The pairings are so simple that we smacked our heads, wondering why we hadn't thought of them. One bonus of eating at the Cottage is that we always leave with a good idea to try at home.


Extravagant endings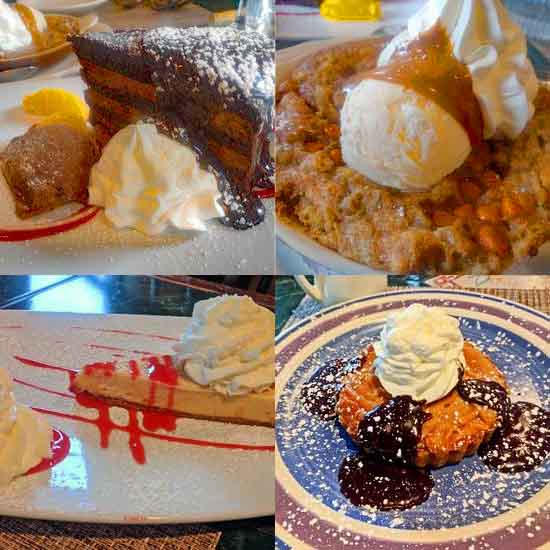 If you think the main dishes look over the top, then the desserts might make you swoon. We can usually count on a nice lemon tart (lower left, with raspberry coulis and whipped cream). That and the apple fritters with caramel sauce are standbys. But we love to anticipate a stunning dark chocolate cake (upper left), a butterscotch tart (lower right), or even a creation of the season. That would be the pear spice cake with butterscotch chips (upper right).
Prices at the Cottage are shockingly low for those of us accustomed to city menus. Dave Queen has also assembled a wine list full of food- and pocketbook-friendly pours that are as unexpected as the restaurant itself. By the way, the photo at the top shows Patty Queen at the end of a busy lunch where she cooked without assistance in the kitchen. She deserved a standing ovation.