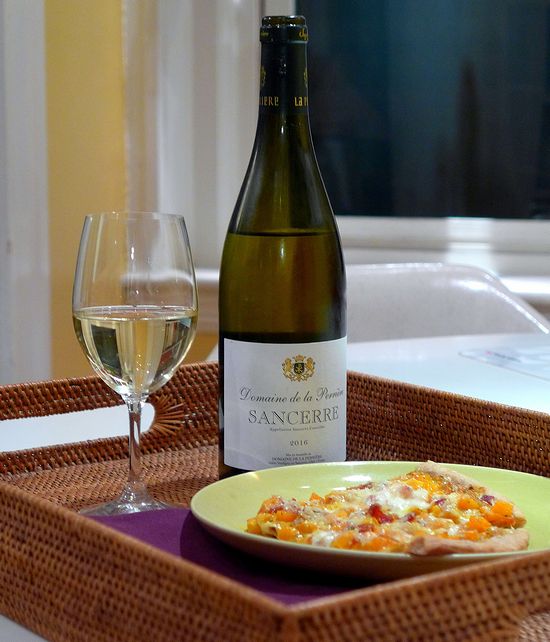 We have to admit that we prefer good Sancerre to the New World versions of Sauvignon Blanc—even the highly touted wines from New Zealand. The French take on the grape drinks well with cold-weather dishes. So when we pondered a pizza pairing for one of our favorite Sancerres, we remembered a hearty risotto. We often make a risotto with saffron and onion broth that is studded with bits of bacon, roasted butternut squash, and grated Parmigiano-Reggiano. It's perfect with a zingy Sauvignon Blanc. Surely those flavors could be adapted to a pizza.


The Wine: Domaine de la Perrière Sancerre 2016
The pairing was perfect. This Sancerre is fermented cold with wild yeasts and ages on the lees about three months. The yeast notes from the lees emphasize the saffron, while the great citrus and gardenia aromas are a neat counterpoint to the sweet, unctuous squash. The acidity and the lemony finish slice through the bacon and cheese. This wine is the flagship of Saget La Perrière. It's a splendid example of a blend from different vineyards along the Loire, providing both minerality and structure while retaining bright acidity and fresh fruit. It retails from $20 to $26.


The Pizza: Roasted butternut squash

While the pizza does require some assembly, it comes together quickly once you've done the prep work.
Ingredients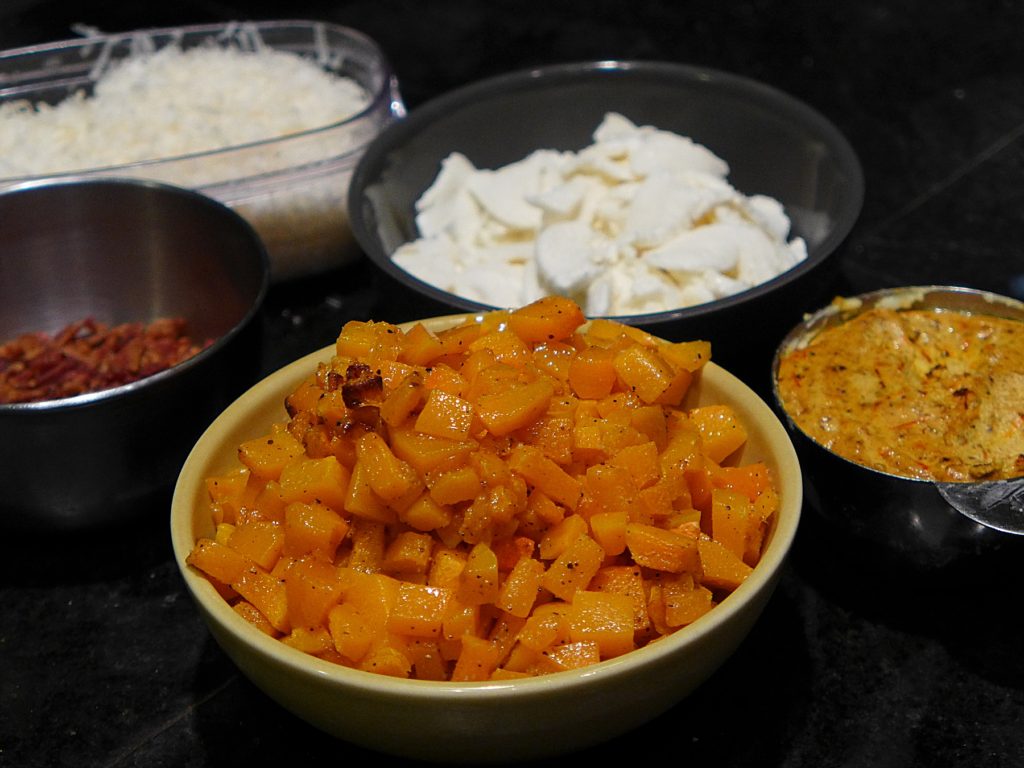 We use our standby basic recipe for pizza dough, which you'll find in this post. 1 cup butternut squash flesh, cut in 1/2" cubes
1 teaspoon olive oil
salt and pepper
three strips bacon
1/3 cup bechamel sauce
pinch of saffron
2 tablespoons caramelized onions
4 ounces fresh mozzarella, shredded
1 cup grated Parmigiano-Reggiano cheese
Directions

Set oven to 450°F.
Place squash cubes in small plastic bag. Add olive oil. Grind generous twists of salt and pepper. Close bag and toss to coat squash. Pour out of bag onto small baking sheet and arrange in single layer. Place in oven and roast about 20 minutes until squash is soft and begins to brown. Remove from oven. Set aside.
Slowly cook the bacon until crisp and remove to paper towel to drain. Crumble bacon over squash.
Make sauce base by warming bechamel and stirring in crumbled saffron and caramelized onions.
Assemble pizza by stretching dough to circle of 14-16 inches. Paint the surface with the saffron sauce. Evenly distribute the roasted squash and bacon mixture. Freely distribute the mozzarella and then sprinkle on a snowy cover of Parmigiano-Reggiano. Bake at 450°F until edges and bottom have browned—about 9 minutes.