Sometimes we pine for the old days of Montreal tribalism. Living on Le Plateau meant you spoke French at home and ate feves au lard every Saturday night. Growing up in Mile End meant you spoke English at home (with maybe a little Yiddish) and were by birth an expert on bagels. Mind you, the two neighborhoods are so close that Montreal Tourism lumps them together.
Mile End extends east from Parc Mont-Royal to boulevard Saint-Laurent, and north from boulevard Saint-Joseph to the railroad tracks. Through most of the twentieth century, it was home to aspiring immigrants, including many Central and Eastern European Jews immortalized in the novels of native son Mordecai Richler (The Apprenticeship of Duddy Kravitz). Nowadays, it's pretty cosmopolitan, filled with good bars with Francophone rock and dance music.
But some stalwarts of Richler's day survive, and they're worth a journey to savor the neighborhood's roots. One does not live by jazz alone, after all.
Wilensky's Light Lunch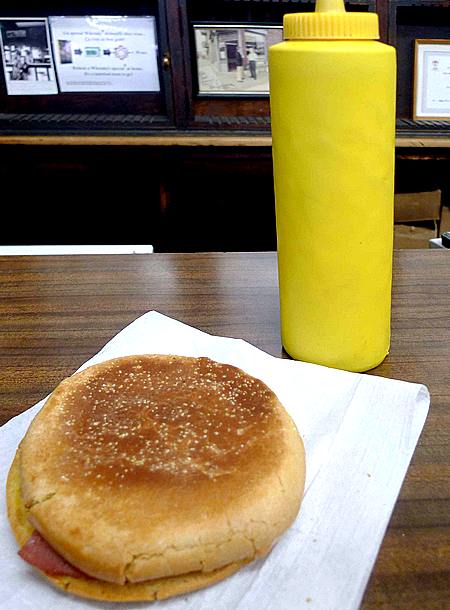 If there's one lunchtime special that cuts across the ethnic and linguistic lines of Mile End and Le Plateau, it's the fried bologna sandwich. You make it with squishy white bread, lots of mustard, and extra-thick slices of bologna, preferably from wax-coated tubes. (Our Acadian neighbor swears by them.) Founded in 1932, Wilensky (at top of the post) goes fried bologna one better with the Wilensky Special. The sandwich consists of fried slices of beef salami and bologna with mustard on a grilled roll. The round sandwiches are never cut in half and are best eaten quickly while warm. The classic accompaniment to a Wilensky Special is a vanilla or chocolate egg cream. Third-generation to work at the place, Sharon Wilensky says the restaurant makes its own syrups for the drink. "We know our egg cream is good," she says."People from Brooklyn tell us that it's good." Note that the nine-stool establishment is only open Monday-Saturday and closes at 4 p.m. 35 avenue Fairmount ouest; (514) 271-0247; wilenskys.com. Metro: Laurier.
The eternal bagel battle: Fairmount vs. St-Viateur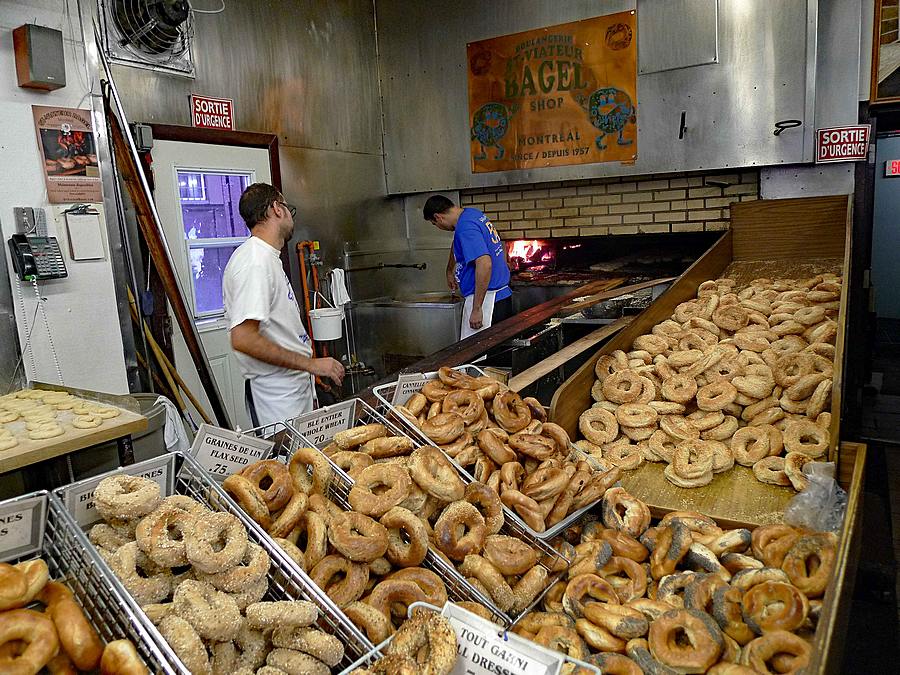 Everyone loves bagels shaped by hand and slid into wood-fired ovens on long wooden paddles. Beyond that. Montreal bagel-lovers divide into two camps.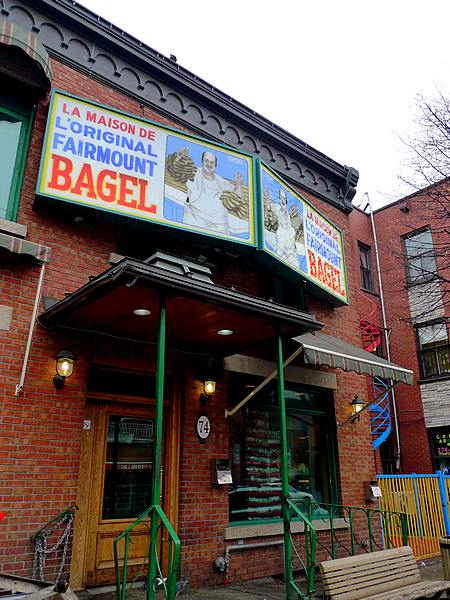 You're either a Fairmount or a St-Viateur fan. Fairmount traces its lineage back to 1919, claiming descent from the city's first immigrant bagel baker. The current shop dates from "only" 1950. In addition to classic bagels plain or with sesame or poppy seeds, Fairmount also gets fancy with specials as blueberry, cinnamon and raisin, and chocolate chip bagels. The shop is open 24/7. 74 avenue Fairmount ouest; (514) 272-0667; fairmountbagel.com. Metro: Laurier
St-Viateur Bagel (above) is the relative newcomer, established in 1957. The mother ship in Mile End is also open 24/7, though its cafes keep more conventional hours. You have to love the look—big bags of flour and sesame seeds in the window. For years, the bakers have made about a thousand dozen bagels daily. Customers order more of the sesame seed bagels, though the staff favors poppy seed with a schmear of cream cheese. Whichever you choose, it's hard to beat the yeasty taste and light texture of one of St-Viateur's bagels hot from the oven. To enjoy them with a quiche, salad, and other light fare, visit the St-Viateur cafe at 1127 avenue Mont-Royal est on the Plateau. Our next post will highlight a few of the old favorites in that neighborhood. 263 avenue Saint-Viateur ouest; (514) 276-8044; stviateurbagel.com. Metro: Laurier.