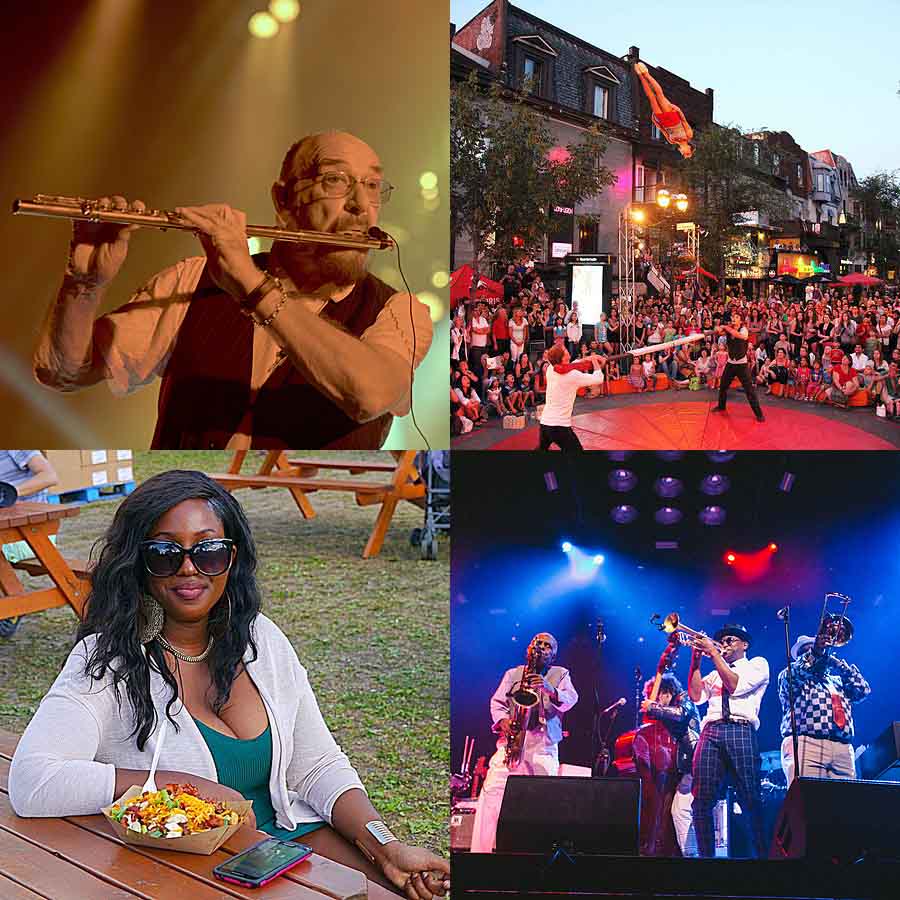 Montreal is one of our favorite cities around the globe. Not only is it a great place to kick back and have fun—it's a fabulous place to eat. Montrealers find reasons to party all year long, but summer is especially packed with festivals.
We'll be heading up for the Festival International de Jazz de Montréal (montrealjazzfest.com). The 39th annual edition takes over the central city from June 28-July 7. (The photos above—upper left of Jethro Tull, lower right of the Preservation Hall Jazz Band—are courtesy of the festival staff.) The music sometimes stretches the definition of "jazz." But it's all amazing and a lot of it takes place in free outdoor performances.
The photo at upper right is from the Montreal Cirque Festival (montrealcompletementcirque.com). It follows the jazzfest with just a little overlap: July 5-15. Cirque du Soleil (which is headquartered in Montreal) is just the tip of the iceberg of the contemporary circus movement. The circus arts encompass acrobatics, mime, theater, and performance art in performances that range from the intimate and moving to grand spectacle in the streets.
There are a slew of other festivities over the summer, but we have a special place in our hearts (or maybe a little lower) for the Montreal Grand Poutinefest (legrandpoutinefest.com). This gathering of the greatest poutine food trucks in Canada returns this year to its original site at Jacques Cartier Quay in the Old Port July 31-August 5. The lovely lady with a poutine at the picnic table (above, bottom left) was ecstatic with her plate.
Between jazz concerts, we're looking forward to discovering some new eating a drinking spots. In the meantime, we'll be doing a series of posts on some of our favorite places for an inexpensive lunch.