Like many Montrealers, the new gentry of the Plateau prize authenticity. How else to explain the nostalgic appeal of old-fashioned restaurants from an earlier era? Francophone points of reference like La Binerie and Jewish touchstones like Schwartz's are treasures for the whole city, but they cannot be separated from the Plateau. Here are three spots to get historic tastes of Montreal when you're visiting for the Jazz Festival.
Schwartz's Smoked Meat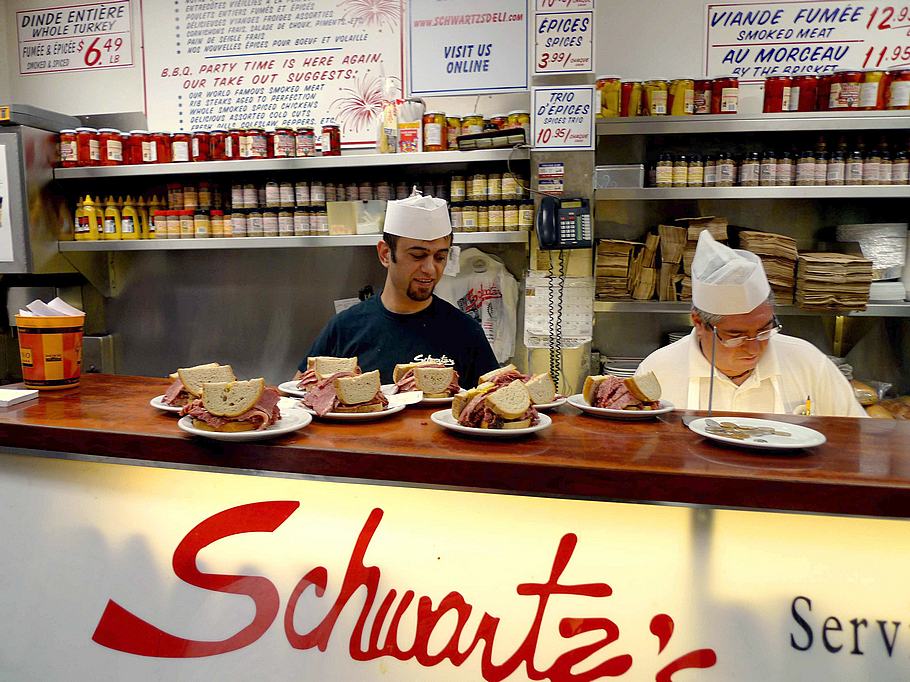 There's nearly always a line out front of this narrow deli that has occupied the same spot on The Main (as Anglophones used to call boulevard Saint-Laurent) since 1928. But it rarely takes more than fifteen minutes before you'll be seated family style at a long table. Then things move pretty quickly.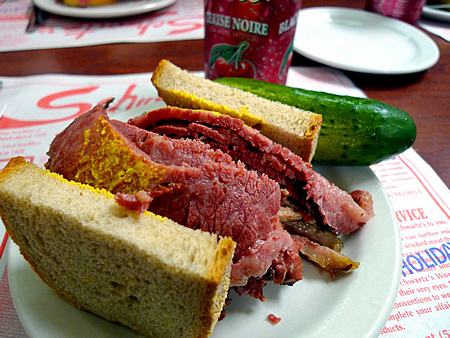 Everyone orders the justly famous smoked meat sandwich, made from brisket that has been marinated with herbs and spices for ten days before smoking and then steaming. So the only choices are whether you want it lean (a little dry), medium (recommended), or fat, and whether you want a half-sour or dill pickle on the side.
Drink? Black cherry soda, which waiters refer to as the "house wine." Just don't ask for your sandwich with cheese. "In a Jewish deli?" your waiter will proclaim. "You'll get kicked out for that." Schwartz's stays open until 12:30 a.m. most days and even later on Friday and Saturday for those who prefer smoked meat to poutine as a restorative after a night of bar-hopping. 3895 boulevard Saint-Laurent; 514-842-4813; schwartzsdeli.com. Metro: Sherbrooke/Mont-Royal.
La Binerie Mont-Royal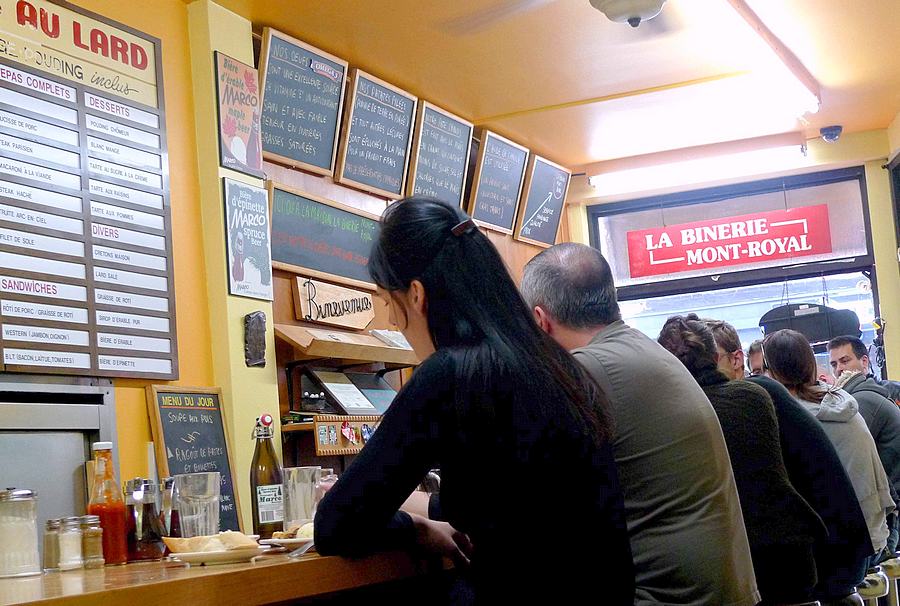 This iconic eatery with eleven stools at a long maple counter and a few small booths may have changed hands a few times since it opened in 1938, but the recipes are still the same.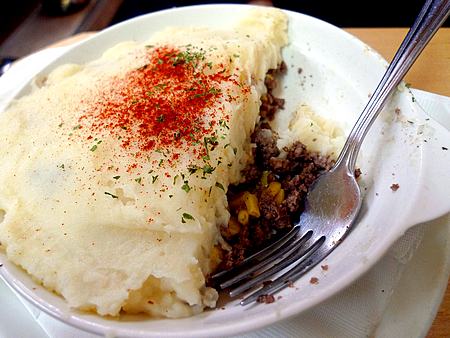 It remains a a go-to place for Quebecois dishes just like grandma used to make. In fact, the "Québecois Plate" is almost a primer of the hearty, homey cuisine. The generous plate of meat pie, pork meatball ragout, mashed potatoes, and carrots comes with a side of baked beans and is rounded out with thick pea soup to start. A dish of pouding chômeur (a white cake baked with a syrup of maple and cream) is the intensely sweet finish. La Binerie is also an excellent place to sample pâté Chinois. This layered mixture of corn, ground beef, and mashed potatoes shown here is often called Québecois shepherd's pie.
Hours at La Binerie are a little odd. It's closed all day Monday, open for breakfast and lunch the rest of the week, and also for dinner on Thursday-Saturday. 367 avenue Mont-Royal est; 514-285-9078; labineriemontroyal.com. Metro: Mont-Royal.
Rôtisserie Romados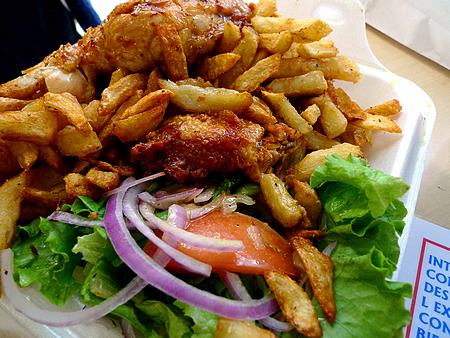 The Portuguese chicken rotisserie joint is a kind of eatery beloved in Montreal, especially on the Plateau. Romados is our favorite, even if the exterior looks like a cross between a bakery and a dry cleaner. But peek in the window and you'll see cooks manning massive rotisserie grills where split chickens spin around over the heat. The lines tend to be long, but aficionados of grilled chicken call ahead, as there's a separate line for picking up advance orders. Most plates (OK, Styrofoam boxes) come with fries, and they are astonishingly cheap. A few tables with stools are available for eating on site, but the primary business is take-out. For dessert, order some pastel del nata, a cream-filled Portuguese pastry. 115 rue Rachel est; 514-849-1803; romados.ca/en-ca/. Metro: Mont-Royal.