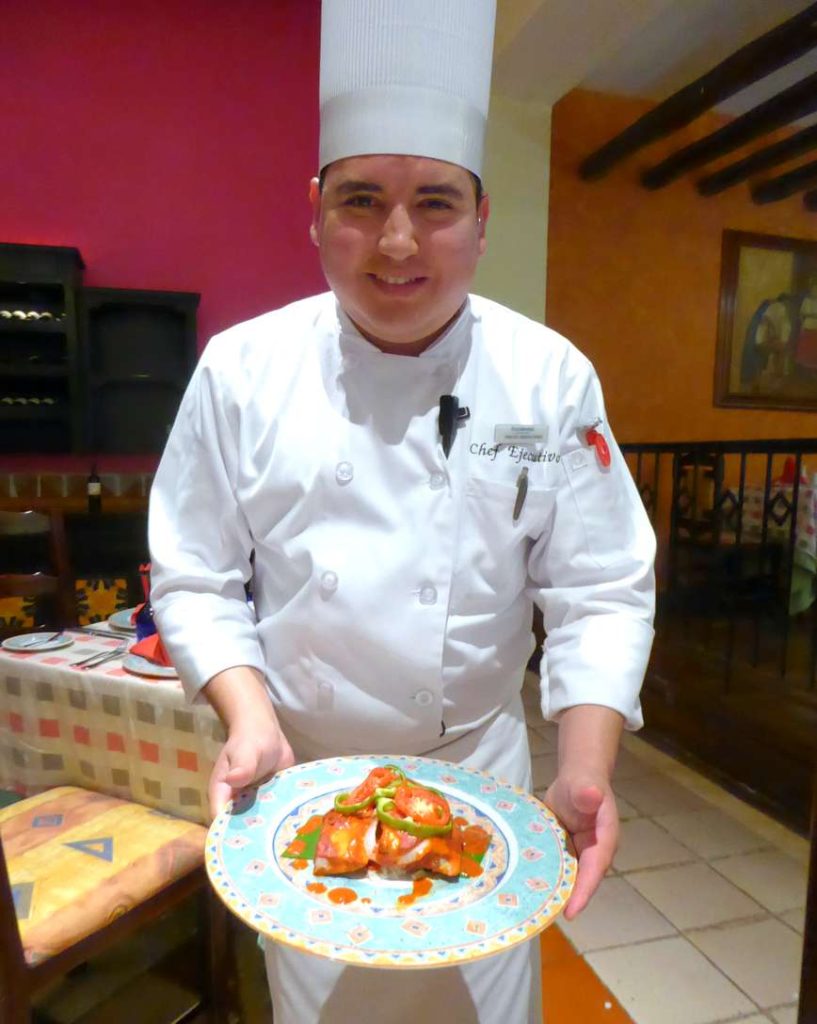 Floating just 12 miles off the coast of the Yucatan peninsula, the island of Cozumel was first settled by the Mayans about 2,000 years ago. The San Gervasio archaeological site on the northern part of the island shows the Mayan presence long before European contact. The language and the folkways are largely gone, but the Mayan heritage lives on through the foodways.
That's why chef Ismael Hernandez of Occidental Cozumel (Carretera Costera Sur km 16.6, Colonial El Cedral San Francicso, Palancar, Cozumel, Mexico; +1 52-987-872-9730, barcelo.com) decided to conclude my introduction to local cuisine with his adaptation of the traditional dish Pescado Tikin Xic. In this case, the "pescado" was the fresh mahi mahi that we also used for a delicious ceviche (see previous post).
Achiote central to Mayan coastal cooking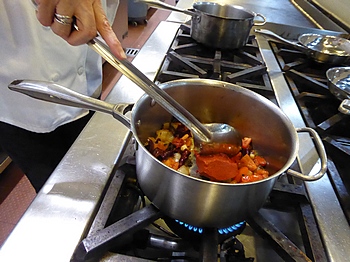 In the days before gas and electric ovens, the fish was wrapped in banana leaves and baked in an underground oven lined with hot stones. The version I learned from Chef Ismael is much easier for a home cook. Either way you prepare it, the dish derives its distinctive flavor and color from achiote, the seed of the annatto tree. The small red seed is ground and made into a paste with other seasonings such as coriander, cumin, cloves, peppercorns, and garlic. Prepared versions are readily available in grocery stores and markets in Mexico and in the U.S.
Achiote paste has a clay-like consistency, but was easy to blend into a rich sauce with tomato, onion, peppers, spices, orange juice, and dark beer. When it had been blended until smooth, we spooned the sauce onto banana leaves laid out on a baking tray and topped them with fish filets. We then topped the fish with more sauce and slices of tomato, onion, and green pepper before we slid the baking tray into the oven. Twenty minutes later, we had a taste of old Mexico from a modern resort kitchen.
PESCADO TIKIN XIC
Ingredients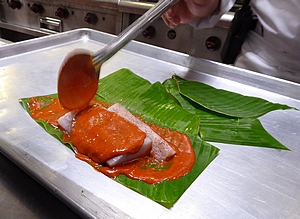 3 fresh fish filets
150 g (5 oz.) achiote paste
1 onion
300 ml (1 1/4 cups) orange juice
5 garlic cloves, peeled and chopped
10 g (2 tsp.) dried oregano
200 ml (3/4 cup) dark beer
200 g (7 oz.) green pepper
200 g (7 oz.) tomato
100 g (about three whole) guajillo peppers
banana leaves
Directions
Set oven for 170°C (340°F)
Cut a few slices of onion and reserve for later. Dice the rest of the onion and add to a hot pan. When soft add garlic, cook until golden, and add guajillo pepper and tomato. Cook for 15 minutes on high, storring constantly. Add the achiote paste, juice, beer, and oregano. Cook another 15 minutes, then remove from heat and let rest for 20 minutes. Blend the sauce until smooth.
Season fish filets with salt and pepper. Place banana leaves on a baking sheet. Add sauce to the fish on both sides. Place fish on the banana leaves, and top with slices of tomato, onion, and green pepper. Place in hot oven and bake 20 minutes. Serve with white rice.