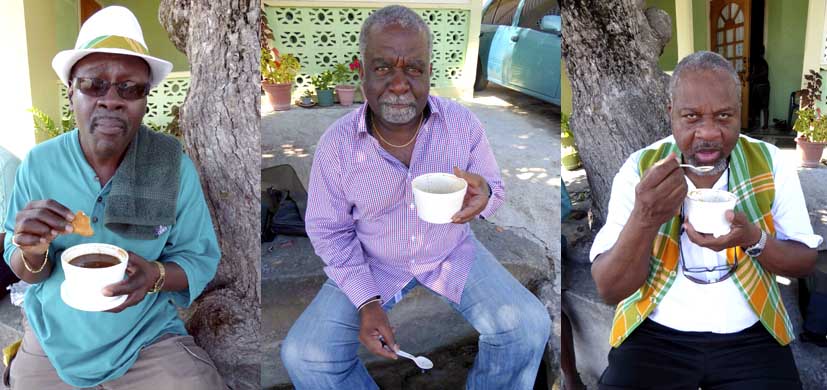 Montserrat's St. Patrick's Day parade—a whirl of colorful costumes and steel drums—doesn't kick off until 3 in the afternoon. That leaves plenty of time for checking out the entertainment and crafts booths at the Heritage Village in Salem—and for eating. The aroma of jerk chicken cooking on outdoor grills fills the fairgrounds, but the most popular dish is "Goat Water." Montserrat's national dish, it's a spicy Caribbean take on Irish stew.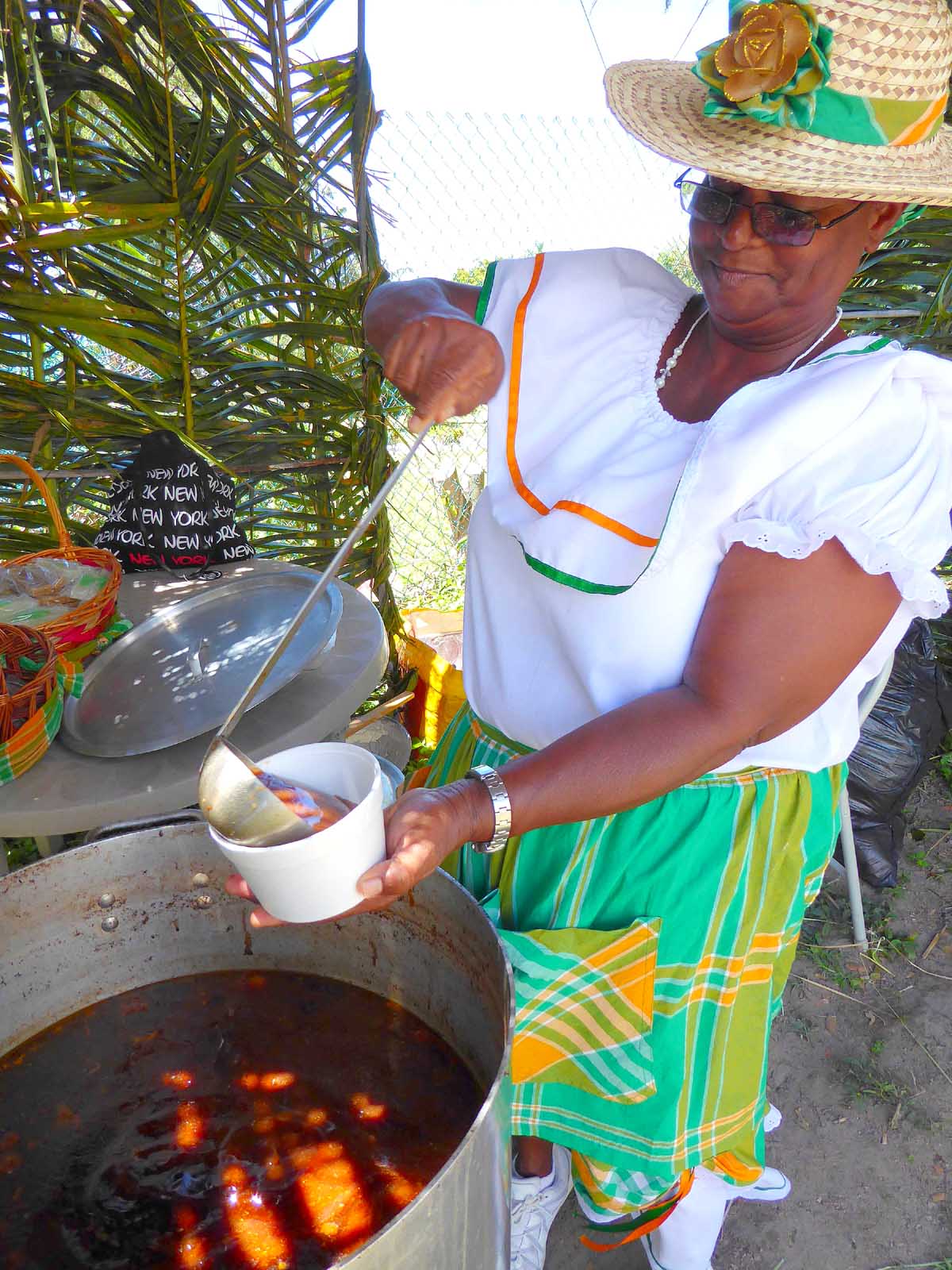 I gravitated to the stall of Virginia Allen, who managed to tend her big pot of goat water without spilling a drop on her beautiful traditional outfit made with a signature Madras fabric of green, orange, and white. In addition to serving goat water at festivals, Virginia makes the dish every Friday and offers it for sale across the street from the bread shop in Brades. "Just look for the goat water sign," she told me.
Goat water may sound like a thin broth, but it's a hearty, meaty stew. When I settled in at a communal table to try my small bowl, a local woman advised me to use my bread to soak up every bit of the rich broth redolent of spicy cloves. Goat water is often made in a big metal pot and cooked over a wood fire to add a slight touch of smoke. While it seems to be a festival—rather than everyday—dish, most cooks have at least a rudimentary family recipe. "Wash the goat meat and cut it in bits," Virginia had told me. "Then put in the seasoning—sea salt, onion, garlic, clove, big sweet seasoning peppers, and flour." Pressed further, she also admitted that she adds a touch of Accent to intensify the flavors. Some cooks also add a bit of rum or Scotch.
Like all good traditional stews, there are as many recipes as there are cooks. The version below is typical.
GOAT WATER
Makes 12 servings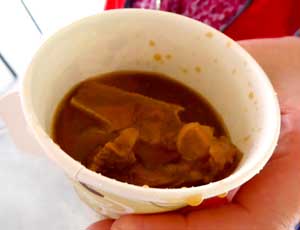 Ingredients

2 quarters goat
4 onions, cut up
scallions and thyme
2 tablespoons ketchup
1 hot green pepper, whole
salt and pepper to taste
4 cloves garlic, minced
1 tablespoon whole cloves, crushed
1 tablespoon mace or a whole nutmeg, grated
3/4 cup cooking oil
3 ounces fresh marjoram
2 cups flour
Kitchen Bouquet or Cross & Blackwell Gravy Browning
optional Scotch or rum to taste
Directions

Cut the meat in 2-inch cubes, being sure to leave the bones in. Wash in salt water and place in a large stewpot. Cover with cold water, bring to a boil, and simmer, covered, for 5 minutes. Skim off the foam, and continue simmering, covered, adding remaining ingredients through marjoram. Add boiling water as needed to keep ingredients covered.
When the meat is nearly tender—about 2 hours—combine 2 cups flour with enough cold water to make a smooth paste. Stir enough of this mixture into stew to give desired thickness, and add some browning (Kitchen Bouquet or Cross & Blackwell) for deeper color. Half-cover the pot and continue simmering until meat is done. Add Scotch or rum as desired. Serve very hot with bones in cups or bowls.