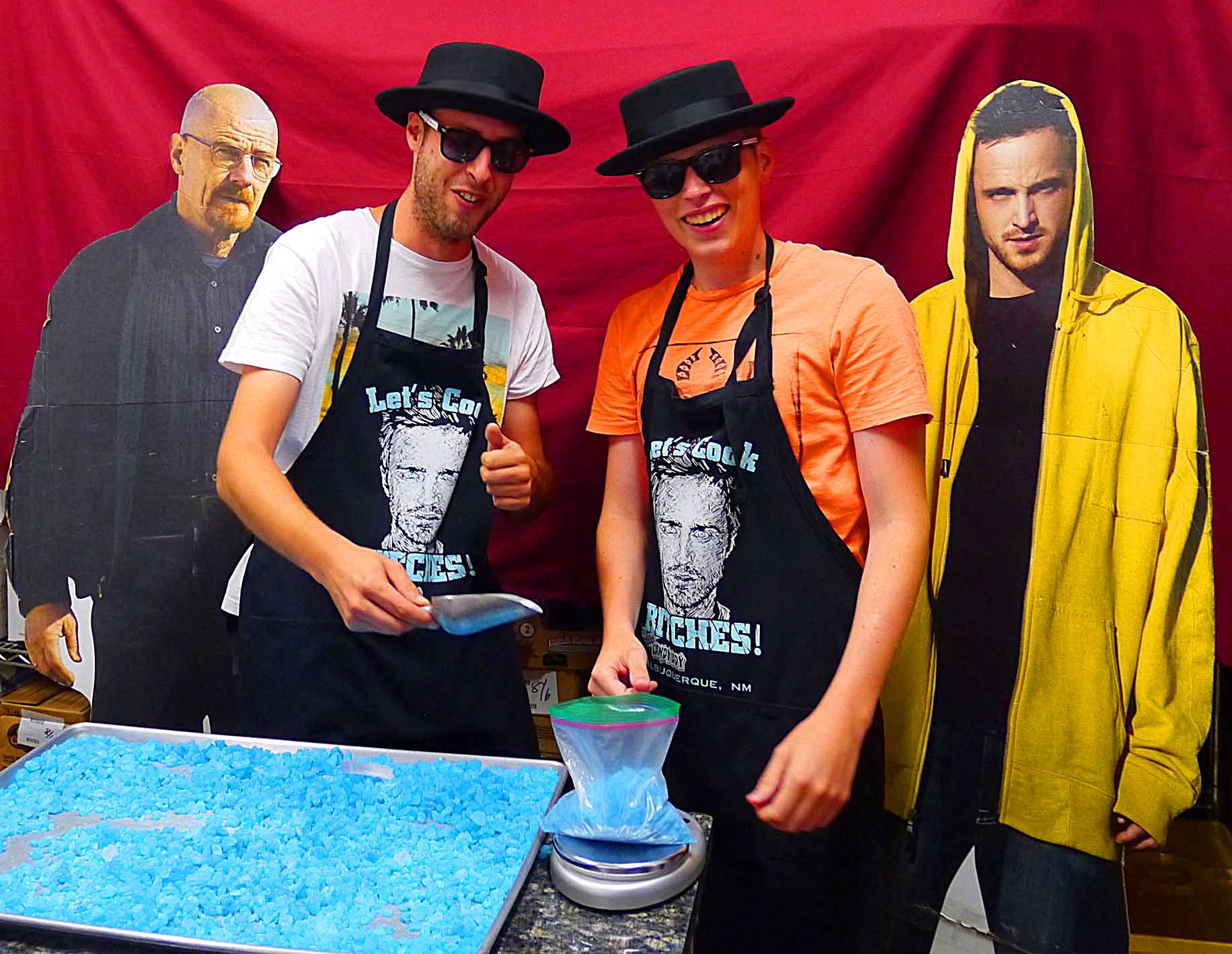 Debbie Ball created the bright blue crystal meth prop for the first two seasons of Breaking Bad. It's quite a badge of honor in a city that's obsessed with the AMC cult series that went off the air in 2013 but lives forever in online streaming. Fans still flock to the Candy Lady (424 San Felipe NW, Albuquerque, www.CandyLady.com), her jam-packed shop in Albuquerque's Old Town, to pick up 100 gram packages of Breaking Bad Candy for the folks back home.
Most can't resist heading to a back room where cardboard cutouts of Walt and Jesse stand behind a table of blue crystals. Fans can slip on black sunglasses and black pork pie hats—the basic Heisenberg identity—and pose for pictures scooping said crystals into plastic bags. The two Spaniards at the top of this post capped off their Route 66 road trip at the Candy Lady before flying home to Girona. just north of Barcelona.
Who knew fudge could be such hot stuff?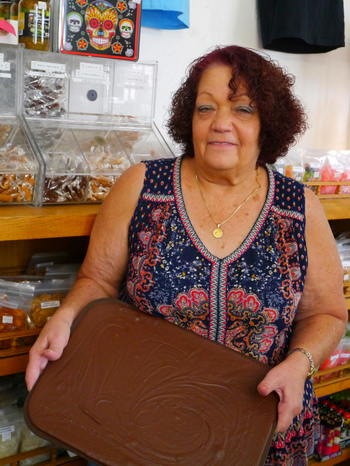 Ball also has a real flair for the more legal flavors of her region. We were especially taken with her chile-infused fudge, with flavors such as chocolate green chile, chocolate red chile, and white chocolate red chile. It's fair to say that Ball is not the only New Mexico candy maker who has hit upon these combinations. But she handles them with real finesse.
"I make all the fudge from scratch," she told us. "I started 40 years ago, using family recipes." The secret, she said, is to use good quality chile powders and to cook them in with the butter and chocolate. It sounds simple enough, but Ball has mastered the right proportion of heat to sweet. "They have to have a bite to them," she said. "They have to get hot in the back of the throat."
Chocolate red chile is the customer favorite. Actually, it's hard to choose. But after some serious sampling we decided that it was our top choice as well. Perhaps it's because we love the combination of chocolate and chile in savory Mexican molé sauces.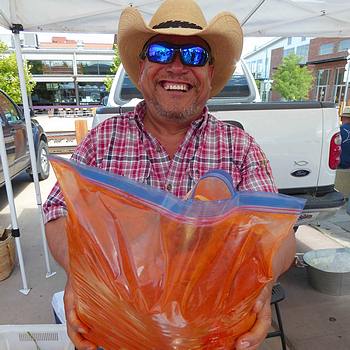 Once Ball opened our eyes to the sweeter possibilities, we began to notice how versatile the red chile/chocolate combination could be.
We noted a sundae topped with red chile chocolate sauce on the menu at The Shed (sfshed.com). We enjoyed a little sliver of red chile-accented chocolate brownie at a wine bar. We were also intrigued by the raspberry-red chile jam we sampled at the Santa Fe Farmers' Market (santafefarmersmarket.com).
We decided to bring all the flavors together in a fudgie brownie. We added raspberry jam and some of the ground red chile powder we had purchased from Cresencio Ochoa (at left) of Chimayó at the Santa Fe Farmers' Market to develop our own recipe.


CHIMAYO BROWNIES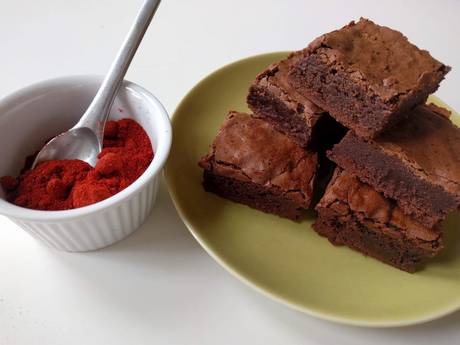 INGREDIENTS
6 tablespoons butter
3 ounces unsweetened baking chocolate
1 cup flour
3 tablespoons unsweetened cocoa powder
1 1/2 teaspoons Chimayó ground red chile
1/2 teaspoon salt
1 1/2 cups superfine sugar
3 tablespoons confectioners sugar
2 large eggs plus 1 egg yolk
2 tablespoons seedless raspberry jam
1/2 teaspoon red wine vinegar
DIRECTIONS
Set oven to 325°F.
Line 9-inch square baking pan with aluminum foil, overlapping on two sides. Grease foil.
Place butter and unsweetened chocolate in a small saucepan. Heat slowly over very low heat. Stir until melted and well combined. Let cool.
Sift flour, cocoa powder, chile, and salt into a small bowl.
Combine superfine and confectioners sugar. Add eggs and egg yolk. Beat until mixture is pale yellow, sugar crystals are well-dissolved, and mixture falls off beaters in a thin ribbon. Add raspberry jam and red wine vinegar. Beat until well combined (about 1 minute).
Fold in melted chocolate and butter. Then gently fold in dry ingredients. Spread batter in prepared pan. Bake 45-50 minutes, until toothpick comes out with just a light crumb attached. Cool pan on rack before using foil to lift cooked brownies from pan. Peel off foil and cut into 16 squares.