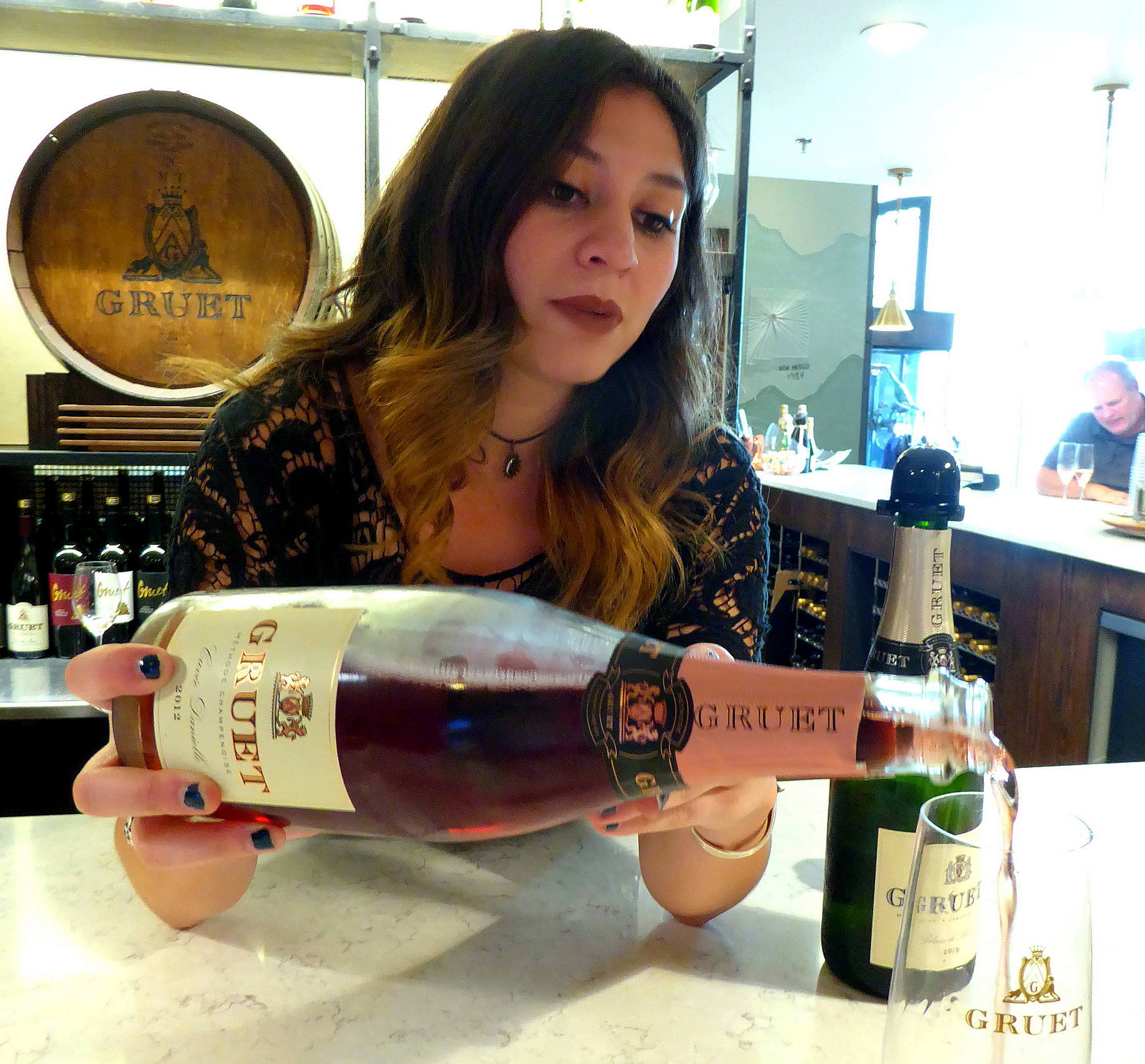 We've been drinking Gruet wines for about 25 years now, and we hope to keep drinking them another 25. That would be something to celebrate—which is appropriate for an American winery that produces sparkling wines that rival good Champagne. Quality can always be had at a premium price, but entry-level Gruet Brut starts at $15. That's hard to beat, even if you step down to bulk-process California sparklers. The top of the line—a grand rosé that sits three years on the lees—is only $39. (Those are winery prices.)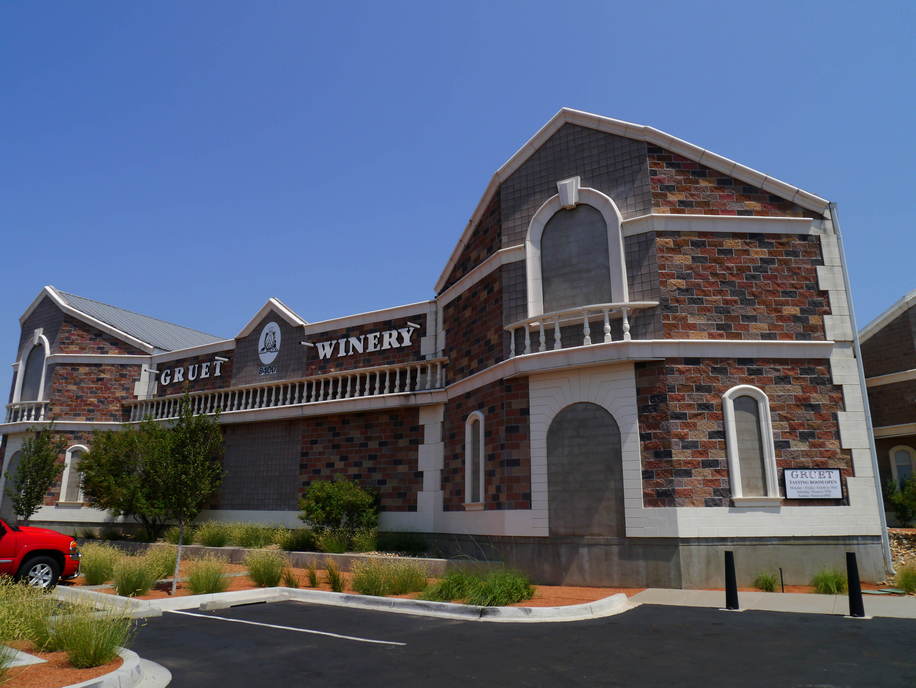 When we're in Gruet country, we always try to stop at the Albuquerque tasting room (8400 Pan American Freeway NE, Albuquerque; (505) 821-0055, gruetwinery.com). For one thing, this space has the full line of Gruet wines, including the limited-release still wines, and the full complement of zero-dosage Sauvage line.
A chalkboard by the bar identifies the daily wines for the basic $12 tasting—significant pours of five different wines. The day we stopped by, Aizlinn Gutierrez (at top) was pouring three versions of the Sauvage, The bone-dry non-vintage was delicate Chardonnay with a persistent creamy mousse. The brioche-scented 2011, also all Chardonnay, showed the 48 months it spent on the lees. The finish had a delightful hint of toasted almonds. The non-vintage rosé expressed bright flavors of alpine strawberries with a hint of cherry.
We were so taken with the rosé that we departed from the projected tasting to try a pair of limited release rosés. (It was, after all, 96°F outside.) Besides, as Aizlinn commented, it's her philosophy that one should "celebrate life every day." That seems like the right attitude for an ambassador of sparkling wine. "Sometimes after work, beer just won't do. But sipping a bottle of rosé on the back porch is perfect."
Delicacy and complexity mark top Gruet rosés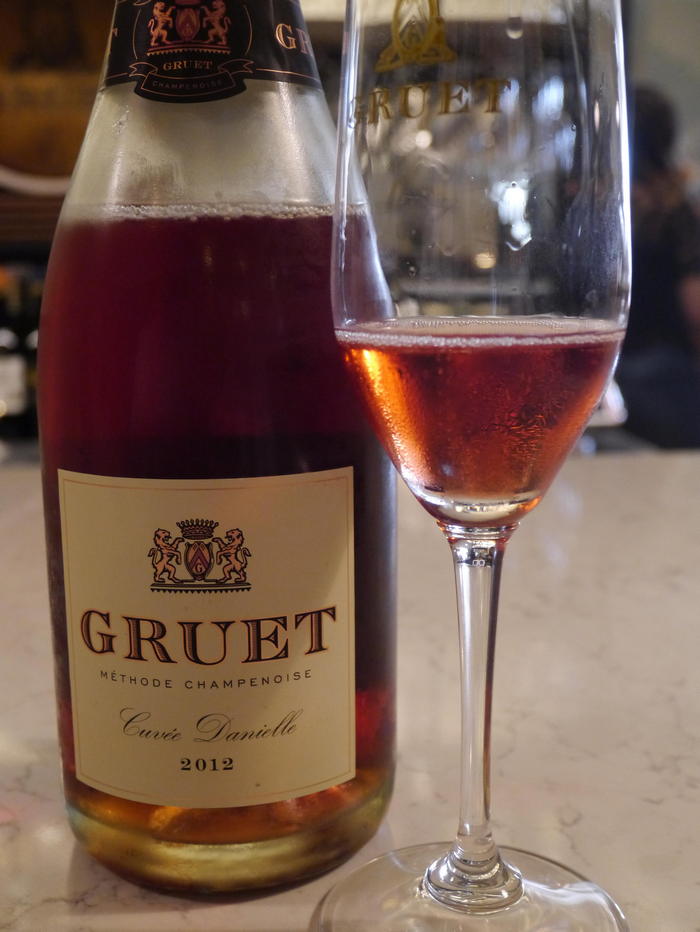 After the intensity of Sauvage Rosé NV, which is crafted from 100 percent Pinot Noir, we weren't sure what to expect from the Extended En Tirage Rosé. Gruet makes it with the same 75 percent Pinot Noir, 25 percent Chardonnay blend as the Blanc de Noirs that we usually drink at home. More contact with the skins in this case, gives the wine a lovely blush and a red-fruit intensity. The "extended" period on the yeast is a minimum of 24 months. The combination of more skin contact and longer yeast contact produces a wine that's a little like wild strawberries on freshly baked bread. That sounds jammy, but the finish is long and crisp.
The other premium rosé was a Gruet Cuvée Danielle Grand Rosé 2012. The fruit mixture here is 90 percent Chardonnay with 10 percent Pinot Noir. The first fermentation spends six months in French oak before it's racked into bottles to spend a minimum of three years on the lees. Aizlinn pointed out that it's great with bizcochitos, the official state cookie of New Mexico. The nose is a heady blend of blackcurrant and ripe pear. In the mouth, it exudes a complex roundness with notes of black cherry and brown toast.
Of course, we brought home both of the premium rosés. Now we're waiting for an occasion. We also worked on our own version of bizcochitos. The delicate crumb and marriage of brandy and anise make them the perfect accompaniment to a good rosé.
BIZCOCHITOS
These cookies are traditionally made with lard. The 50/50 proportion of butter and vegetable shortening yields a very similar crumb and flavor.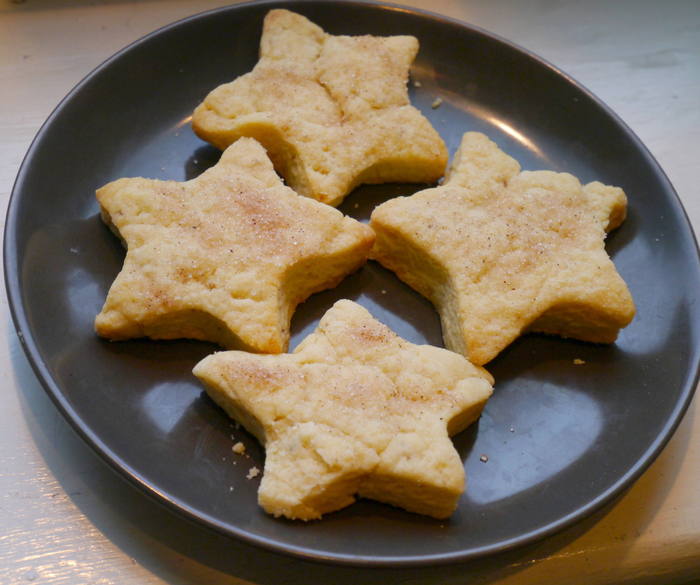 INGREDIENTS
285 grams (2 cups) flour
1 teaspoon baking powder
1/8 teaspoon salt
1/3 cup butter
1/3 cup vegetable shortening
85g (1/2 cup plus 5 teaspoons) sugar
3/4 teaspoon anise seeds, crushed in mortar and pestle
1 fresh egg
2 tablespoons brandy
1/2 teaspoon vanilla
cinnamon and extra sugar for dusting
DIRECTIONS
Set oven to 350°F
Combine flour, baking powder and salt.
In larger bowl, cream butter and shortening with sugar and crushed anise seeds.
In small bowl, beat egg until light and fluffy. Stir in brandy and vanilla.
To creamed mixture, add dry ingredients, then liquid ingredients. Fold together until soft dough begins to cohere. Turn out onto floured surface and knead until it comes together in a ball.
Roll out ball 1/4 inch thick. Cut out shapes with cookie cutter and place cookies on baking sheet lined with Silpat.
Lightly dust tops with cinnamon-sugar mixture.
Bake 15 minutes. Bottoms should just start to brown. Cool on rack.