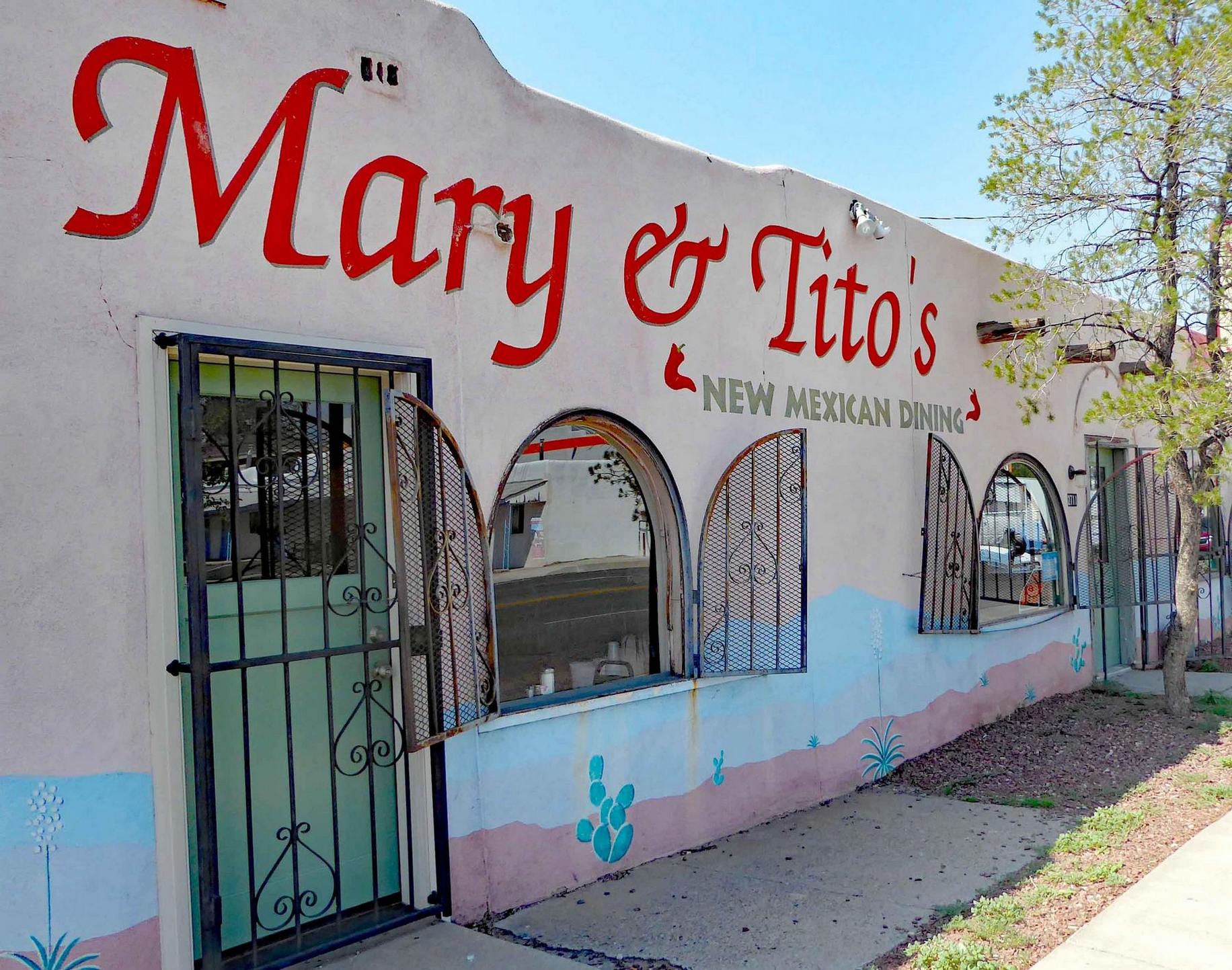 We have one piece of advice for you when you visit Mary & Tito's (2711 4th St. NW, 505-344-6266) in Albuquerque. Bring plenty of Kleenex. The red and green chile sauces that accompany most dishes are so hot that they will make your eyes water and your nose run. We don't mean to scare you off. You just need to be prepared. The food is so good that you will want to eat every bite.
Order a soda to accompany your meal and the server will bring you a big glass full of ice and a can of your choice. When you've downed it all, she will bring you another. The refill is free. That is a distinct kindness.
Mary & Tito's is located in a little adobe building north of downtown Albuquerque, a little over two miles from the Old Town Plaza. It's the only James Beard America's Classic in town. It earned the distinction in 2010, 47 years after Mary and Tito Gonzalez opened their cafe. Tito did the cooking and Mary presided over the dining area. Unfortunately Tito died in 1990 and did not live to see the cafe—started as a retirement project—hailed as a standard bearer of traditional New Mexican cuisine. Mary lived until 2013. By all counts, she thoroughly enjoyed the recognition and the trip to New York for the award ceremony.
Mary's & Tito's is still family-run, with the help of cooks and staff who are like family. If we lived in Albuquerque and could eat here as often as we'd like, we bet that we would soon feel like family too.
So many great dishes, so little time to try them all
But we just had one visit so we wanted to be efficient.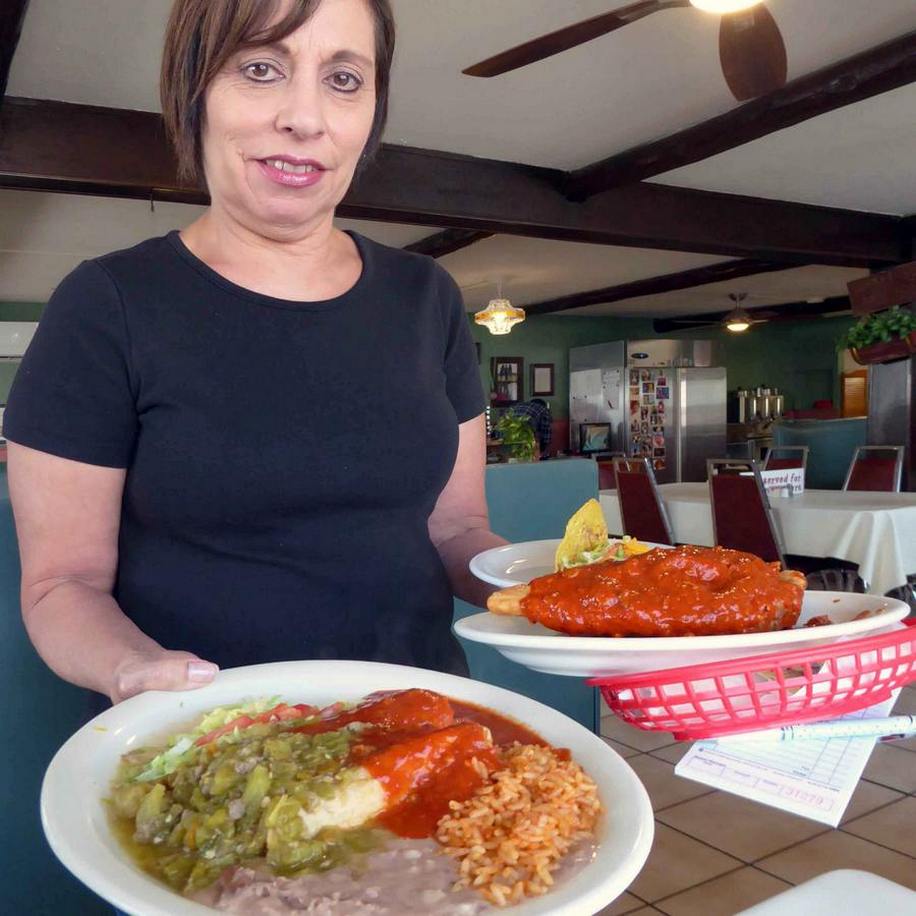 Mary & Tito's is known for their carne adovada, the dish of pork braised slowly in red chile sauce that is a staple of New Mexican cuisine. The kitchen is also known for its sopapillas. But don't expect a basket of hot, puffy dough to slather with honey. The cooks at Mary & Tito's fill sopapilla dough with savory meat, beans, rice, and chile and then deep fry it. One of the most popular fillings is carne adovada. Perfect. We could try two specialties on one plate—and a big plate it was (bottom right). The carne adovada was the porkiest we tasted in out entire sojourn in New Mexico—almost like pit-roasted barbecue. The red chile sauce prompted a waterfall of tears. But when you're smiling as widely as we were, they just provided more seasoning.
Mary & Tito's is also very particular about their chile sauces and has gained a reputation for one of the best red chile sauces. Again, they go the extra mile. All chiles are bought from one grower in Hatch and Mary & Tito's cooks make their red from ground pods, never from purchased powder. They let the chile flavor shine – adding only salt and garlic. They don't use thickener or any other flavorings, such as cumin that many other chefs favor.
For the record, servers say that the green chile sauce—essentially a chunky chop of fresh green chiles with a little ground beef, onion, and garlic—is slightly less hot. After a certain level of burn, comparisons are moot. But it's best to try both sauces side by side. That's exactly what we did on a plate of enchiladas—one chicken and one cheese and onion. (bottom left) The servers at Mary & Tito's acknowledge that ordering plates "Christmas" style to enjoy both red and green sauces is a touristy cliché, but they're still happy to oblige. The cooks do it right: They ladled the sauces crosswise so some graced each enchilada.
Which was hotter? We couldn't tell. Both were the best of their kind we have eaten in New Mexico. The green is more vegetal and eye-poppingly sharp. The red is rounder, sweeter and full-body hot. Please pass the Kleenex.