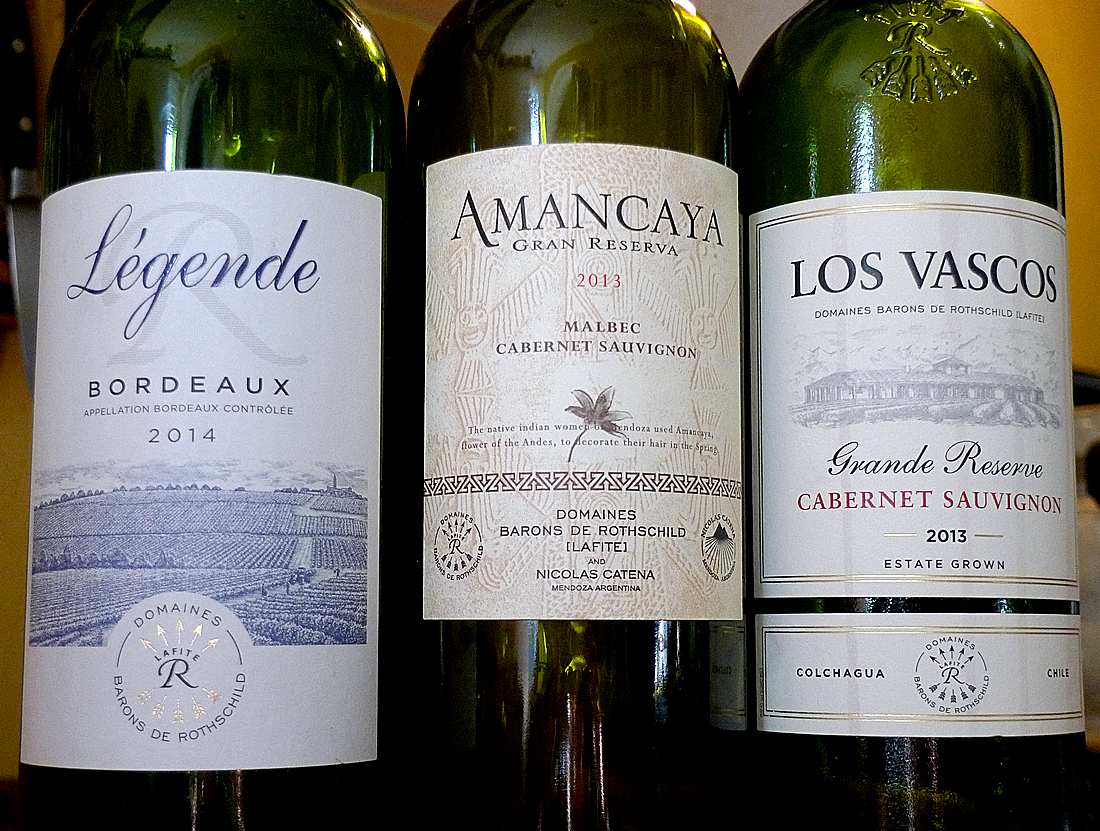 It's almost scary how we start craving heavier meals the moment that there's a nip in the air. With November already hinting of the winter to come, we're digging into the wine closet for reds instead of whites. Like many wine lovers, we find several massive reds that need more age before drinking and very few wines really ready to drink. Moreover, we've learned the hard way that cheap reds usually deliver exactly what you pay for—along with some additional next-morning misery.
Lafite Rothschild (www.lafite.com) has come to our rescue with some superb reds that don't require a special occasion. Listed at under $20 each, the Légende 2014 Bordeaux, Los Vascos Grande Réserve Cabernet 2013 from Chile, and Amancaya Gran Reserva 2013 from Argentina actually cost closer to $15 at better wine warehouse stores. (Those are Massachusetts prices; your mileage may vary.) We alluded to the quality of Lafite's secondary lines in a post in May 2015, but we thought we'd put this group of bargain reds to the test with some of our standby autumn meals big enough to cry out for red wine. Because all three wines are on the young side, we double decanted to smooth out any rough edges with aeration.
Légende 2014 Bordeaux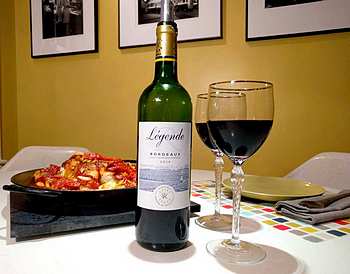 One of our go-to fall dinners is a simple roasted chicken breast with roasted creamer potatoes and garlicky roasted peppers. The flavors are strong and satisfying, and the dish demands a fruity red. Légende from 2014 has the great blackberry fruit and vanilla/cocoa nose to complement the garlic and sweet red peppers. Purists might pooh-pooh the idea of drinking Bordeaux with roast chicken, but if the bird is mature and of high quality, an unfussy claret is a perfect pairing. Sure, we'd all like to drink Chateau Lafite Rothschild on a regular basis, but sometimes simple country Bordeaux is just right. This example (60% Cabernet Sauvignon, 40% Merlot) is nicely structured with generous, rounded fruit and a lip-smacking, spicy finish. The summer of 2014 was cold and wet, but a sunny September and October miraculously ripened the grapes.
For the accompanying dinner, brine a large chicken breast (2 pounds and up) for a day in the refrigerator, then roast it with potatoes at 425°F. Broil the red peppers and peel them, then sauté strips with the creamy pulp from a roasted head of garlic. When the chicken reaches an internal temperature of 145°F, layer the peppers over the breast and return to the oven for about 10 minutes, or until the internal temperature reaches 155°F. Remove from oven and let stand for 10 minutes before slicing.
Los Vascos Grande Reserve Cabernet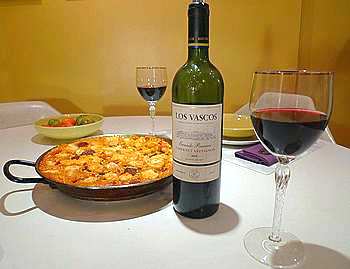 This Calchagua Valley wine was estate grown and bottled, and the grapes were handpicked and sorted. It shows a classic Chilean expression of Cabernet Sauvignon, with dark, plummy fruit notes complemented by cherries and strawberries in the nose. The herbal notes in the mouth make it a nice complement to the saffron intensity of a good arroz con pollo. We published a Super Bowl version of arroz con pollo back in 2010. See this post for the recipe. The dish can be a little overwhelming, so we cut the Spanish paprika in half to let the fruit of this delicious Cabernet come through. This wine has the soft tannins and acidity to age well, but it also drank nicely against the spicy pork of the Spanish chorizo.
Amancaya Gran Reserva 2013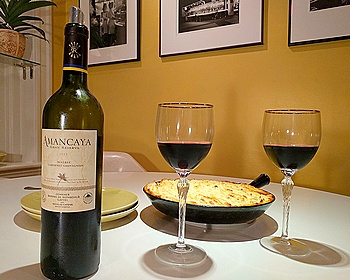 We've been very pleased with wines from Bodegas Caro, which is a joint venture in Mendoza between Lafite and the Catena family of Argentina. This particular wine balances the power and intensity of Argentine Malbec with the refined fruit of Cabernet Sauvignon. The modest price belies the sophistication of the wine. At 65% of the blend, the Malbec dominates. It presents the classic high-altitude Uco Valley combination of cloves and white pepper on the nose and a finish of dry cocoa and cured tobacco. The Cabernet Sauvignon contributes distinctive raspberry and cassis notes to the nose and a supple fleshiness that hangs nicely on the Malbec's bony skeleton. Double decanting definitely helped this wine. It continued to grow in the glass as we drank it with dinner.
We went with a humble recipe adapted from the great Patagonian chef Francis Mallmann. It's really just a fancy shepherd's pie. But just as the French and Argentine winemaking traditions combine in Amancaya, so do the British and Spanish culinary traditions of Argentine's coldest region. The piquant spices and dark olives completely remake the flavor profile of the pub standard. Mallmann's recipe in Seven Fires is a little different. It's also meant to feed four to six people. This version serves two—just right for splitting a bottle of Amancaya.
FRANCIS MALLMANN'S BEEF AND POTATO PIE


Serves 2
Ingredients
1 tablespoon extra virgin olive oil
1 onion, chopped
1 large carrot, peeled and diced
1 pound lean ground beef
1 bay leaf
1/2 teaspoon dried rosemary
1/2 teaspoon dried oregano
1 teaspoon ground cumin
1 teaspoon sweet Spanish smoked paprika
1/2 teaspoon crushed red pepper flakes
2 teaspoons dried mustard
1/2 cup dry red wine
2-3 medium salad tomatoes, peeled and thinly sliced (about 1/2 pound)
1/2 cup pitted Kalamata olives
Coarse sea salt and freshly ground black pepper to taste
2 large baking potatoes, peeled and cut into 2-inch chunks
1/2 cup whole milk
3 large egg yolks
2 hard-boiled large eggs
1 teaspoon white sugar
Directions
In a 10-inch cast-iron skillet, combine olive oil, onion, and carrot. Sauté over medium-high heat until vegetables soften and begin to brown (about 5 minutes). Crumble in the ground beef and cook until it begins to brown. Stir in the bay leaves, rosemary, oregano, cumin, Spanish paprika, pepper flakes, and mustard. Add red wine and let mixture bubble gently a few minutes.
Stir in tomatoes and olives and season to taste with salt and pepper. Reduce heat and simmer for 20 minutes, or until the meat is very tender and the liquid is reduced but not completely evaporated. (The finished dish must be moist.) Remove from heat and set aside.
While meat and vegetables are cooking, place potatoes in a medium pot and cover with cold water. Add salt to taste and bring to a boil over high heat. Reduce heat and boil gently until potatoes are very tender when pierced with a fork (12-15 minutes). Drain the potatoes thoroughly and press through a food mill or potato ricer.
Bring milk to a boil, and beat it into the potatoes. One by one, beat in the egg yolks, and continue beating until well blended, fluffy, and yellow.
Set oven at 375°F with rack in the bottom third.
Slice the hard boiled eggs into six slices each and arrange them over meat mixture in cast iron skillet. Spoon mashed potatoes on top and smooth the surface with a spatula. Use the tines of a fork to create a pattern of narrow decorative ridges. Sprinkle with sugar.
Bake for 30 to 35 minutes, until potatoes are nicely browned.