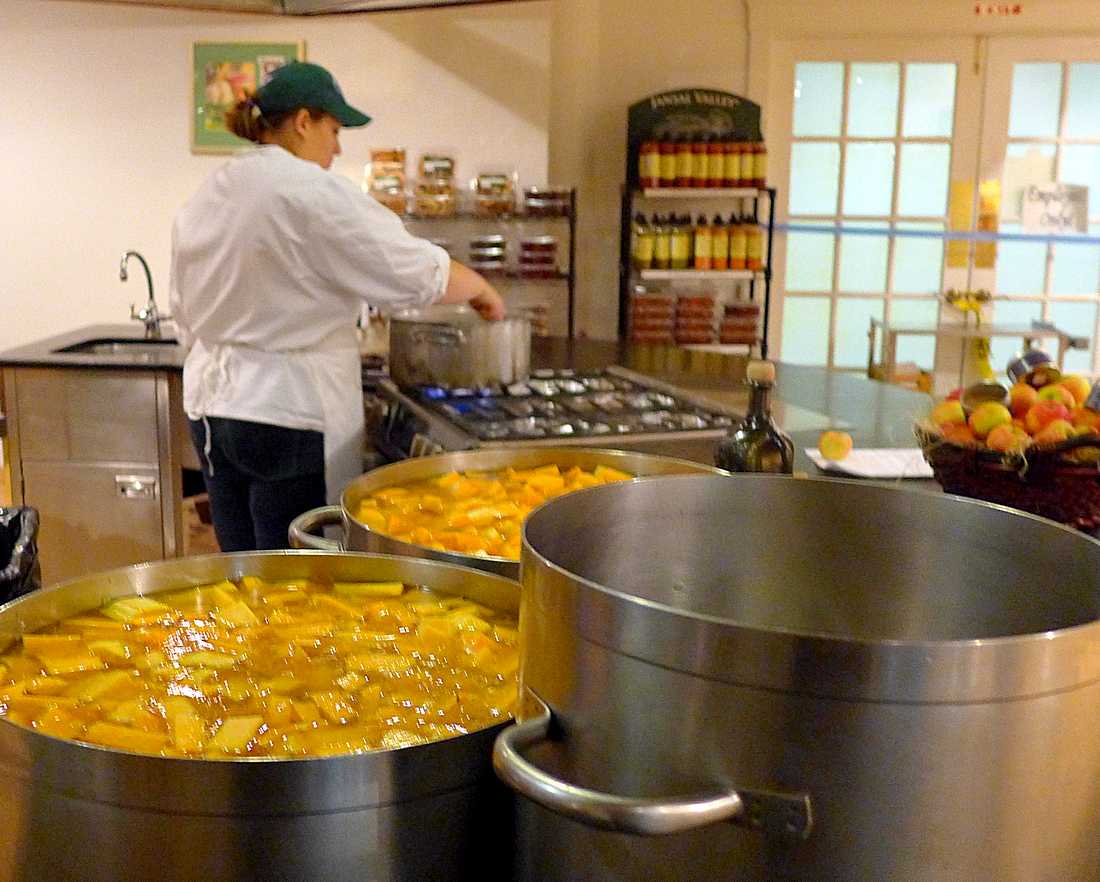 As the Eating Season approaches, we start craving certain flavors that we associate with the winter holidays spent with family. We want the taste of home—whether that's a cuisine from the country where our ancestors originated or something forged by Norman Rockwell and Betty Crocker. Truth is, we love to forage for festive foodstuffs. As a service to our New England readers, here are five essential shops around the region where we find special holiday foods. This post is adapted from a piece we wrote last year in the Boston Globe travel section.
BRITISH AISLES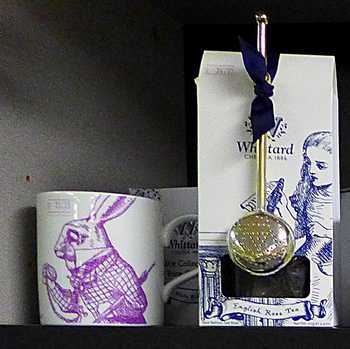 Denise and Gerry Pressinger founded British Aisles more than two decades ago so that ex-pats like themselves could get everyday British foods such as HP Sauce and the pickled onions found in every London fish-and-chips shop. Primarily selling wholesale and online, British Aisles has a retail operation in a small room on the side of a big warehouse a few minutes from downtown Portsmouth. They are ready for the holidays with tins of "biscuits" (cookies), tubs of chocolates, tinned plum pudding, jars of mincemeat, Christmas fruitcakes, and crocks of rum butter, and brandy butter.
Brits come by for pouches of mushy peas and Bisto gravy powder to dress up the Christmas roast. Of course, if all you need is a humble pork pie, a package of Smoky Bacon Crisps, and some Walker's Shortbread, British Aisles carries those as well. "These things have been around so long that they are nostalgia," says daughter Stephanie Malone. "I grew up with these foods. This is what my grandmother ate." 1634 Greenland Rd., Greenland, N.H. 603-431-5075; www.jollygrub.com.
SID WAINER & SON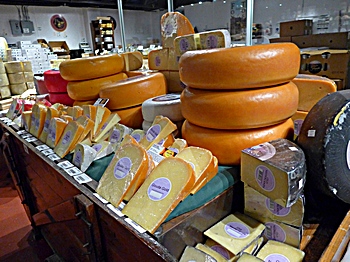 It's gift basket season at Sid Wainer & Son Gourmet Outlet in New Bedford, where the retail shop carries many of the luxury and ethnic items that the specialty foods importer provides to restaurants and gourmet stores. Shoppers can customize baskets with such treats as truffled artichoke pesto, Italian baby fig compote, chestnut honey, and—for big spenders—colorful tins holding an entire ounce of saffron.
Sid Wainer is also the spot to score the goodies for an impressive but easy cocktail party. That might include serrano ham from Spain, prosciutto di Parma from Italy, and such cheeses as English cheddar and Wensleydale, ripe Camembert, and little ash-rolled pyramids of goat cheese. That's not to mention ready-to-serve-and-take-credit-for deli items such as vegetable spring rolls, artichoke and herb fritters, wild mushrooms in filo, and even New England crab cakes. Should you need inspiration, the sampling table always has a few items—such as roasted fingerling potatoes with duck confit—designed to showcase Sid Wainer products. 2301 Purchase St., New Bedford, Mass. 508-999-3665; sidwainer.com.
POLMART DELIKATESY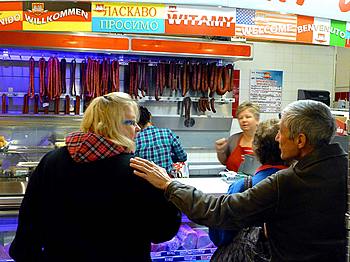 Billing itself as "your doorway to Europe," Polmart Delikatesy has become one of the largest sellers of Polish foods on the East Coast since immigrants Andrew and Margaret Mazur opened just over a decade ago. Polmart always sells a lot of imported hams, complexly spiced kielbasas, and freshly made pierogis and golobkis (stuffed cabbage rolls), but at the holidays eastern Europeans flock in to pick up smoked mackerel and cold-smoked salmon and Wawel cocoa and chocolate products. Throughout the year, Polmart also sells a lot of organic herbal teas that have become all the rage in contemporary Poland.
"Polish food is getting much more healthy with less fat," Andrew Mazur observes. But there are always exceptions at the holidays. "We sell a lot of candies. People give candies all the time as gifts." Polmart has multiple bins of wrapped Polish chocolates sold by weight. Among the most popular are the cream-filled chocolates called adwocat, which are lightly alcoholic, and the luscious chocolate-covered prunes known as sliwka naleczowska. 123 Broad St., New Britain, Conn. 860-223-7055; www.polmartusa.com.
PORTUGALIA MARKETPLACE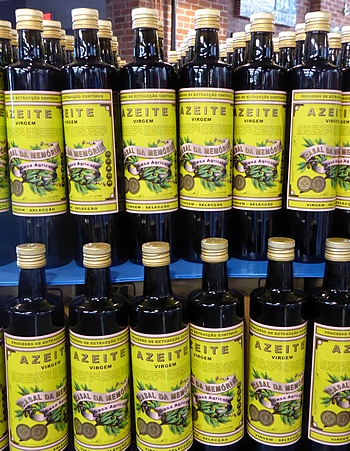 Now entering its fourth holiday season, this market celebrates the bounty of southeastern Massachusetts by selling great local products next to imports from Portugal. That means that delicate Hannahbell cheese thimbles from Shy Brothers farm in Westport are displayed next to wheels of buttery Casteloes cheese from Portugal, or that the fish section has both New Bedford scallops and big bags of frozen octopus. The huge selection of wines focuses principally on Portugal, and includes many table wines from regions that are hard to find in the U.S. Portugalia also carries a wide array of Madeiras and ports from both famous (Sandeman) and boutique (Quinta de la Rosa) producers.
It is said that Portuguese cuisine has 365 bacalhau dishes, one for each day of the year, so it's no surprise that one end of the store is glassed off to display the pungent salt cod. As in Portugal, most of it comes from Canada or Norway, and it is available in a size to fit every recipe from small chips to 3-foot-long spread-eagled codfish. 489 Bedford St., Fall River, Mass. 508-617-9820; portugaliamarketplace.com.
THE BAKER'S STORE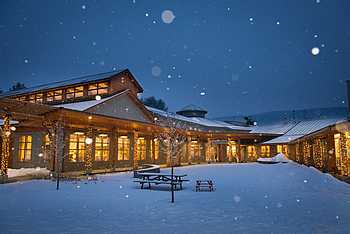 This gleaming emporium at the corporate headquarters of King Arthur Flour is a perfect stop at the holiday season. Just as all the toys come alive in "The Nutcracker," the flat pages of the King Arthur catalog spring to life on the shelves of this vast space. Whether it's fruit stollen, gingerbread men, Swedish crumb cake, rugelach, or Christmas cookies, every family bakes some favorite treats at the holidays.
The Baker's Store has the ingredients, tools, and hardware to fill the house with the baking aromas of the season. It carries all the pans from Madeleine molds to quarter sheet pans that fit the ovens in small apartment stoves, as well as parchment paper and silicone pan liners to keep the cookies from sticking. For fancy holiday treats, you'll find all kinds of decorations from every color in the rainbow of crystal sugar to special non-melting topping sugar to dust your warm doughnuts. FYI, the gorgeous photo of the store in the snow is courtesy of King Arthur Flour. 135 Route 5 South, Norwich, Vt. 802-649-3361; kingarthurflour.com.