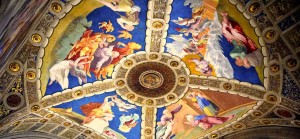 Ultimately, we did visit the amazing museums at Vatican City—and here's our sneaked photo of the Sistine Chapel ceiling to prove it. (Yeah, like we were the only ones….) But we have to admit that we were originally waylaid by Rome's greatest gourmet food shop. And who could blame us? Gastronomy is Italy's other art. Or maybe its other religion.
When we'd finished eating lunch at Franchi (see previous post), we decided that it was a good time to stop in at Castroni (Via Cola di Rienzo 196, Tel: 06-68-74-383, www.castronicoladirienzo.it, open Mon-Sat 8am-8pm), reasoning that since we were already stuffed, we would be immune to the lures of the merchandise. It was only next door, and we'd still have plenty of time to get back to the Vatican.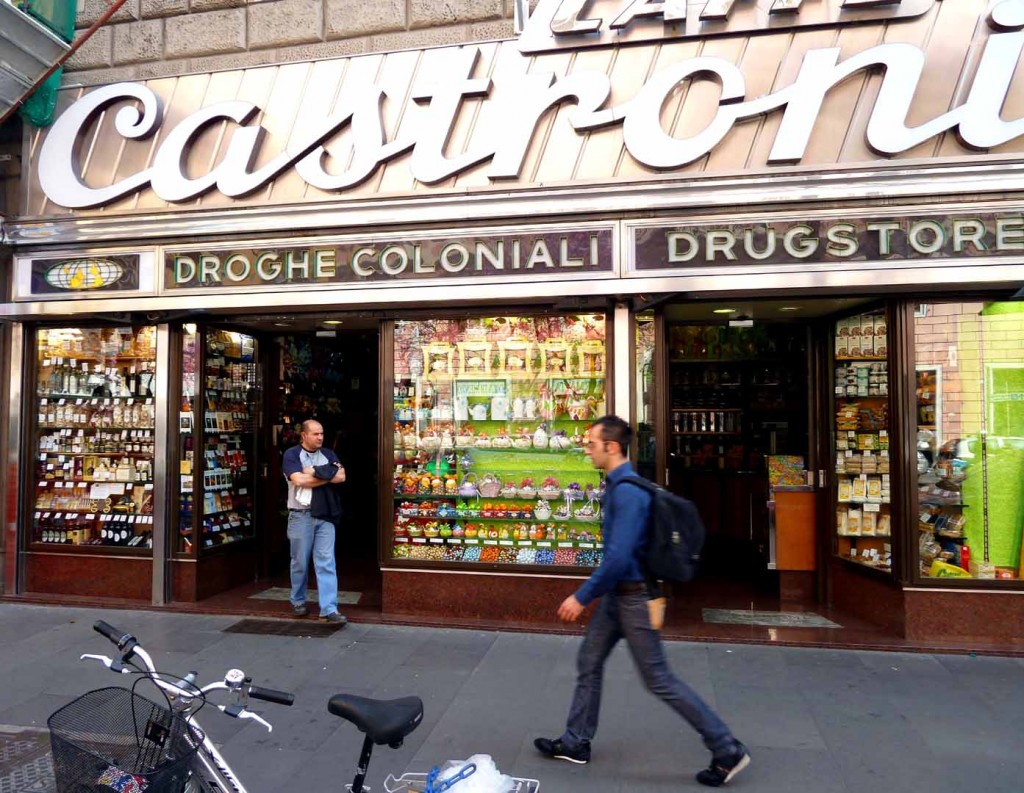 The legend over the door reads Castroni Droghe Coloniali, but like some pop stars, the place is famous enough to go by a single moniker. And Castroni is indeed a name to conjure with. Since 1932 the flagship store in the Prati district east of the Vatican has proved that all gastronomic roads lead to Rome. On seeing the walls lined 15 feet high with gourmet goodies, David pleaded, "Do we have to go to the Sistine Chapel today?" Pat gave in, and we postponed the museum trip by a day.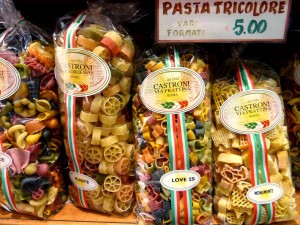 Many ex-pats swear by Castroni for the tastes of home—the full line of Twinings teas, for example, or a broad range of Fauchon products from Paris, or good smoked Spanish paprika. But all the flavors of Italy also find their way to this wonderful shop. This year is the 150th anniversary of the unification of Italy, and while north and south, right and left seem no closer to real unity than they have been since the days of Vittorio Emanuele II himself, Castroni brings all the regions together for a gastronomic love fest.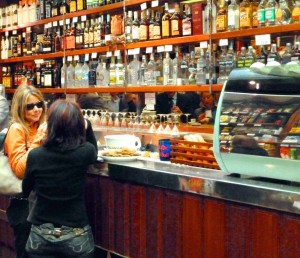 There's a modest bar with some casual food, so it's possible to pop in for lunch and then to spend an afternoon just shopping. (Or drooling.) Bins hold virtually every variety of dried bean or chickpea grown anywhere on the peninsula. The store's own brand of dry pastas include bags with mixed Roman monuments (maybe the ultimate gastronomic souvenir), and Castroni's own coffee (whole bean or ground) makes an authentic-tasting Roman espresso—dark and syrupy with some high, almost lemony notes that suggest a lot of East African coffees in the blend. If you find the flavor addictive, the shop also sells a coffee concentrate passed off as an energy drink.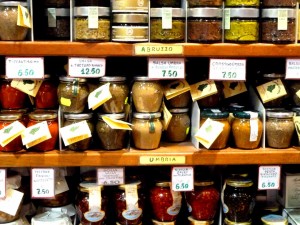 Had we demonstrated the foresight to bring an empty suitcase from home, we would have stocked up on all kinds of goodies that U.S. Customs would let us bring in, including the dazzling array of pestos from Abruzzo made of ripe Leccino olives, of asparagus, or of radicchio. Just add hot pasta and you have a stupendous meal. We also would have loaded up on duck liver and orange pâtés and the jars of small green peppers stuffed with duck liver mousse, not to mention hot-pepper-inspired salsas from Sicily and white truffle and porcini salsas from Umbria.

But since we were traveling light, we limited ourselves to squeeze tubes of tomato paste, mushroom cream, black olive puree, and mixed vegetables. (A squirt of the mixed vegetables paste into chicken broth makes it taste like minestrone.) We find them amazingly versatile in the kitchen, allowing us to add a dollop to eggs, salad dressing, soup, or a sauce to shade the flavor one way or another. (They also make great gifts for friends who cook.) In fact, the only thing we expected to find at Castroni but didn't were the truffle products of Acqualagna in Le Marche, where the local motto is "truffles all year long." More on that next time….