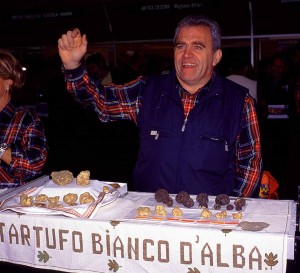 I confess to being a truffle snob—and an ignorant truffle snob at that. Following some pretty spectacular truffle eating and hunting experiences in and around Alba in November 2004 (see Truffle Pursuit under the "Sample Articles" tab), I was convinced that nothing measured up to the white truffle (Tuber magnatum pico) and that nowhere in the world could compete with the white truffles of Piemonte.
Slowly but surely, I am learning better.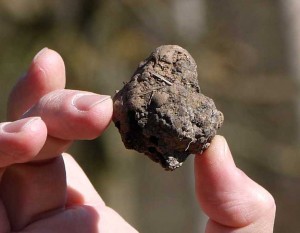 The people of Acqualagna, a small village of 4,000 in the hills of Le Marche, changed my mind when I paid a visit at the end of March. Located near the Furlo river gorge, the area has been known as a great truffle hunting ground for centuries. The white truffle—still the greatest, I am convinced—grows naturally in the woods, and it can be dug roughly from October into December. But what sets Acqualagna apart are its "truffle grounds" (tartufaia) for cultivating three other noble truffles: the little white truffle or tartufo bianchetto (Tuber albidum pico) harvested January through April, the summer black truffle (Tuber aestivum vitt.) harvested May through December, and the true black or Perigord truffle (Tuber melansporum vitt.) harvested December through mid-March.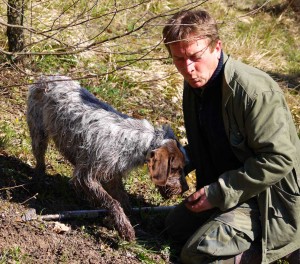 The locals still have to hunt the white truffle in the wild, but they cultivate the others. The root systems of certain trees, especially oaks and, to a lesser extent, chestnuts, are natural hosts for truffles. The trees and the fungus seem to have a symbiotic relationship. So farmers inoculate the roots of seedlings with truffle spores, plant the trees, and wait for three years or more. As the trees mature, they develop truffle clusters on their roots. It still requires a dog to tell the farmer where to dig, but the yield is great enough to support a major truffle products industry in Acqualagna.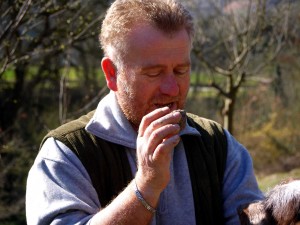 Not every piece harvested is a winner, the red-headed truffle grower Giorgio Remedia (pictured here) explained. The best are cleaned and sold whole, while the smaller or more misshapen truffles end up being used to make truffle products. Remedia uses broken truffles to inoculate more trees or adds them to the food of puppies that he is training to become truffle hounds. (Hence, the term "lucky dog.") "If they associate the smell with food, they go crazy trying to find more truffles." In fact, he has to keep his truffle dogs penned lest they raid his oak orchards. "I have enough trouble with the wild pigs," he says.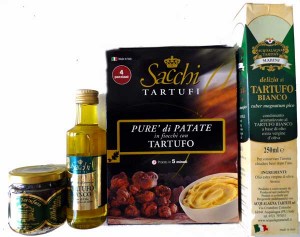 Truffles are a passing glory—once they are removed from the ground they begin to lose their aroma, flavor, and texture. Ideally they should be used within a day or two of digging. But much of the dauntingly sexy aroma and flavor of truffles can be captured in products like truffle oil, truffle mashed potatoes, and salsas of mushrooms mixed with shaved truffles. The Marini family runs Acqualagna Tartufi (Via Colombo 2/A, Acqualagna, tel 0721-797-031, www.acqualagnatartufi.it), the dominant maker of truffle products in the village. Their truffle oils are rivaled only by Sacchi Tartufi of nearby Fano (Via Avogardo 19B, Fano, tel 0721-830-733, www.sacchitartufi.com). Sacchi also sells a mushroom/truffle risotto mix that cleverly combines dried mushrooms with its signature sachets of white truffle oil.
Fortunately for visitors, a truffle information center on Piazza E. Mattei, the main square of Acqualagna, sells the products of both companies all year. The piazza becomes an open-air truffle market three times a year during Acqualagna's truffle fairs: the Regional Black Truffle Fair on the next to last Sunday of February, the Regional Summer Truffle Fair on August 14-15, and the National White Truffle Fair over the last week of October and first week of November. For more information about the town and its fairs, see the Acqualagna web site.
So how do we use the truffle oil? Let me count the ways…. First of all, a few drops go a long way toward making any number of soft, mildly flavored dishes taste sublime. That includes, of course, macaroni and cheese as well as mashed potatoes. A few drops sprinkled on French fries transforms them. Ditto a couple of drops on top of a hamburger. We use white truffle oil in the winter on tagliatelle with wild mushrooms, or with our favorite mushroom risotto (which also includes orange rind and fresh sage). The simplest way to (literally) spread the truffle flavor around is to whip a few drops of truffle oil with sweet creamery butter, then chill.