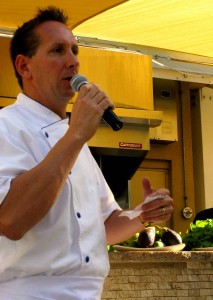 As we were pondering how else to use our beautiful Cayman peppers, we were reminded that chef Dean Max is also a big fan. We met him last winter at an "Island Organic" presentation at the Cayman Cookout on Seven Mile Beach on Grand Cayman Island. When Max isn't presiding over the kitchens of his Miami seafood empire, he's often on Grand Cayman kicking back at the Brasserie, the restaurant he owns with King and Lisa Flowers.
For him, one of the pleasures of cooking in the Caribbean is drawing inspiration from local cooks. "I always take the traditional thinking," he said. "We use their technique, but then we add things. Take chicken pepper pot soup. You're making this beautiful chicken soup…and then you use the incredible peppers you get here."
Like so many dishes, there are as many versions of chicken pepper pot soup as there are cooks. In most parts of the Caribbean, though, it can be a pretty spicy pot. We didn't have chef Dean's recipe, but we took his advice to adapt the dish to what we had. We played around with several chicken hot pots before we settled on this one. It has enough heat to earn its name, but not so much that it overwhelms the fruity taste of the Cayman peppers.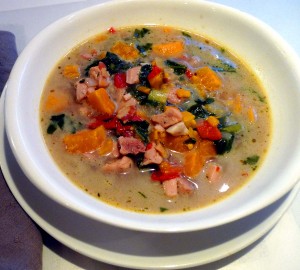 CHICKEN PEPPER POT SOUP
Ingredients
1/4 lb. bacon, diced
1 lb. boneless, skinless chicken thighs cut in 1/2 inch dice
1 medium onion, chopped
1 large sweet potato, quartered lengthwise, half thin sliced, half diced
15 Cayman peppers, stemmed, seeded and chopped
1 red bell pepper, peeled, seeded and chopped
2 small moderately hot peppers (Numex 6 or similar), seeded and chopped
4 cloves of garlic, roughly chopped
1 teaspoon sea salt
1/2 teaspoon black pepper
1/2 teaspoon dried thyme
1 teaspoon Mexican oregano or marjoram
1 teaspoon ground allspice
2-4 drops Scotch bonnet hot sauce
7 cups chicken stock (preferably homemade)
5 oz. fresh spinach, roughly chopped
1 1/2 cups coconut milk
Directions
1. In large stock pot, fry bacon over medium heat. When browned, remove bacon to paper towels.
2. Add chicken pieces to fat and sauté until lightly browned. Add onions and continue cooking until onions begin to soften.
3. Return bacon to pot with sweet potato, Cayman peppers, red bell pepper, Numex chiles, garlic, spices and chicken stock. Bring to boil, reduce heat, cover and simmer 30 minutes.
4. Add spinach and coconut milk. Simmer another 15 minutes.