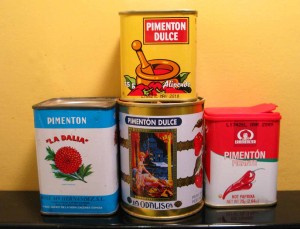 We love visiting fresh markets when we travel. But except for dried herbs and spices, most of the goods won't make it through US Customs. Once we've snapped dozens of photos of mounds of vegetables and tables of glistening fish on ice, we head to a neighborhood grocery store (the kind where homemakers, not tourists, shop) to stock up on food essentials to bring home.
Here's our Spanish grocery list:
Saffron
Spaniards claim their saffron is the world's best and price it accordingly. The larger the container, the better the deal. We usually purchase saffron in 20-gram boxes or larger. (A half gram is sufficient for a 15-inch paella.) Stored in an airtight container out of the light, it will keep up to seven years—or so we have been told. It never lasts that long for us.
Pimentón de la Vera
It's hard to resist the colorful tins holding smoked paprika from Extremadura. The earthy red spice with a mild hint of smoke seasons chorizo and most forms of paella. It's most commonly available as dulce (sweet) or picante (hot). Dulce, which is slightly hot, adds a touch of warmth and deep coloring to rice dishes and soups. It is the main paprika used in Spanish sauces (including Bravas). Use the picante sparingly. It heat approaches as most Mexican chile peppers. If we plan to make a barbecue dry rub, we look for the less common ahumado, which has a strong smoky component.
Sea Salt
Flaked sea salt is a current foodie favorite, but we prefer the coarser Spanish sea salt sold for roasting fish or fowl. It can be ground in a salt grinder to use at the table or tossed into liquids as a seasoning. Our favorite brand, Sal Costa from the Costa Brava, costs less than a half euro per kilo.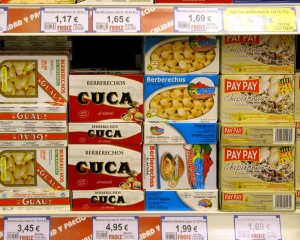 Canned fish
Spaniards are canning geniuses. Their tinned anchovies, oysters, squid, octopus, clams, and sardines supply half the tapas served in the bars. White anchovies, in particular, taste so good that the Italians import them.
Olive oil
Olive oil is a matter of personal taste. But Spaniards concur that the best in Spain comes from Andalucía—either from Núñez del Prado, or from hill towns around Úbeda. Best bet is "bionatur" oil packaged in tins rather than bottles.
Bomba rice
+
This heritage strain of rice introduced to the Valencia area from North Africa around 800AD is the premium rice for paella. It's twice as expensive as "Valencia" rice, and worth every cent for its ability to absorb flavor and maintain its toothy texture.
Manchego cheese
This aged ewe's milk cheese is the pride of Spanish cheeses. We sometimes bring an entire three-kilo wheel home, but big vacuum-sealed wedges are also available in most grocery stores. It keeps fine for several days without refrigeration.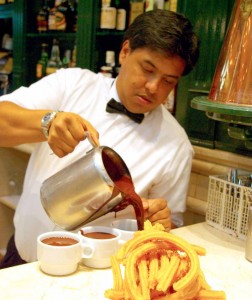 Valor chocolate
Anyone who visits in cool weather soon discovers the soothing pleasures of Spain's unusually thick hot chocolate. Valor is a common supermarket brand for recreating the treat at home. It's even good without the accompanying churros.