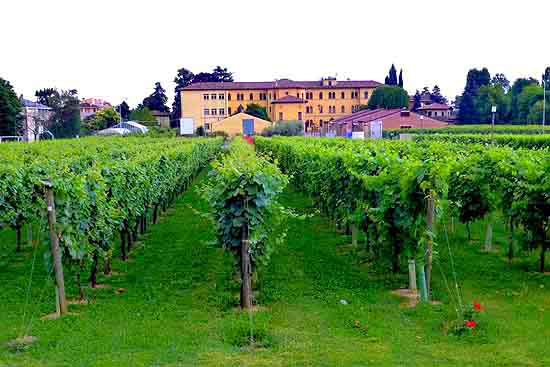 According to the Prosecco DOC consortium, farmers in the Friuli Venezia-Giulia village of Prosecco began making sparkling wine from the grape now known as Glera around 1600, and it became so popular that it spread to nine provinces in the 17th century. (Those provinces now lie within Friuli and the Veneto, and the symbol of Prosecco DOC is nine wine glasses.) Originally a farmhouse wine, Prosecco would stop fermenting in the fall when the weather cooled, then begin again in the spring, when it was sold as a "frizzante" wine. Antonio Carpenain invented modern Prosecco in the mid-19th century when he began using a pressurized tank for a second fermentation. His adaptation of France's Charmat process quickly became known as "The Italian Method."

The full history lesson is something you can learn at the School of Oenology & Viticulture in Conegliano — or better yet, at the adjacent Enoteca Regionale Veneta (Via Giovanni Dalmasso 12, Conegliano, +39 0438-455-138, www.enotecaveneta.it). Carpenain established the school in 1876, and it still trains more than 90 percent of the region's winemakers. It's also a research center for establishing the characteristics of different grapes and clones of known varietals. (That's one of the school's vineyards above.)
While the school does have a Bottega del Vino on the property where you can learn about some of the experimental wines made at the school (and purchase them after a tasting), it is open mainly on weekdays. The Enoteca is for both the more considered drinker, and possibly the partier. It is open Tuesday through Saturday from 6 p.m. until midnight with light snacks and the opportunity to taste any of the wines in the library. The collection includes about 500 still wines from the Veneto, as well as about 100 different Proseccos. There are typically a dozen open bottles of chilled whites, about half of them Proseccos. But if something else on the shelves piques your curiosity, you need only ask.
Some technical matters
The street of the Enoteca is named for Giovanni Dalmasso, who proposed the first delimitation of "Prosecco Superiore" around Conegliano and nearby Valdobbiadene in 1936. Finally, in 1969, the Conegliano Valdobbiadene DOC was created. In 1977, the Prosecco IGT (Indicazione Geografica Tipica, or "typical of the region") was established and in 2009, the Prosecco DOC was created to certify IGT producers who met all the consortium's criteria. Just to confuse things more, the Conegliano Valdobbiadene DOC is now Prosecco Conegliano Valdobbiadene DOCG. Total production varies by year, of course, but in 2013 there were about 241 million bottles of Prosecco DOC and 70 million bottles of Prosecco DOCG.
What does this mean in practice for the buyer at an American wine shop? As a rule of thumb both DOC and DOCG certification indicates that the wine hails from the Prosecco region and is made according to some fairly strict regulations. The main grape is Glera (a rebaptism of the Prosecco grape to stop other countries from making sparkling wine called Prosecco), and there are three styles. The simplest and cheapest is frizzante, which has less than 2.5 atmospheres of pressure. Bubbles tend to dissipate quickly and most frizzante wines are low in alcohol. Prosecco brut (the most popular style in the U.S.) has higher alcohol, tighter and more persistent bubbles, and is bottled around 3 atmospheres. Extra dry, often with less persistent bubbles, is bottled around the same pressure but has more residual sugar than brut.