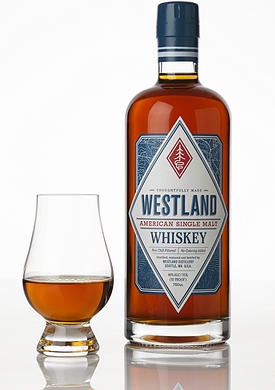 As a lover of good whiskey — whatever its Gaelic or hillbilly pedigree — I was pleasantly surprised to find a whole new category that's just become available in the Northeast. Based on a tasting of Westland Distillery's American Single Malt, the folks behind this Seattle distillery are visionaries. The Pacific Northwest has been, arguably, the source of some of the most exciting craft beer making in the last 15 years. Part of that is due to the great barley-growing areas of Washington State and Idaho, and the localized skill in creating specialty malts.
To my taste buds, though, it's a big jump from craft beer to a sipping whiskey, and I'm pleased with the fruity, not-too-sweet Westland house style. I'm typically a bourbon drinker, and this single malt barley whiskey is frankly less assertive and less sweet than high-end corn-bred bourbons. But it's a very civilized sip that picks up a lot of subtlety from the complex grain bill (Washington select pale malt, Munich malt, "extra-special" malt, pale chocolate malt, and brown malt). The mouth heat I'd normally associate with 92 proof is tamed by aggressive aging in new American oak for at least 24 months (with some mellowing in sherry casks and port pipes). The flavor starts as an assertive graham cracker sweetness, quickly mellows to caramel crystal (like crème brûlée), and gives an aftertaste full of white chocolate and toasted spice.
This is Westland's first release in New England, and will be followed soon by a peated single malt with strong smoky phenolics. I'll be happy to see how both styles fare with a little more time in the barrel before bottling, but to borrow from the film Casablanca, I think this is the beginning of a beautiful friendship.
Next time I'm in Seattle, I definitely plan to visit the distillery for a $10 tasting and tour (offered Wed.-Sat. at 11 a.m,, and 2, 4, and 6 p.m). The distillery is at 2931 First Avenue South, Suite B, Seattle (206-767-7250, westlanddistillery.com). Suggested retail for Westland American Single Malt is $79.