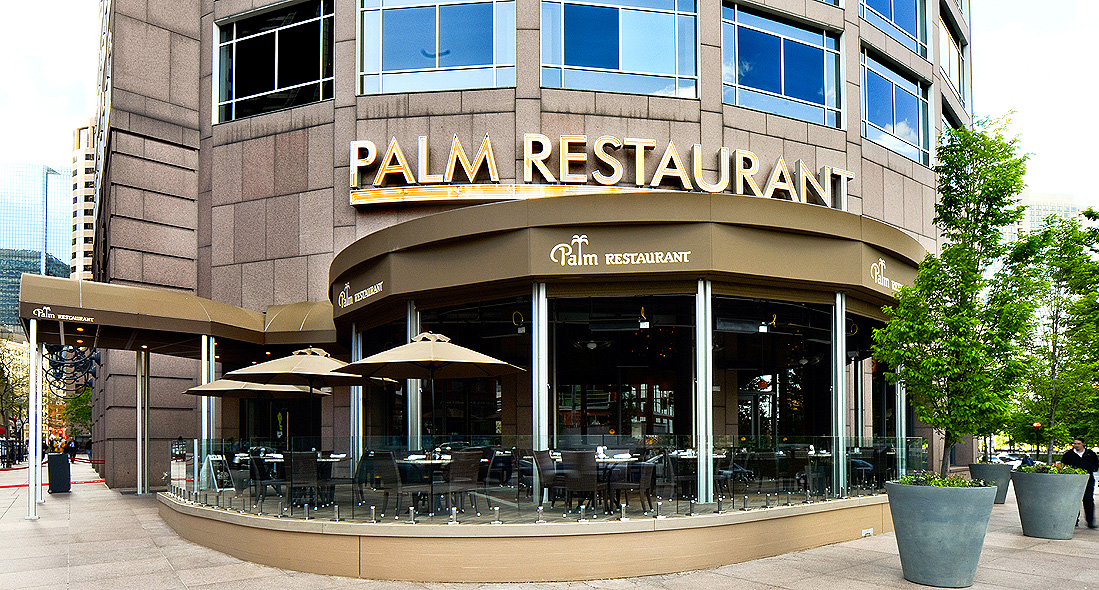 The Palm Boston (www.thepalm.com/Boston) got a new lease on life when the iconic steakhouse moved from Copley Place in Back Bay to the swank One International Place Tower at the edge of the Financial District. Now that the weather has warmed, the restaurant can show off one of its greatest assets: the outdoor seating looking out on the new Seaport District just across Fort Point Channel.
Over the winter, regulars gathered in the glittering interior for wine dinners. We enjoyed the Lafite Wine Dinner that paired a number of wines from the legendary Bordeaux house's farflung empire with some classic Palm cookery, including seared sea scallops with a pea and truffle purée, ancho- and espresso-rubbed lamb chops, and braised short ribs with a wild cherry drizzle. But The Palm isn't all expense-account cuisine. Just as the restaurant happily served some of the bargain Lafite wines (like Los Vascos from Chile), chef Karen Mitchell hides a comfort-food heart behind her fine-dining credentials. One of the dishes for which she's locally famed is the humble North American casserole of meat and vegetables topped with mashed potatoes known as shepherd's pie.
And like many fine-dining chefs, she's found a few ways to make the home-cooking classic her own—notably through the superb beef, the splash of hot sriracha sauce, and the cheese that's melted into the potatoes. And if you didn't think shepherd's pie was fit for fancy company, you've never seen The Palm serve it in finger-food-size pastry shells as a hot passed appetizer. Here's Chef Mitchell's recipe:
KAREN MITCHELL'S SHEPHERD'S PIE FOR THE PALM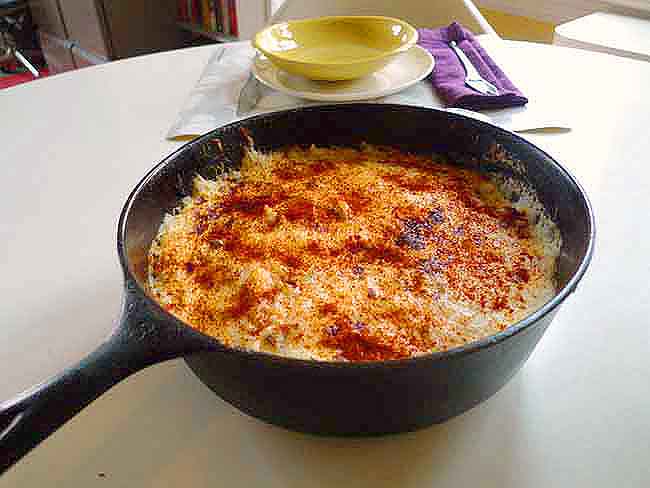 Serves 6-8
4 tablespoons canola oil
1/2 cup diced onion (1/2″)
1/2 cup diced celery (1/2″)
1/2 cup diced carrot (1/2″)
1/2 cup fresh yellow corn kernels
4 smashed garlic cloves
1 1/2 lb. good quality ground beef (The Palm uses ground prime beef)
1 cup white wine
2 cups beef or veal stock
2 bay leaves
2 teaspoons sriracha sauce
2 tablespoons A-1 sauce
2 tablespoons Worcestershire sauce
2 tablespoons chopped parsley
Salt and pepper to taste
1 tablespoon paprika
For mashed potatoes
3 large Idaho potatoes
3/4 cup whole milk
6 tablespoons salted butter
1 cup shredded cheddar
2 tablespoons chopped rosemary
salt (about 1/2 tsp)
Directions
1. Sweat onion, carrots, celery, garlic cloves, and corn in canola oil on medium-low heat until tender. Add ground beef and sauté until all pink is gone. Add wine and reduce by three-quarters. Add stock, bay leaves, and sriracha, A-1, and Worcestershire sauces.
2. Cook on medium low heat for about 12 minutes, stirring frequently. Add chopped parsley, salt, and pepper at the very end.
3. Strain the mixture and reserve the juices.
4. In a heavy-bottomed Dutch oven or hotel pan, evenly spread the ground beef mix and put aside.
5. Make whipped potatoes. Boil or steam peeled Idaho potatoes until tender. Heat milk and butter together in a saucepan until combined. (There's no need to boil the milk mixture.) Add cooked potatoes and, using a stand or hand power mixer, whip the mixture. Add the cheddar, rosemary, and salt to taste.
6. When smooth, spread the potatoes evenly over the ground beef.
7. Sprinkle the paprika over the mashed potatoes. Place pan under broiler for a couple of minutes until the mashed potatoes brown slightly.
If you want to make gravy, use the reserved juice from the ground beef mix, a little more stock, and enough flour to thicken. Ladle over each serving.