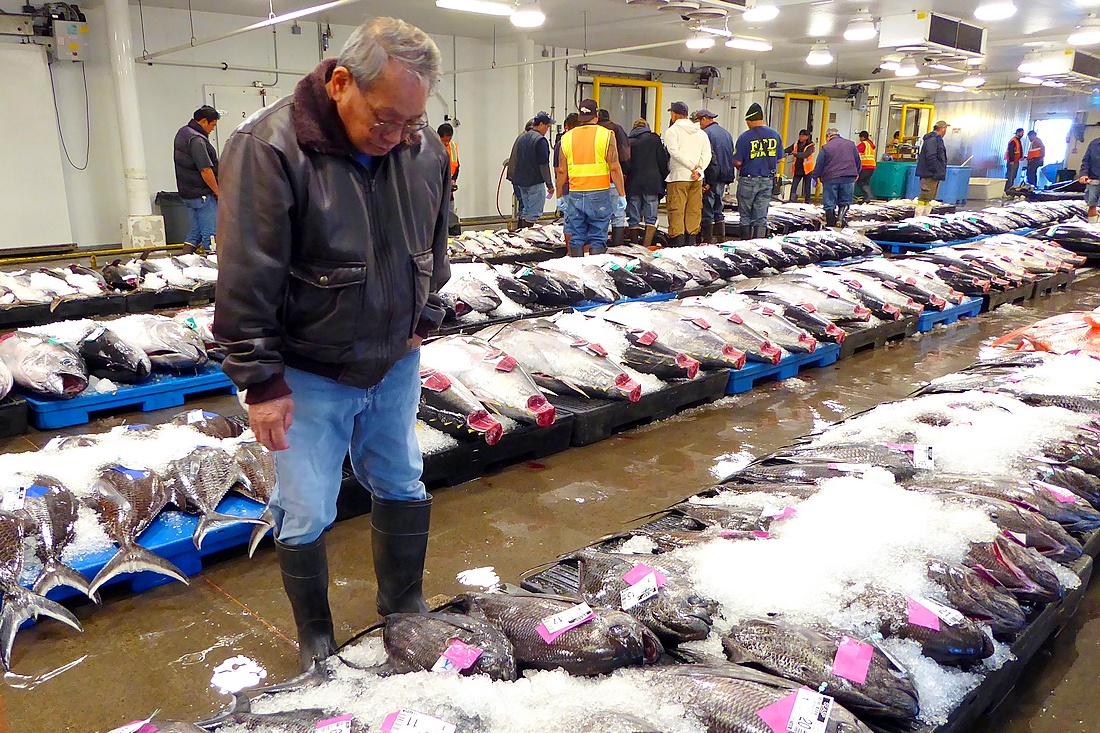 The sun was barely up when I arrived at Honolulu's commercial fishing port and headed to Pier 38 for the Honolulu Fish Auction. By standards of the 140-vessel fishing fleet, the day was far advanced. Boats start unloading the catch about 1 a.m. for the auction, which begins at 5:30 a.m. and lasts until every fish is sold—usually sometime between 10 a.m. and 2 p.m.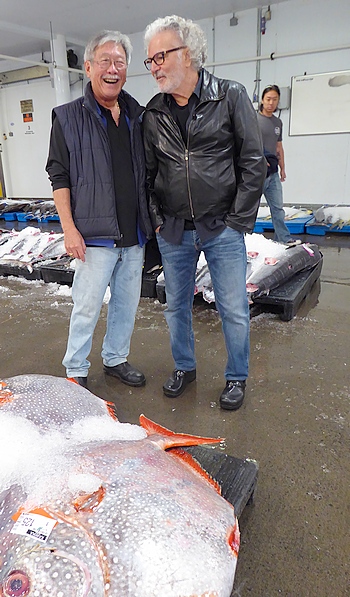 Whether in a fine restaurant or a beachside bar, I have never enjoyed tastier or fresher fish than in Hawaii. I was curious to get a glimpse at the only fresh tuna auction in the United States and thrilled when Chef Mavro, one of the island's top talents, asked me to join him on a visit.
The United Fishing Agency started the auction in 1952, explained general manager Brooks Takenaka, who joined us as we walked through the big warehouse-like facility where fish lay on palettes covered with crushed ice. (That's Takenaka standing with Chef Mavro on the right.) Takenaka's agency sells the fish on behalf of the fishermen, who leave that day with money in their pockets. "Fishermen risk their lives; they want to get paid," Takenaka told me. "I pay them today."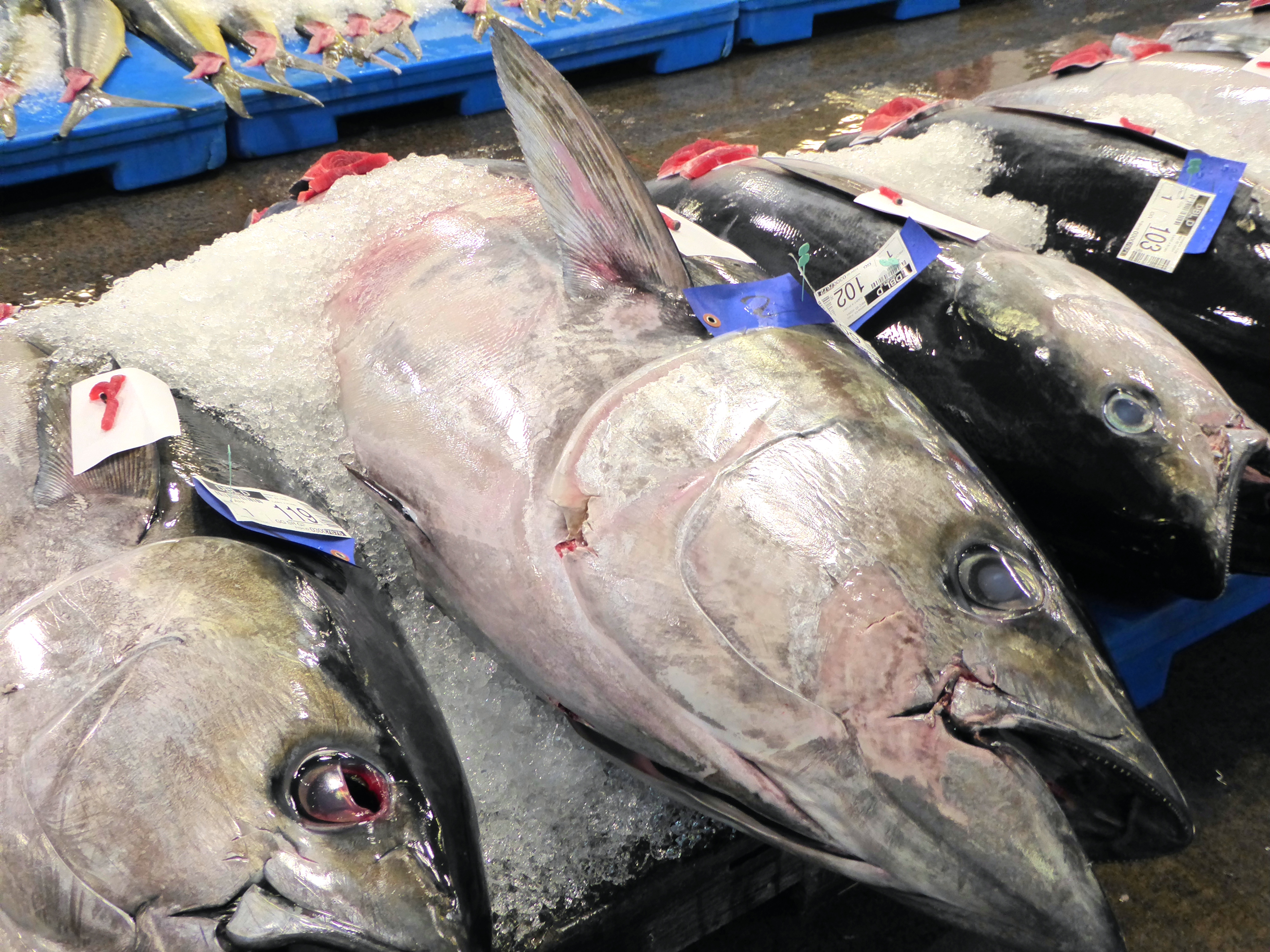 The auction handles between 20 and 28 million pounds of fish per year. Bigeye tuna and swordfish are the primary species, followed by yellowfin tuna. But on most days, there will be more than 20 species available for chefs, markets, and wholesalers. After an ozone wash to remove bacteria, the fish enter the facility to be weighed, tagged, and inspected. Those in the know can determine a lot from a small cut of flesh taken from the tail. "The redder the flesh, the better," said Takenaka. "It means that the fish is fresher." He also noted that fish with more fat has more flavor and is the most highly prized.
Chef Mavro buys fresh fish daily through a broker and personally visits the auction a few times a month to see what is most abundant and what looks really good. "I buy the best and I tell my chefs not to destroy it," he says. "The idea is to protect it and bring out the natural flavors."
The auction is a model of efficiency. Staff lay out fish on long palettes and buyers circle round. There is no yelling or waving of number placards. I had to listen carefully to even hear any hints of discussion or bidding. A few minutes and a few subtle gestures and a palette would be packed up and sorted by buyer and another would appear in its place.
Tours of the Honolulu Fish Auction are offered on Saturdays from 6 to 7:30 am. To register, see www.hawaii-seafood.org/auction/tour.
"We can process up to 175,000 pounds a day," Takenaka told me. I thought he might crave a good steak after being surrounded by fish all day. But Takenaka is loyal to his industry. "I eat fish every day," he told me. "I never get tired of it."
Like Chef Mavro, Takenaka and his wife Cynthia like to keep preparations simple, so as not to overwhelm the fresh flavor of the fish. They kindly shared one of their favorite recipes.
FISH HAWAIIAN STYLE

The fish can be either pan-sautéed or cooked on the grill. In either case, the Takenakas caution not to overcook the fish. Feel free to substitute any herb of your choice for the parsley. Typical fish for this method of preparation might be sablefish (aka "black cod") or opakapaka (Hawaiian pink snapper).

Ingredients
1 pound of fish fillets
1 egg, beaten *
1/2 teaspoon salt
1/4 teaspoon pepper
2 tablespoons minced Italian parsley
1/2 cup macadamia nuts
1 tablespoon light cooking oil (canola, grapeseed, or even mild olive oil)
4 limes, quartered
Directions
Combine egg, salt, pepper, and parsley. This is the egg wash.
Coarsely chop macadamia nuts, then place in a blender or grinder to chop fine. Alternately, chop fine with a knife. These are the crumbs to "bread" the fish.
Dip fish pieces into egg wash, then roll in chopped nuts to coat.
Add oil to pan and heat over medium until oil is hot but not smoking. Add fish fillets and sauté on medium heat until flesh is opaque—90 seconds to 3 minutes, depending on thickness of fillets. Remove from pan and let sit a few minutes.
Serve with quarters of fresh lime for squeezing over the fish.
* If grilling the fish, leave out the egg. Instead, mix cooking oil (2-3 tablespoons), chopped parsley, salt, pepper, and chopped macadamia nuts. Coat the fish with mixture. Fish cooks very quickly on the grill, so watch it closely. Squeeze fresh lime on cooked fish.