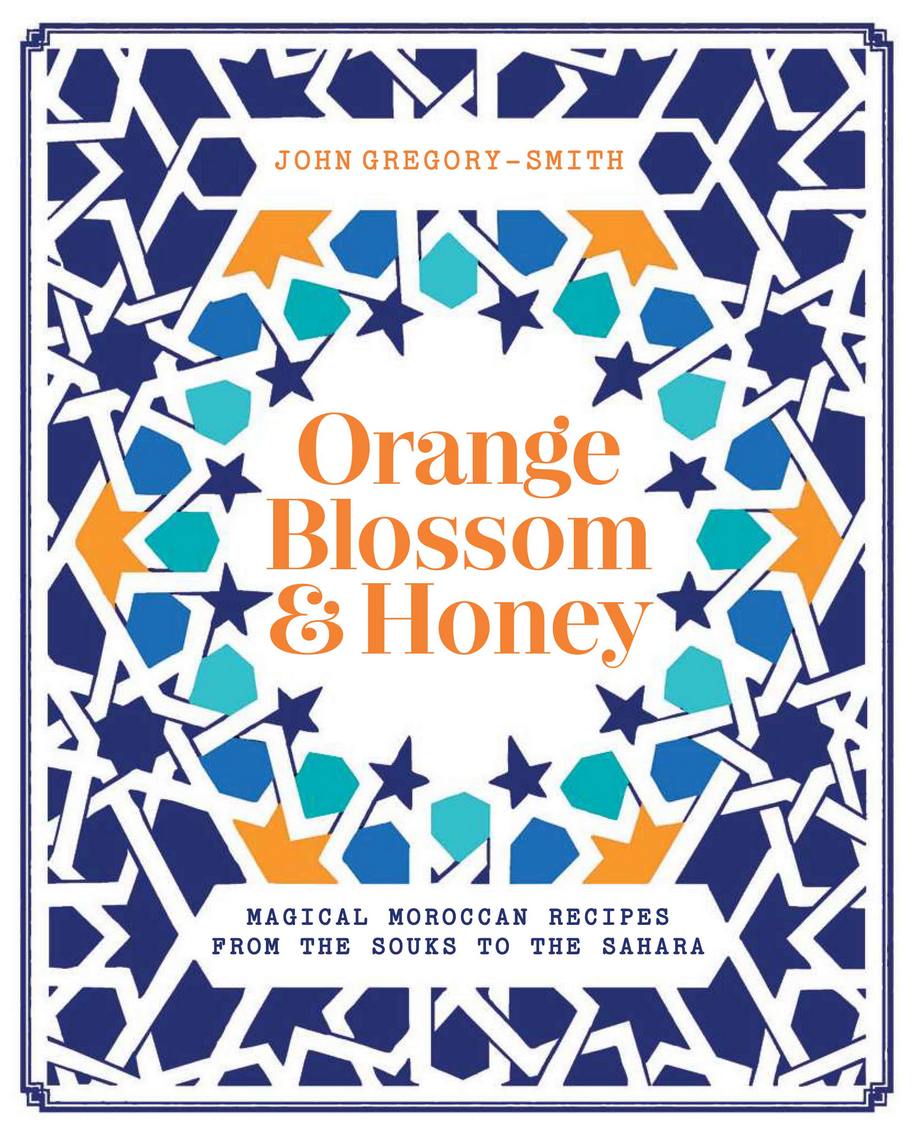 We never had a bad meal in Marrakesh. Reading John Gregory-Smith's new cookbook, Orange Blossom & Honey: Magical Moroccan Recipes from the Souks to the Sahara (Kyle Books, $29.99) brings back delicious memories of smoky meat from the outdoor grills on Jemaa el Fna and tagines with the tangy flavor of preserved lemon served in pretty little restaurants with tables arrayed around burbling fountains. In a cooking class in the courtyard of a riad in the heart of the souk, we learned to make couscous "as light as air" and a variety of vegetable salads that have become mainstays of our diet. Here's a link to some of those recipes.
As Gregory-Smith demonstrates, there's much more to discover about Moroccan cuisine. He traveled from "the Sahara to the sea and the mountains to the medinas" to learn from notable chefs and home cooks alike. He shares his delight in everything from noodles and ox cheeks served in the night stalls in the Fez souk to chermoula spiced chicken from the "blue town" of Chefchaouen in the Rif mountains. That's not to mention the grilled sardines in the Atlantic port city of Essaouira and Berber lamb tagine from the Atlas Mountains.
As he traveled the country, Gregory-Smith made another felicitous discovery. Roadside service stations take pride in offering good, quickly prepared—home-style dishes. His top choice is beef kefta and he shared his recipe for this dish of beef meatballs cooked in tomato sauce and served with runny egg.
TRUCK STOP KEFTA
Serves 2 as a main or 4 as part of a meal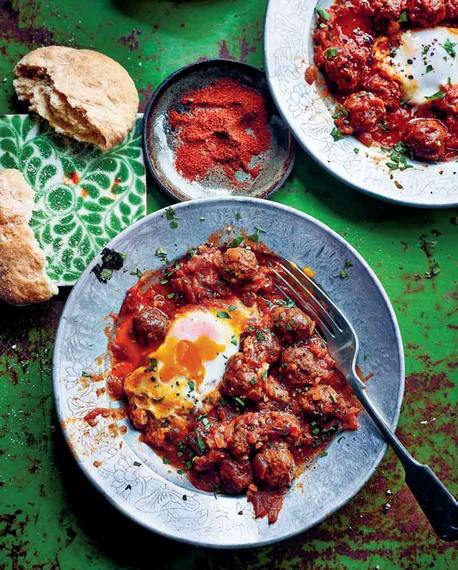 FOR THE SAUCE
2 tablespoons olive oil
1 red onion, finely chopped
3 garlic cloves, crushed
5 tomatoes, seeds squeezed out, and flesh roughly chopped
2 tablespoons tomato purée
½ teaspoon ground ginger
½ teaspoon paprika, plus a pinch for seasoning
½ teaspoon ground cumin
2/3 cup just-boiled water
2 free-range eggs
A small handful of finely chopped flat-leaf parsley leaves
Moroccan bread, to serve
Sea salt and freshly ground
black pepper
FOR THE MEATBALLS
10 ounces ground beef
1 garlic clove, crushed
1/4 teaspoon paprika
1/4 teaspoon ground cumin
A small handful of finely chopped flat-leaf parsley leaves
To make the sauce, heat the oil in a large frying pan over medium heat. Add the onion and cook, stirring occasionally, for 5 to 6 minutes until golden. Add the garlic and cook for 10 seconds until fragrant. Add the tomatoes, tomato purée, spices, and a good pinch of salt. Pour in the just-boiled water and mix well. Cover, reduce the heat to low, and cook, stirring occasionally, for 15 minutes until rich and thick.
Meanwhile make the meatballs. Put the meat into a mixing bowl and add the garlic, spices, parsley, and good pinch of salt and pepper. Mix everything together really well. Using your hands, roll the mix into penny-sized meatballs.
Remove the lid from the pan and increase the heat to medium until the sauce is bubbling. Add the meatballs and shake the pan a little to help them sink in. Cook over low heat for 4 to 5 minutes, or until half cooked, then turn the meatballs. Make two wells in the sauce and crack in the eggs. Season with salt, pepper, and paprika. Cook for 4 to 6 minutes until the eggs have just set. Scatter over the parsley and serve immediately with bread.