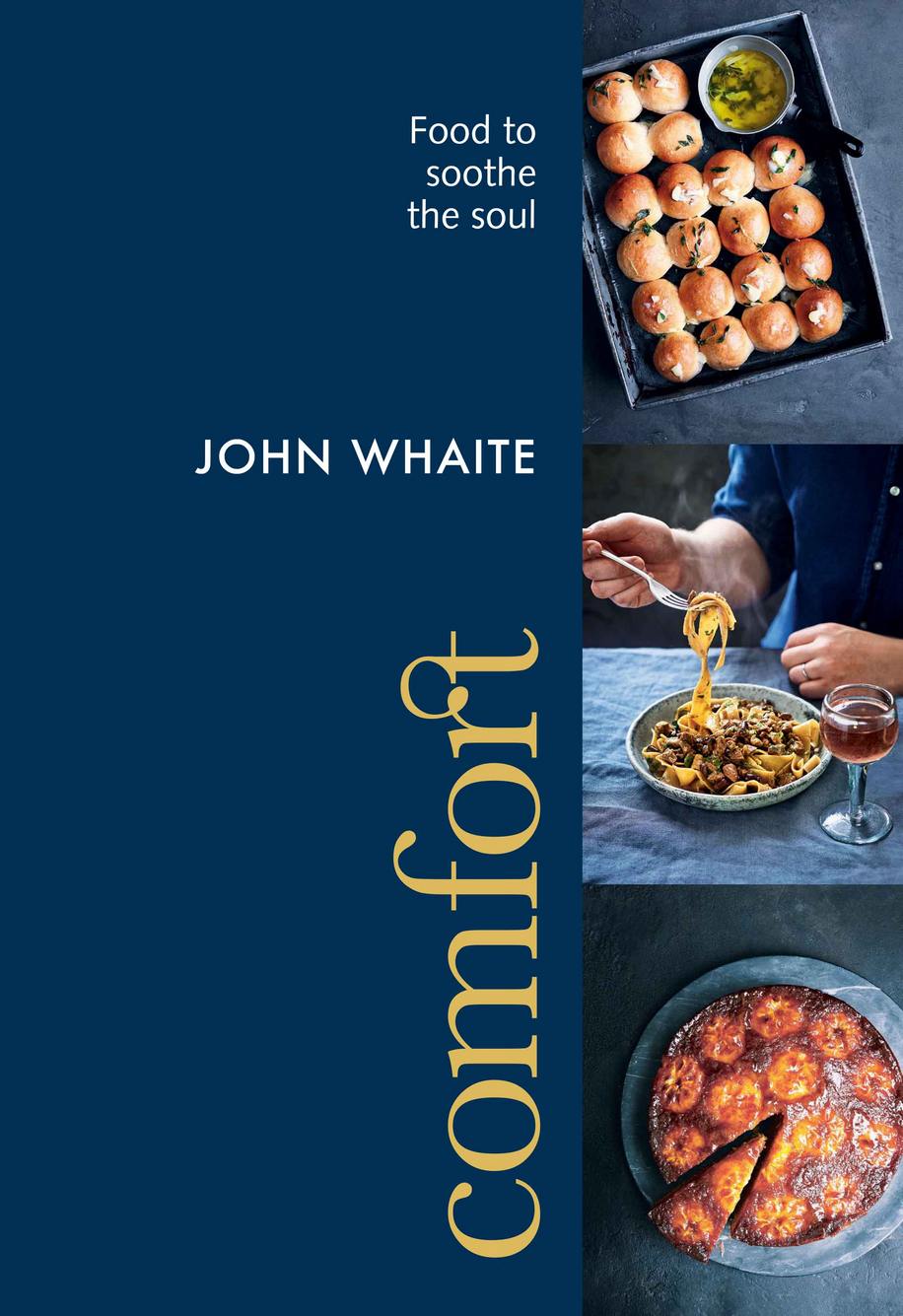 Comfort food is such a personal thing. For Pat's Irish-American family, it's a serving of champ, the rich dish of mashed potatoes and spring onions with lots of butter and cream. For David, it's cornbread like his Kentucky grandmother used to make with bacon drippings and unbolted meal.
In his new book, Comfort: Food to Soothe the Soul (Kyle Books, $29.99), chef and cooking school proprietor John Whaite explores the taste of comfort around the world. He adds his own twist to traditional Mexican chilaquiles by adding eggplant and feta, uses sweet apricots to balance the heat of Scotch Bonnet peppers in West African Jollof rice, and tops a Scandinavian-style pizza with salmon fillets and pickled cucumber.
But Whaite was raised in Lancashire in northwest England and we were most taken with his modern interpretations of good English home cooking. For his elevated version of bangers and mash—surely the quintessential pub food—he accompanies the sausage links with French-inspired creamy potatoes with garlic, cream, and melted cheese. He also pairs lamb stew with flatbreads made with lager. Not only does the lager help aerate the bread, he says, but "the fermented, yeast flavor also helps to boost the flavor of the bread." And speaking of yeast flavor, Whaite adds Marmite, the peculiarly British paste left over from brewing beer, to cheddar cheese to make Welsh Rarebit.
Whaite won the third season of The Great British Bake Off, so he certainly doesn't ignore the sweet side of things. We were particularly taken with his Marmalade on Toast & Tea Puddings, a thoroughly grownup version of a favorite childhood treat.
Of all the recipes, the dish that will most likely become part of our repertoire is the Guinness & Blackberry Beef Stew. Whaite readily acknowledges that "beef stew cooked in beer is no novelty." But he adds another dimension to the dish with what he describes as the "confused, tart sweetness" of blackberries when "their sweetness starts to ferment and sour." Whaite kindly allowed us to share his recipe. New Zealand blackberries are still in the stores, so you don't have to wait for summer.
GUINNESS & BLACKBERRY BEEF STEW
SERVES 4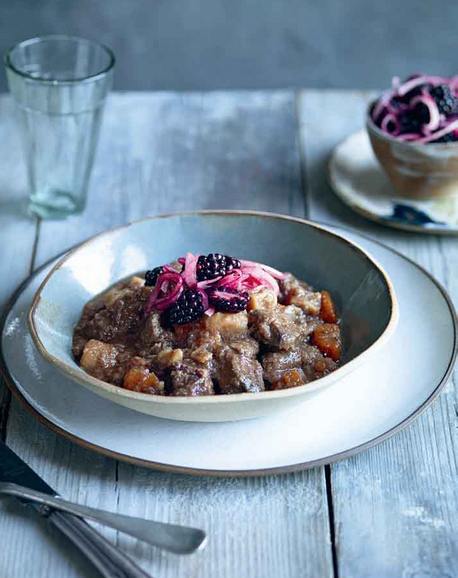 2 1/4 lb. beef chuck steak, diced
2 tbsp. all-purpose flour
Sunflower or olive oil, for cooking
One (14.9 oz.) can Guinness
1 cup plus 1 tbsp. beef stock
1 red onion, coarsely chopped
3 parsnips, diced
3 carrots, diced
1 1/3 cups blackberries
3 dried bay leaves
Sea salt flakes and coarsely ground black pepper
For the relish
1 red onion, finely sliced
1 1/3 cups blackberries, halved
1/4 cup plus 1 tbsp. red wine vinegar
1 tbsp. superfine sugar
Preheat the oven to 325°F.
Put the steak into a bowl and add the flour and a generous pinch of salt and pepper. Toss together—I use my hands—until the beef is evenly coated. In a Dutch oven, heat a generous glug of oil. Once the oil is hot (it will shimmer gently), add the beef and cook, turning once, until colored. You'll need to do this in at least two batches; if you overcrowd the pan, the meat will braise rather than brown and you won't achieve the color or depth of flavor.
Once all of the meat has been browned, return it to the pan with the remaining ingredients. Bring to a boil, then cover with the lid and cook in the oven for 2 to 3 hours, until the meat is tender and flaking. Meanwhile, make the relish: In a bowl, combine all the ingredients, then let sit at room temperature until needed.
Serve the stew with some of the relish spooned over it.