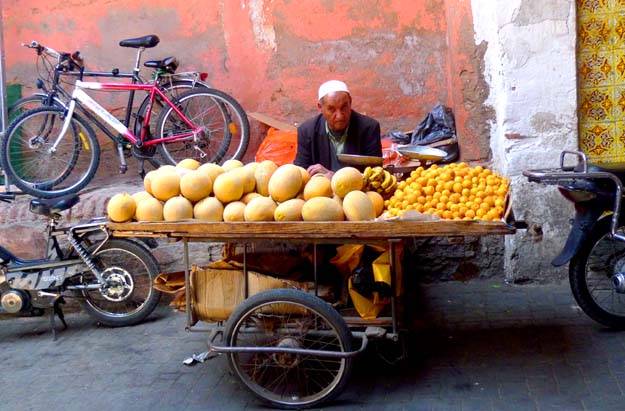 The Boston Globe recently published our abbreviated tale of taking a cooking class with the wonderful Dutch and Moroccan folks of Souk Cuisine in Marrakech. You can find the piece on our Sample Articles page. It was some of the best cooking instruction we have experienced because it enabled us to get intimately involved in the life and rhythm of the city and its inhabitants.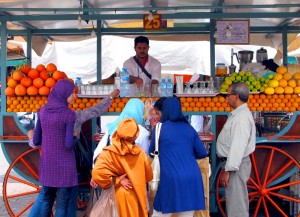 Even if your goal is to bargain your way through the souks (Pat was told she bargained like a Berber), it is hard not to work up an appetite when you keep encountering vendors like the back-street fruit man (above) or the citrus juice truck that stands on the main square, Jemaa El Fna. Everywhere you look, there is food. And if you don't see it, then you are bound to smell it. Even before the charcoal braziers come out in the evening, the sweet scent of freshly bruised mint tempers the acrid dust of city.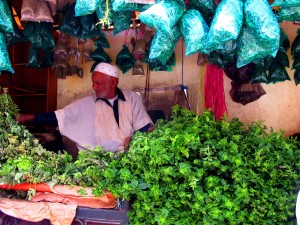 Marakshi drink an enormous amount of mint tea, which could explain why fresh mint is sold not by the bag, but by the armload.
Whenever we go someplace for a week or more, we often try to rent an apartment with cooking facilities, but the riad system in Marrakech was too enticing to pass up. Fortunately, Souk Cuisine filled the gap for us. As we describe in the Globe article, we made our reservation, met our guide in Jemaa El Fna, and set off through the markets with a grocery list, shopping bags, and a modest number of dirhams. With the aid of our guide, we selected ingredients and shopped for a meal. Not only did we dicker with the herb vendors, like this gentleman with fresh coriander, we also visited one of the city's better spice shops for all the essential seasonings.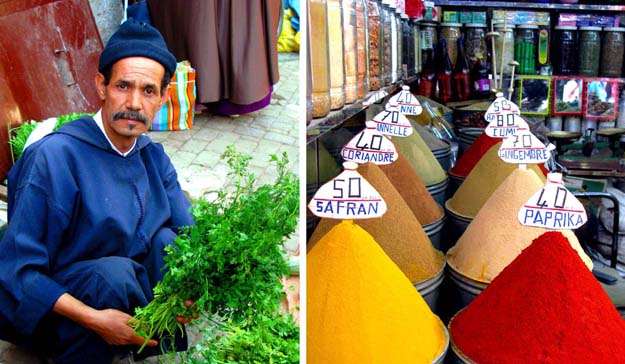 The hands-on instruction was first-rate, with a Souk Cuisine guide explaining in English (they also teach in French, Arabic, and Dutch) while Moroccan women demonstrated and literally held our hands to make sure we understood the techniques. We were taking the class, as it turned out, with a young Dutch couple and a Dutch family of mother, father, and three grown children. Everyone pitched in. Here you can see Anne-Mieki Móll mixing up the Moroccan tomato salad (see recipe below).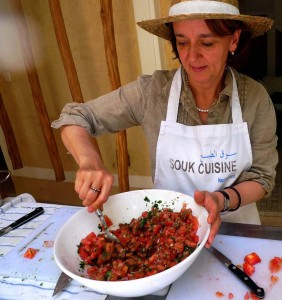 Sitting down to eat the fruits of our labors after an hour of shopping and a couple of hours of cooking might have been the greatest satisfaction of all. In a nod to western (i.e., non-Islamic) taste, Souk Cuisine even pops a few bottles of cold Moroccan rosé from the Atlas Mountains. As good as the meal was, we could not resist the lure of the open-air restaurants that set up every evening on Jemaa El Fna (below).
Souk Cuisine, Zniquat Rahba, Derb Tahtah 5, Medina, Marrakech, Morocco; 011-212-673-804-955; www.soukcuisine.com. Classes held daily, reservation required, 45 euros (about $62US) per person.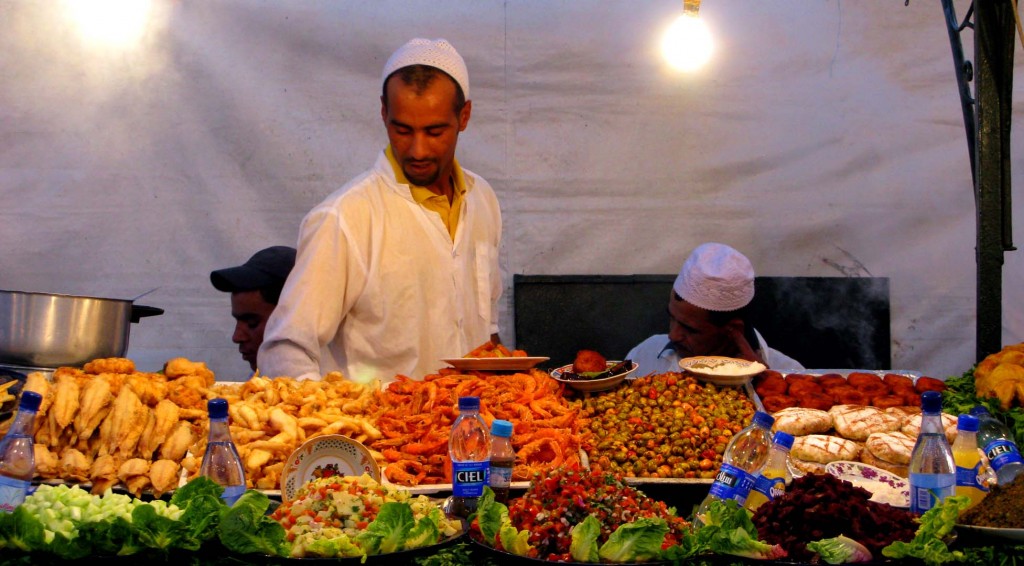 MOROCCAN SALADS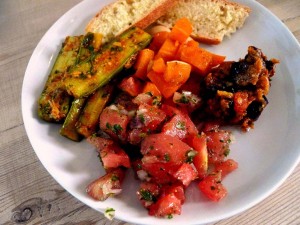 As we described in the Globe article, we were in charge of making couscous for the group. But Moroccan cuisine includes a number of salads that use the wonderful fresh local vegetables and herbs. They are less exercises in cooking than in cutting, which made them perfect for the cardiovascular surgeon in our group. Here are Souk Cuisine's recipes for three of our favorites that we make at home. Note that most measurements are by weight rather than volume.
Moroccan tomato salad
Ingredients
2 pounds tomatoes
1 onion, finely chopped
1 tablespoon fresh parsley, chopped
1 tablespoon fresh coriander, chopped
1 teaspoon ground cumin
1/2 teaspoon salt
2 tablespoons vinegar
2 tablespoons olive oil
Directions
Peel the tomatoes, cut in half and remove the seeds. Cut the tomatoes into fine dice. Mix all ingredients and then add the vinegar and olive oil.
—
Zucchini salad
Ingredients
1 pound small zucchini
1/2 teaspoon salt
3 cloves of garlic, unpeeled
1/2 tablespoon fresh coriander (cilantro), finely chopped
1/2 tablespoon fresh parsley, finely chopped
1/2 teaspoon ground paprika
1/2 teaspoon ground cumin
2 tablespoons vinegar
2 tablespoons olive oil
Directions
Remove the ends of the zucchini. Cut in half lengthways. Place zucchini and unpeeled garlic cloves in pot and cover with salted water. Bring to a boil and simmer until tender. Drain the zucchini. Peel boiled garlic and mix with spices, herbs, olive oil and vinegar. Pour marinade over cooled zucchini and arrange on platter.
—
Carrot salad with almonds and raisins
Ingredients
2 pounds carrots
1 1/4 teaspoons salt
4 ounces raisins
4 ounces almonds, unpeeled
1 1/2 teaspoons ground cinnamon
1/2 teaspoon ground ginger
1 cinnamon stick
6 teaspoons sugar
1 teaspoon orange flower water
2 tablespoons argan oil (walnut oil makes an acceptable substitute)
Directions
Peel the carrots and slice lengthways. Remove the inner core of the carrots and cut the remaining lengths in cubes. Boil carrots in salted water. Drain after 15 minutes and leave a small quantity of water in the pan. Place again on the stove over low heat. Add the remaining ingredients to carrots in pan. Simmer until carrots are well cooked. Serve the salad lukewarm or cold.