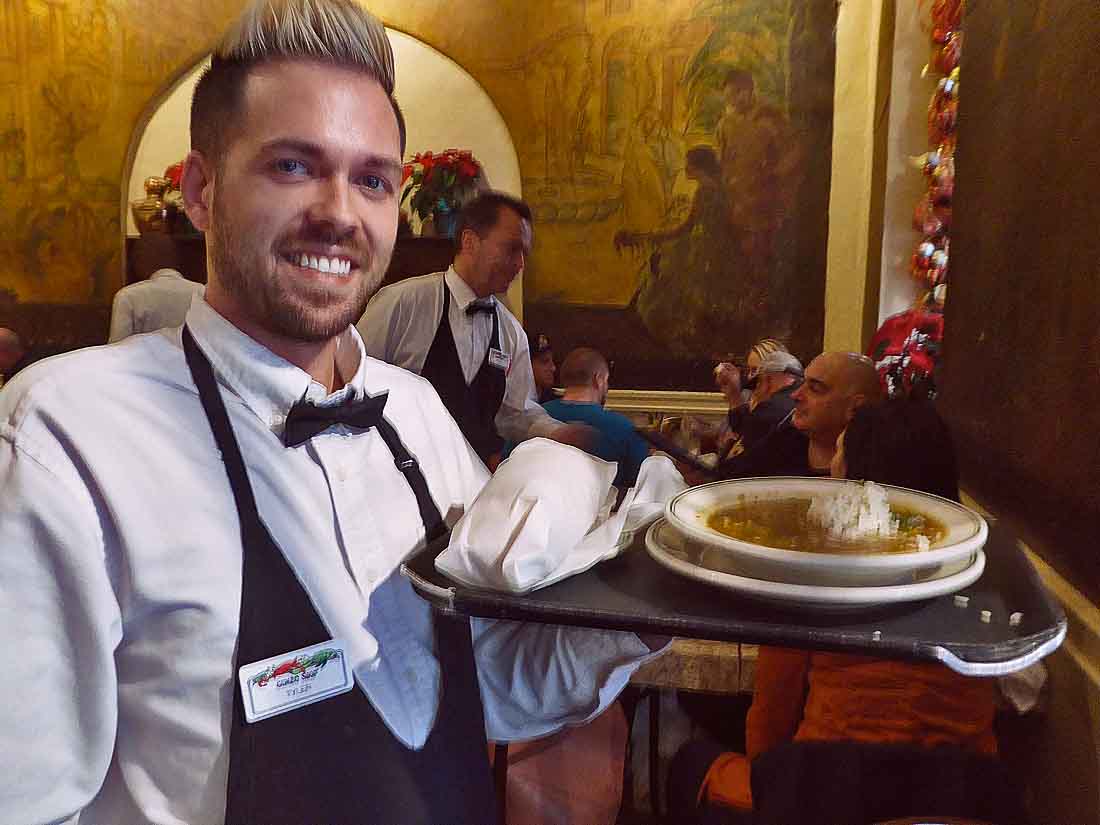 A hearty bowl of gumbo is a powerful argument for open borders. It took four different cultures to create Louisiana's leading contribution to American cuisine. French settlers contributed the cooking technique, while the Spanish brought bell peppers, onions, and celery—the so-called "trinity" of seasonings. Africans added okra for flavor and as a thickening agent. For variation, some cooks thicken their dish with the filé powder favored by the local Choctaw tribe.
Local choice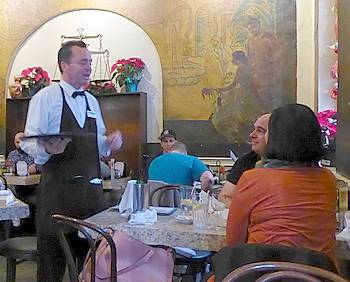 Made with sausage and either shellfish or poultry, gumbo is a forgiving dish that allows each cook to put a personal stamp on it. I sampled many versions when I was in New Orleans and was never disappointed. But I ate my favorite at the Gumbo Shop (630 St. Peter Street, 504-525-1486, www.gumboshop.com). I shouldn't have been surprised. The restaurant is a perennial winner in the Best of New Orleans readers' poll conducted by the Gambit.
The Gumbo Shop was established in 1948 and features the traditional New Orleans style of ceiling fans, a large bar, big windows on the street, and decorative murals. It was hopping when I stopped in for a late lunch, but the waiters and waitresses were models of calm, even chatty efficiency. I opted for the chicken and andouille sausage gumbo over the seafood okra gumbo. While I waited for my bowl to arrive, I listened to the waiter at the next table chat with a couple of visitors. To relax, he said, "I'll get a strong cup of coffee and sit outside and blow through a pack of cigarettes."
My server Tyler (at top of the post) ceremoniously delivered my bowl, along with a hot loaf of crusty French bread. He also pointed to the array of hot sauces on the table. "Take a taste and then add a little hot sauce if you like."
My gumbo was rich with okra, tomato, chicken, and sausage and had a pronounced green pepper flavor to the broth. I decided to forego the extra heat. The flavor was deep and satisfying. Initially it seemed a bit mild, but the heat snuck up on me. I was wiping sweat from my brow by the time I sopped up the last bit of broth with my bread.
CHICKEN AND ANDOUILLE GUMBO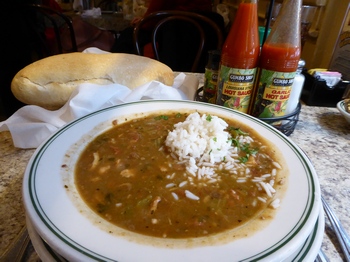 The Gumbo Shop in New Orleans uses whole chickens in their gumbo, but I like to stick with chicken thighs because they impart an intense chicken flavor. Many cooks also use canned tomatoes, but I think fresh tomatoes make the dish brighter. The only tricky part about making gumbo is having the patience to brown the roux without burning it. Keep keep stirring and watch the color!
Ingredients
4 pounds chicken thighs
2 quarts water
1 bay leaf
2 tablespoons olive oil plus 1/2 cup olive oil
1 pound fresh or frozen okra in 1/2 inch pieces
1/2 cup flour
2 cups chopped onion
1 cup chopped green pepper
1 cup chopped celery
3 cups peeled and chopped fresh tomatoes
12 ounces andouille sausage, sliced in 3/4" rounds
1 teaspoon dried thyme
1 teaspoon sage
1 teaspoon black pepper
2 teaspoons sea salt
Directions
Simmer chicken thighs in water with bay leaf for 45 minutes. Remove chicken and set aside to cool. Remove bay leaf and reserve cooking water as chicken stock. When thighs cool, strip meat from the bones and reserve.
In a large skillet, heat 2 tablespoons olive oil and fry the okra for 10-12 minutes, stirring frequently to keep from burning. Cook until the stringy strands disappear and okra is lightly browned. Set aside.
In a large Dutch oven with a heavy bottom, heat 1/2 cup olive oil over medium high heat. Add the flour and stir and cook until flour browns into a roux. When color reaches dark brown, stir in onion, green pepper, and celery. Cook, stirring occasionally and scraping up brown bits from bottom of Dutch oven.
When vegetables are tender, add tomatoes, sausage, and sauteed okra and cook for 15 minutes. Add the spices and mix well. Pour in 8 cups reserved chicken stock, bring to slow boil, and simmer for an hour. Add cooked chicken and additional stock if necessary. Adjust seasoning and serve in large bowls with steamed white rice.